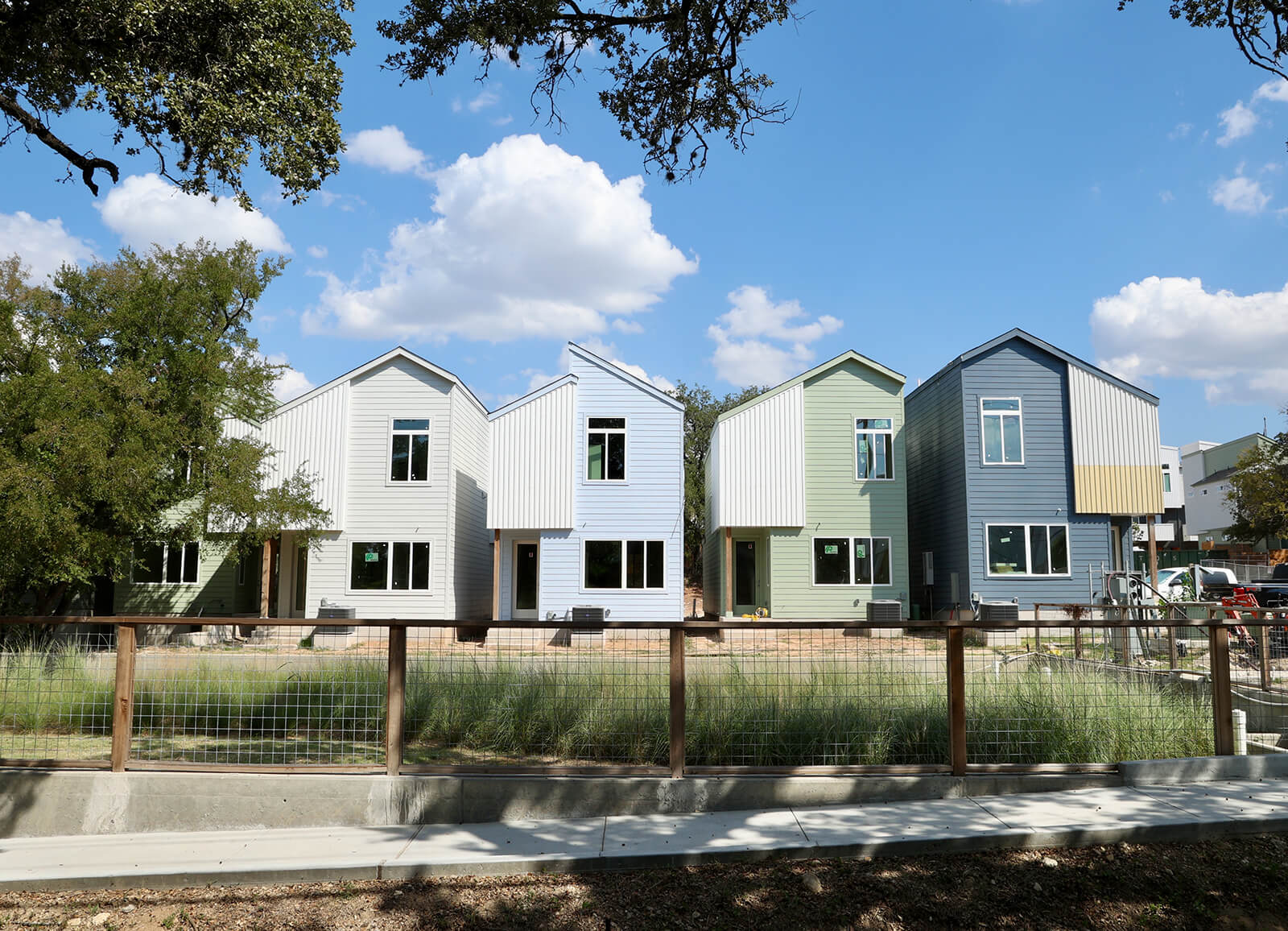 What's going on at North Bluff 3? This is where you can find out!
---
Come here to watch the paint dry:
October 2022
North Bluff 3 News:
We're going to keep it short and sweet this time. Punch work is ongoing. AT&T was onsite to run underground conduit and cable.
Catch you back here next time!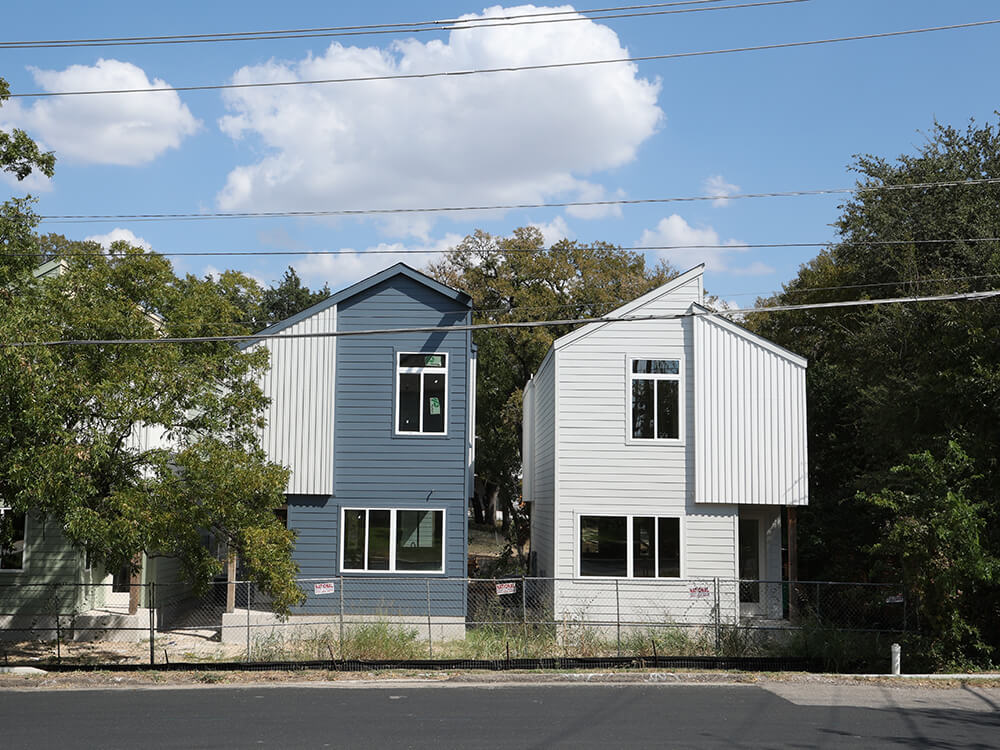 ---
September 2022
Some minor hiccups on units 75-80 involving final electric but every effort is being made to remedy the situation and we have complete confidence that we will. North Bluff is also in the thick of electrical inspections with the city however the backsplash and tile work is all finished. A/C startup and wood flooring still to come and COA first frame for units 73, 74 & 81 either have scheduling confirmed or they're already finished, contingent on each unit. No issues to report on units 67 and 72, structural inspection went smoothly.
We'll keep you posted!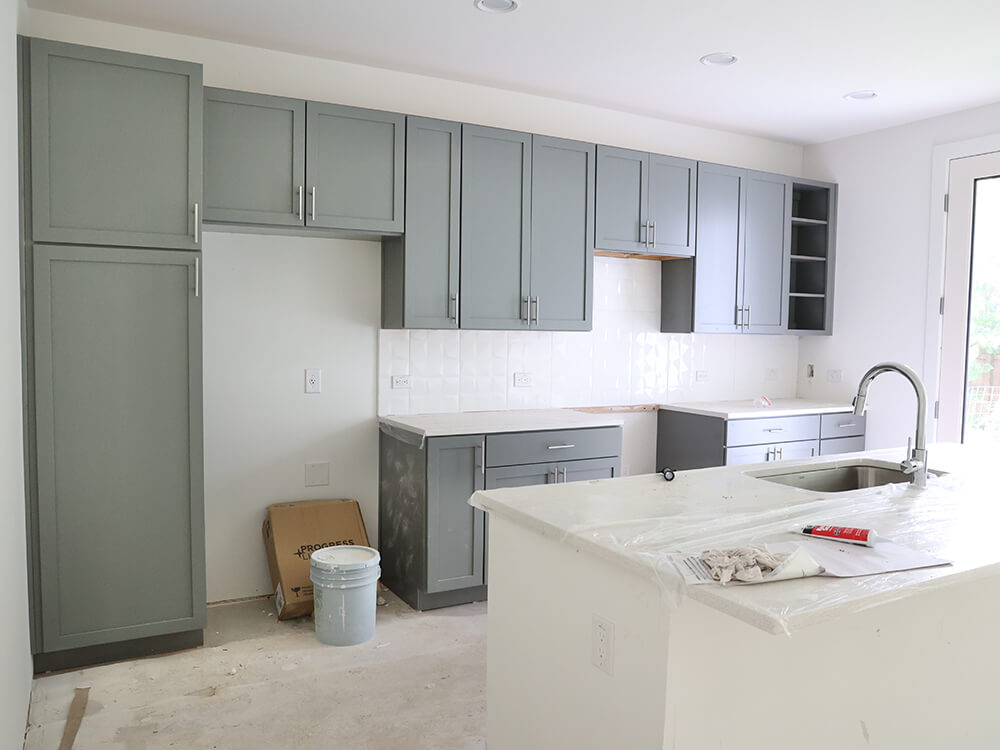 ---
July 2022
Let's check in at Bluff of the North III!
Townhome Unit 2:
We've got a delivery date in mid-September.
Drywall punch ongoing
parking spots are getting poured
Let's break it down:
Units 67 & 72: HVAC rough is complete and electric roughs are scheduled.
Units 68 – 71: Tile has been installed along with HVAC trim items.
Units 73 – 74: All countertops and cabinets installed.
Units 75 – 80: Have all plumbing fixtures installed.
This was fun. Let's do it again next month!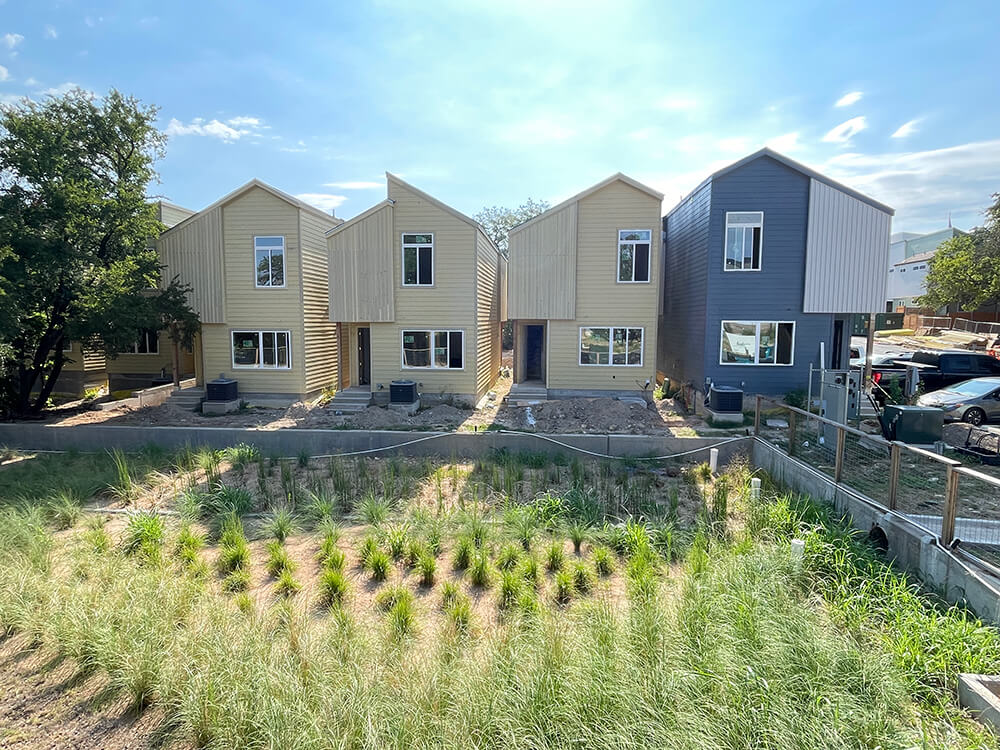 ---
June 2022
Well, well, well. North Bluff, looking both busy and sharp.
Townhome block 2 has garage doors going in. Fences under construction. Drywall punch ongoing.
Homes 73, 75-80 countertops installed
Homes 79 & 80 will soon have windows
Homes 73, 74 & 81 sinks are next up
Home 74 passed insulation inspection
Home 67, 81 HVAC rough in coming next
Homes 68-71 Interior paint is complete. Cabinets & countertops installed.
That's a LOT of numbers at North Bluff 3 and a lot of action. Let's keep this momentum going and we'll see you here next month.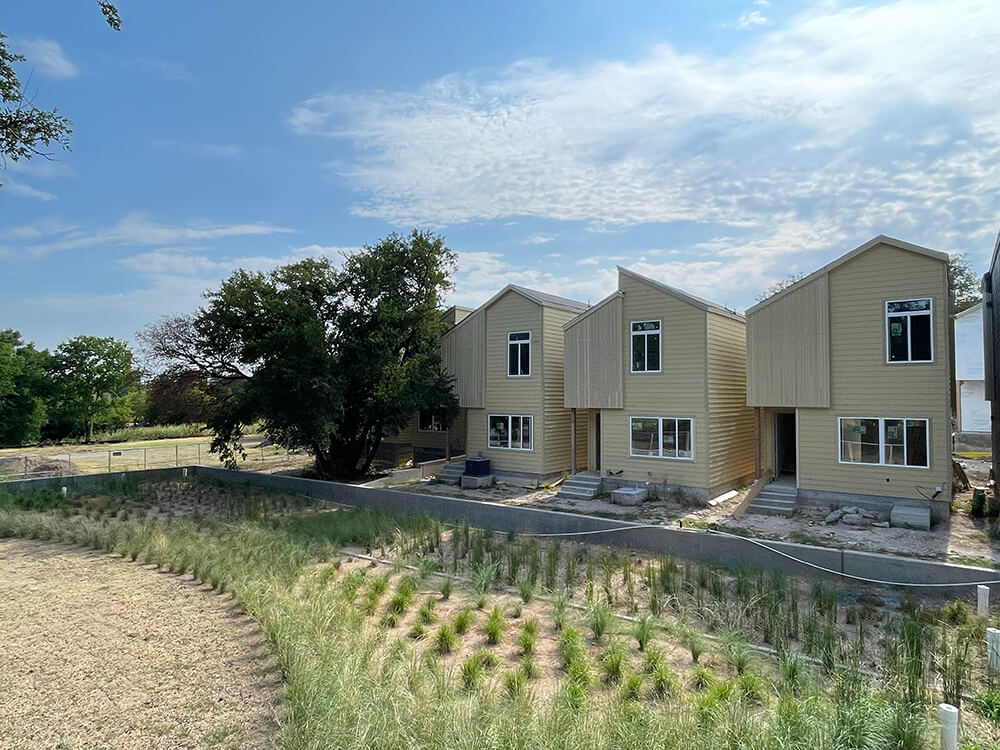 ---
May 2022
North Bluff the THIRD, if you please. Let's get into it.
Lots of progress but most importantly, homes 82, 98 & 99 are welcoming their new homeowners to the neighborhood.
Additional progress is ongoing as we whiz to the finish line and get ready for everyone to be home safe at NB3. Can't wait.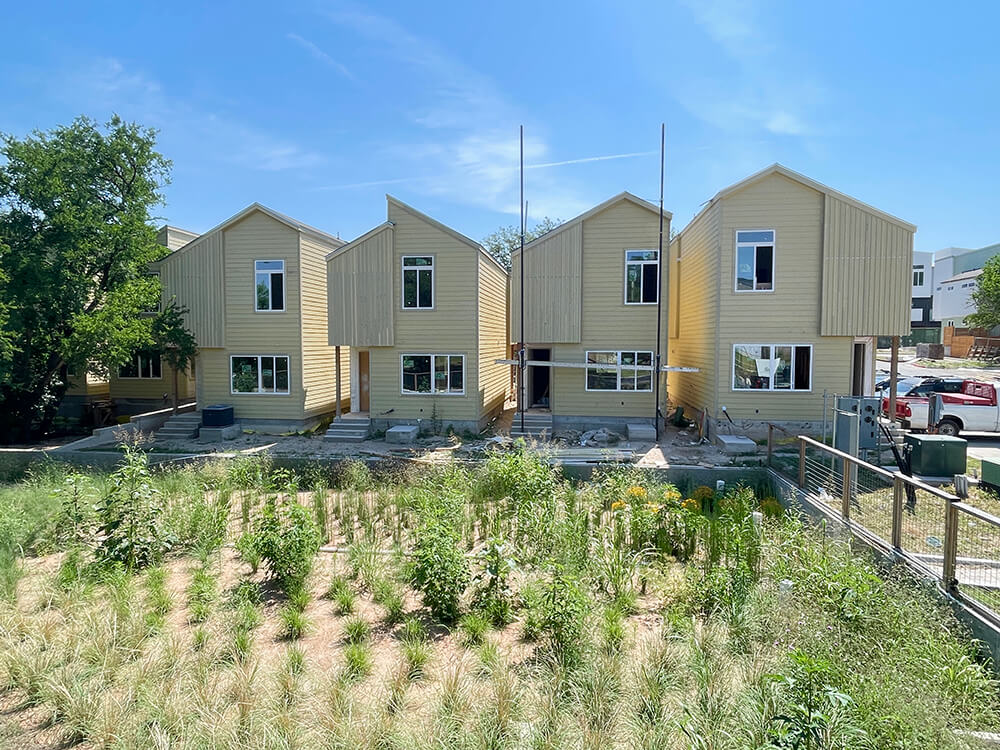 ---
April 2022
North Bluff, it's all happening!
Homes 83, 84, & 85 are now safe with their owners. We know they'll do great.
Homes 82, 98 and 99 have closing dates and final touches are underway.
Good progress at Phases 4, 5, & 6, with framing underway.
We're excited to get all of you North Bluff homeowners where you belong. See you soon!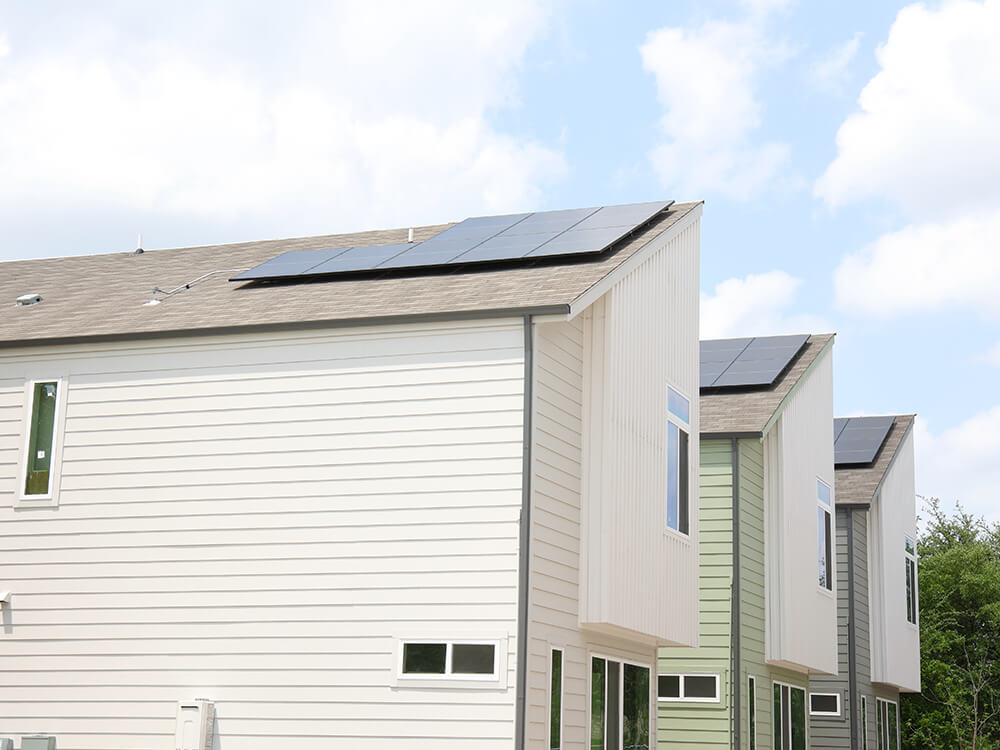 ---
February 2022
We're moving along on site. Let's see!
Three homes were presented to their new homeowners and delivery is next.
Landscaping has been completed for homes 82-85, 98, and 99 and looking great!
Townhome block 2 has drywall hung and texture work on the walls.
In beauty news: The fruit tree grove in the NE corner of the site is in and thriving. We're so excited to see this community coming together.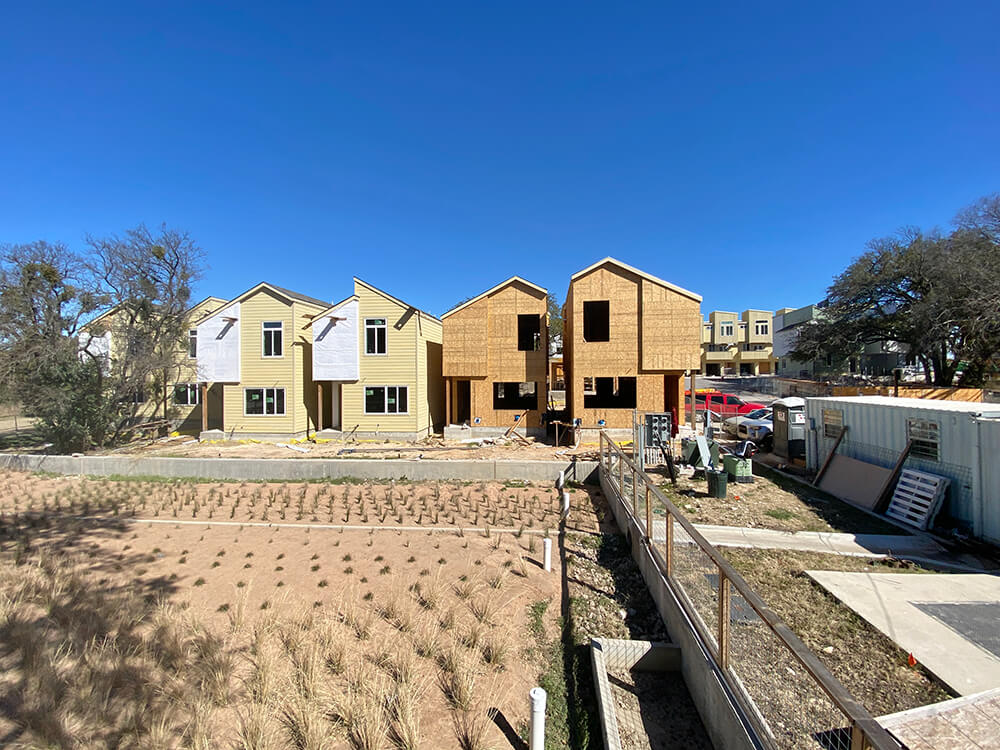 ---
January 2022
Happy to report that we're on track to deliver our next phase of homes–the beguiling 82-85, the delectable 98 & 99 and TH Block 2 are the coming phases. Progress on the remaining phases is underway. Site is still busy, and now monument signage can be counted among several site improvements.
Watch this space!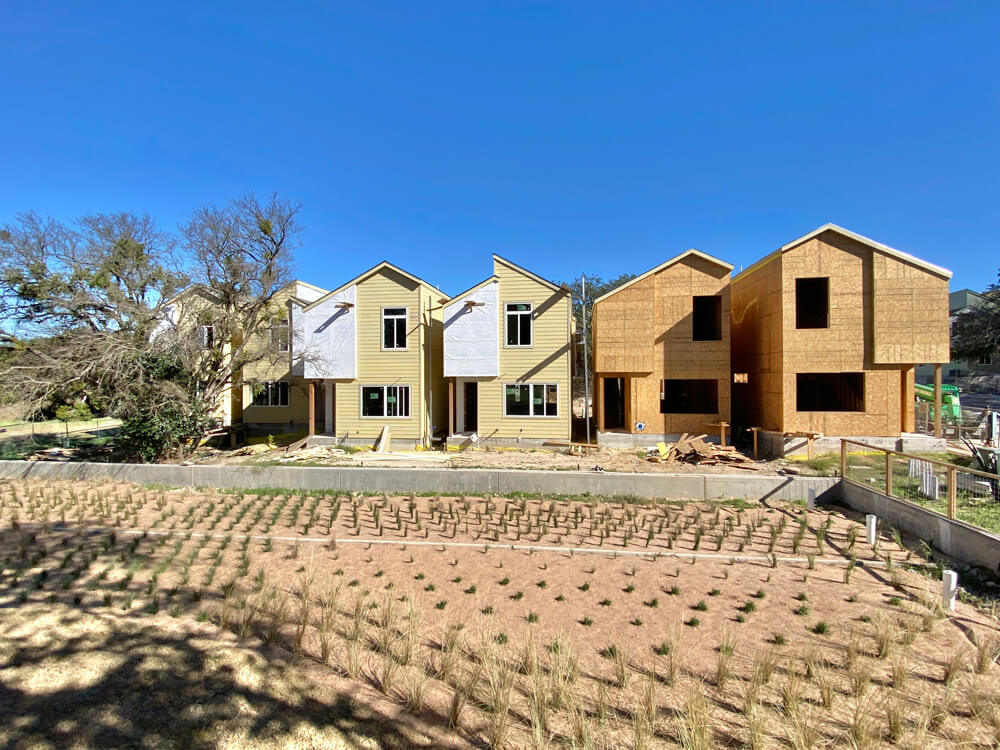 ---
December 2021
With power on many homes nearing completion. We've seen a great amount of pleased homeowners moving in this past month and it's brought the community into a lovely state of animation. Common challenges tugging on the construction industry like labor shortages and material delays have contributed to delays in the last few weeks, but we are resolved to do our very best in delivering homes quickly and complete.
We'll have more to announce next month!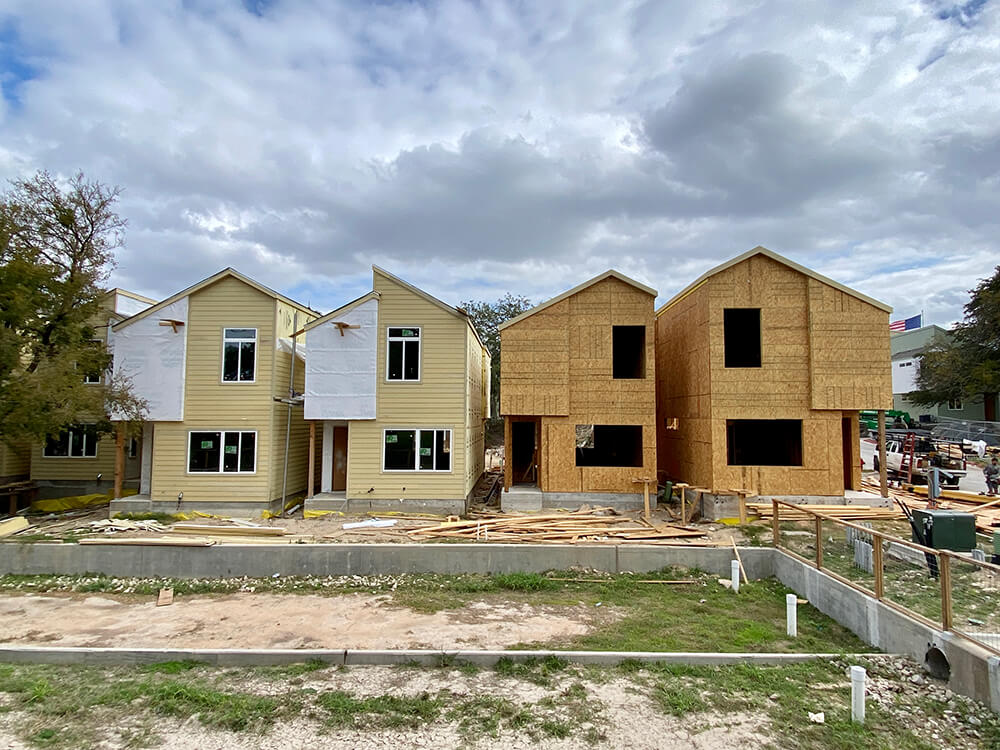 ---
October 2021
We are elated to report North Bluff has welcomed our first five homeowners over the last month! Firing on all cylinders with North Bluff 3 and we are hyped to welcome you into your new home as well. We are also seeing solid advancements on Phases 2 and 3 with many homes reaching completion. Additional progression on Phases 4 and 5 despite some supply hiccups along the way.
Keep the hot cocoa and weighted blankets on standby, we'll see you real soon!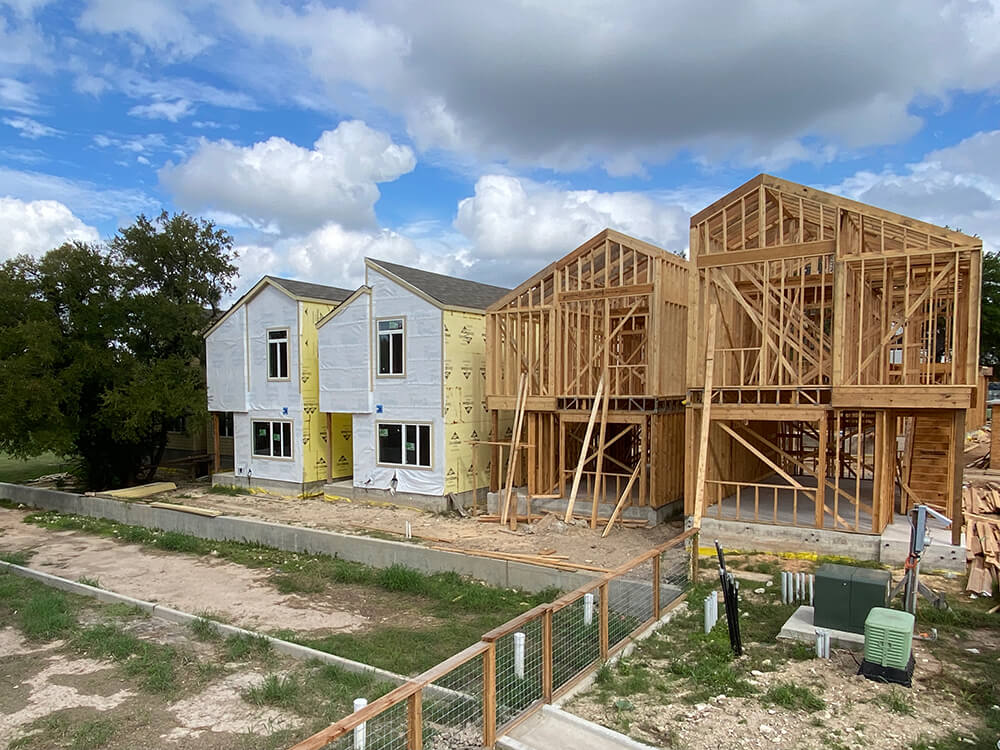 ---
September 2021
This first phase at North Bluff 3 has seen almost all homeowners ushered in. Idyllic views, intuitive layouts and a gorgeous abundance of natural light are all to be found in these darling homes. We have immeasurable pride for this project and the many villages it took to make it all come together. We've also shared in the New Home Presentations and Home Deliveries of these residences – bread was broken with future neighbors. We're excited to usher them into the StoryBuilt family.
Construction is ongoing with homes in various phases so, hang tight. You'll be home soon.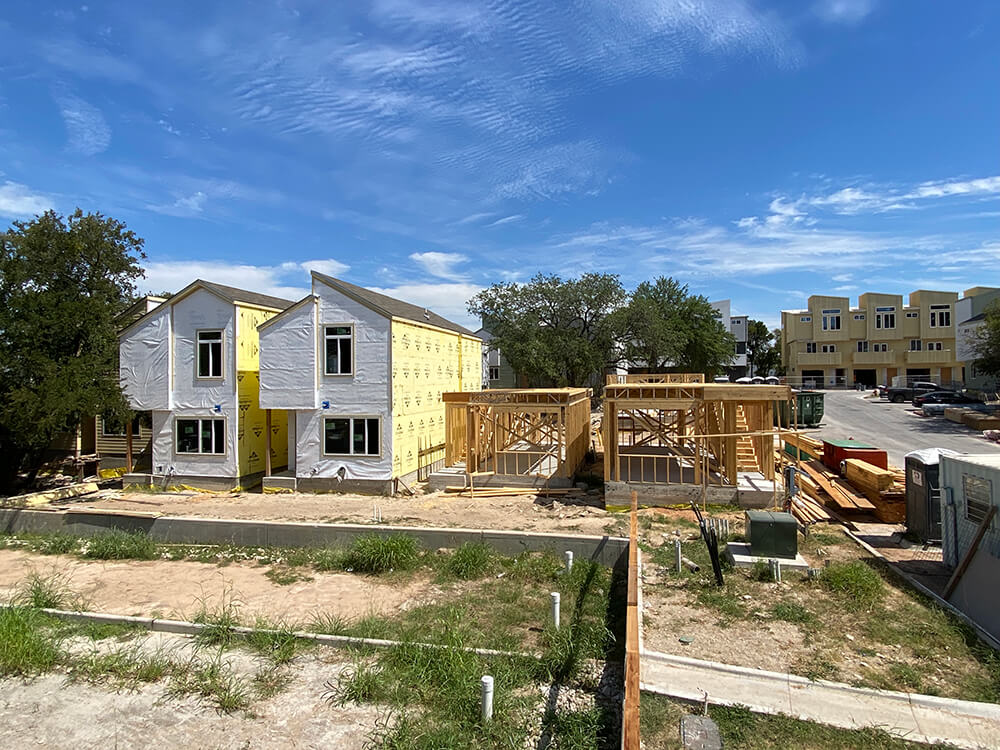 ---
August 2021
North Bluff 3 has earned a few bragging rights this past month.
Townhome Block 1, among several site amenities such as as mailboxes and trash enclosure is almost complete. We've poured two additional slabs and our two finishing slabs will commence construction soon.
Check back next month!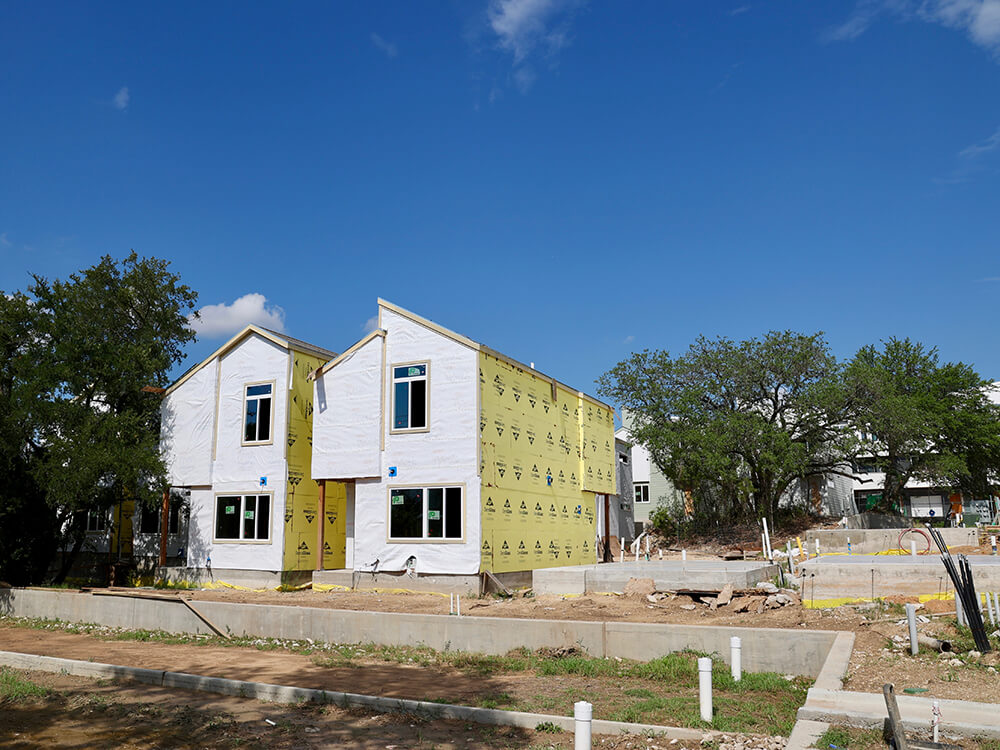 ---
July 2021
You get a meter! And YOU get a meter! Well, I guess we have one for you too over there with the Warby P's, but keep it on the hush. Townhome Block 1 just got their electric meters in so we're setting up for something big: Getting the power on, AC and wood floor installation.
It's almost time to send our Phase 1 baby off to college and things are looking up for our other phases as well. They grow up so fast, don't they?
See you next month!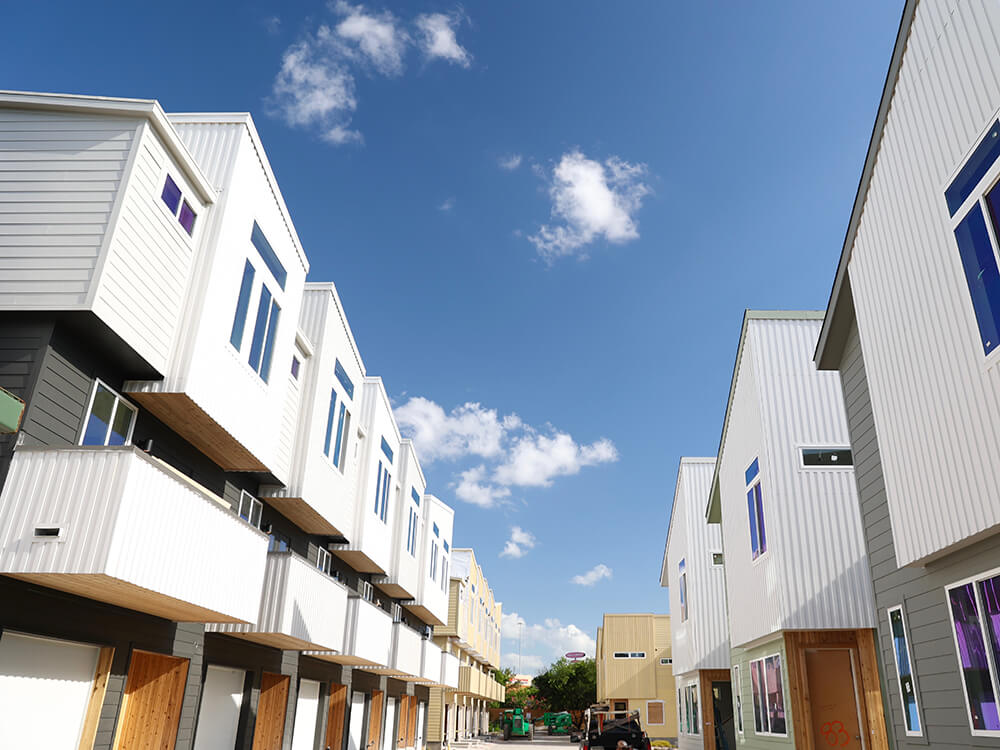 ---
June 2021
What's going on at North Bluff 3?
So much progress at the site! Just a few homes still to have their foundations poured. First phase of homes are being painted. Next up is landscaping, fencing, and flatwork. Mailboxes are on their way.
Check back next month.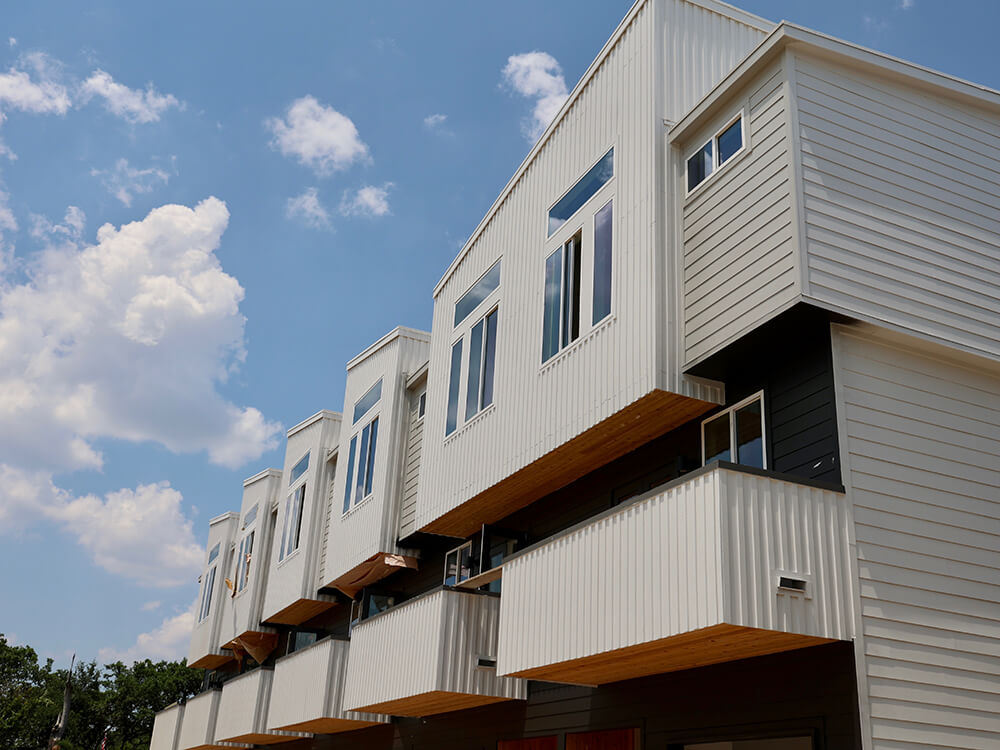 ---
May 2021
Work continues at the North Bluff site. Texas is experiencing supply chain issues for common construction items and is also facing labor shortages. This has extended our home delivery timelines. We look forward to the day we turn over the keys and welcome you to our StoryBuilt homeowner family.
Meet you back here next month!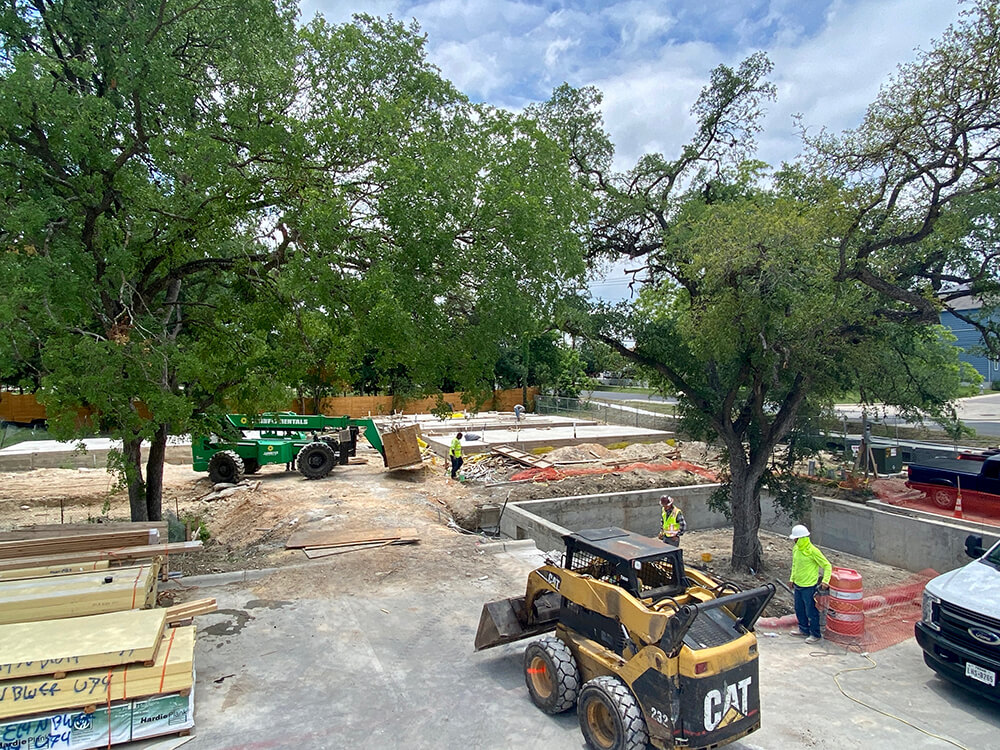 ---
April 2021
North Bluff, what's going on? Let's see:
Block 1 Townhomes are drywalled, cabinets hung, and getting close to end of construction.
Other areas:
Phase 4 is in vertical construction.
Mail kiosk flatwork poured.
Coming up this month:
Phase 5 foundations pouring soon.
Single family (near Block 1 townhomes) units drywall starting.
Mailbox installation.
We're glad to see all the progress. Check back here next month!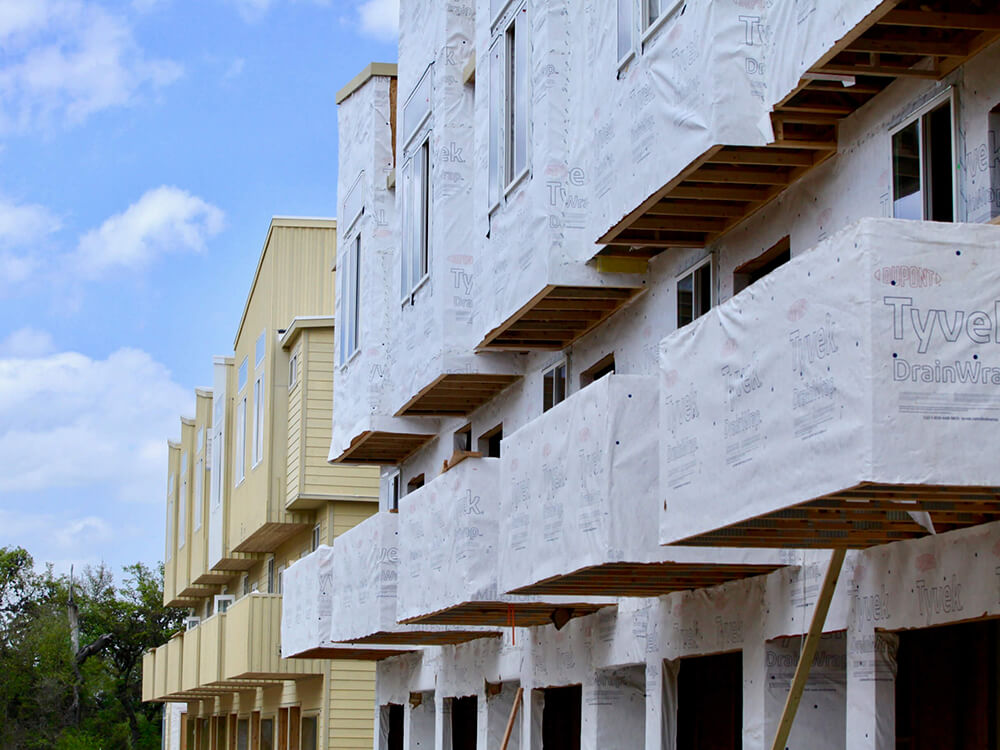 ---
February 2021
Excellent progress has been made onsite, with our first phase of homes. Let's see what's going on at North Bluff.
Townhome block 1 – drywall installation starting.
The dividing fence complete, along with our new fence at the south end of the site-both look great.
Phase 4 single-family homes have their forms set up and will be pouring foundations soon.
Next up is Phase 5 – we expect to start pinning, staking, and forming foundations shortly after Phase 4 foundation pours.
Meet you back here next month!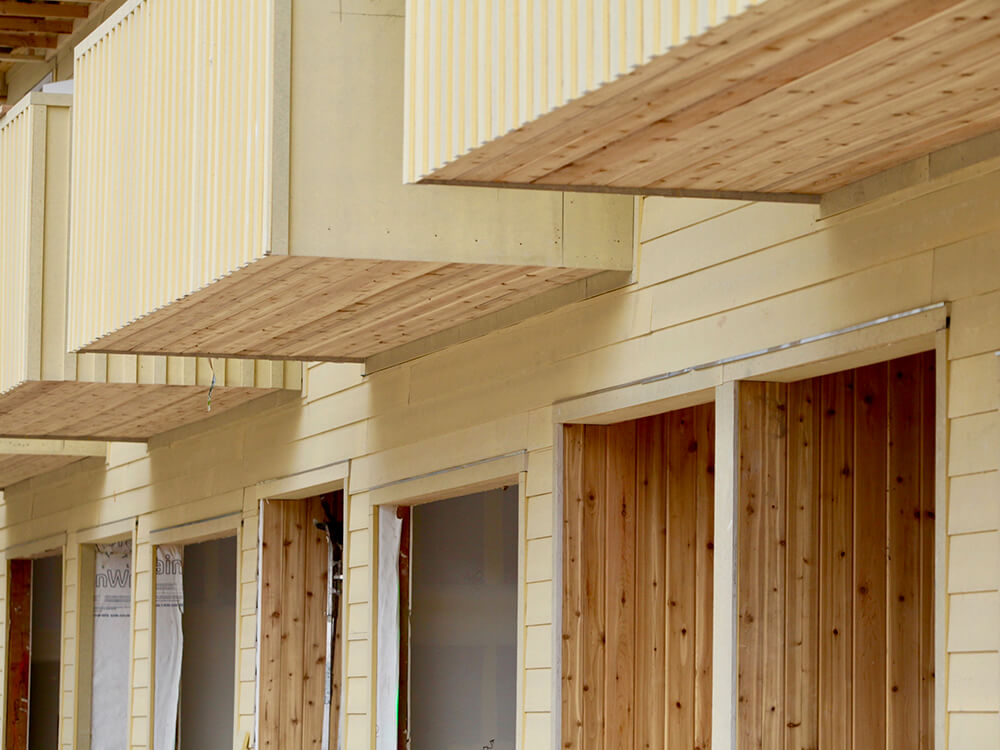 ---
January 2021
Things are hopping at North Bluff 3. Let's dig in:
Townhome #1: Drywall starting up.
Townhome #2: Framing finishing up.
Single-Family Residences:
Mechanical work ongoing.
Electrical work ongoing.
Plumbing work ongoing.
The days are getting longer here at North Bluff. Come back and check in with us next month!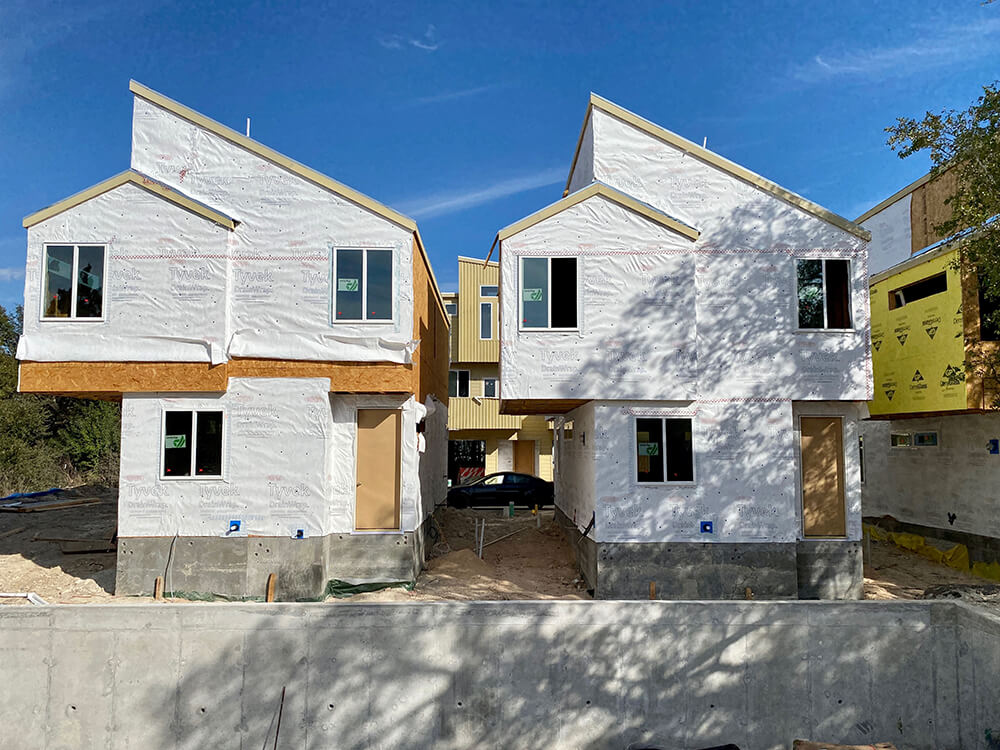 ---
December 2020
What's going on at North Bluff 3? You came to the right place, friend. Buckle up.
Foundations poured for homes 82-85, 98,99, and townhome block 2.
Townhome block 1 siding is going up.
Framing start for homes 82-85.
North Bluff 3 is sold out. We are ready for the new year!
See you here in 2021!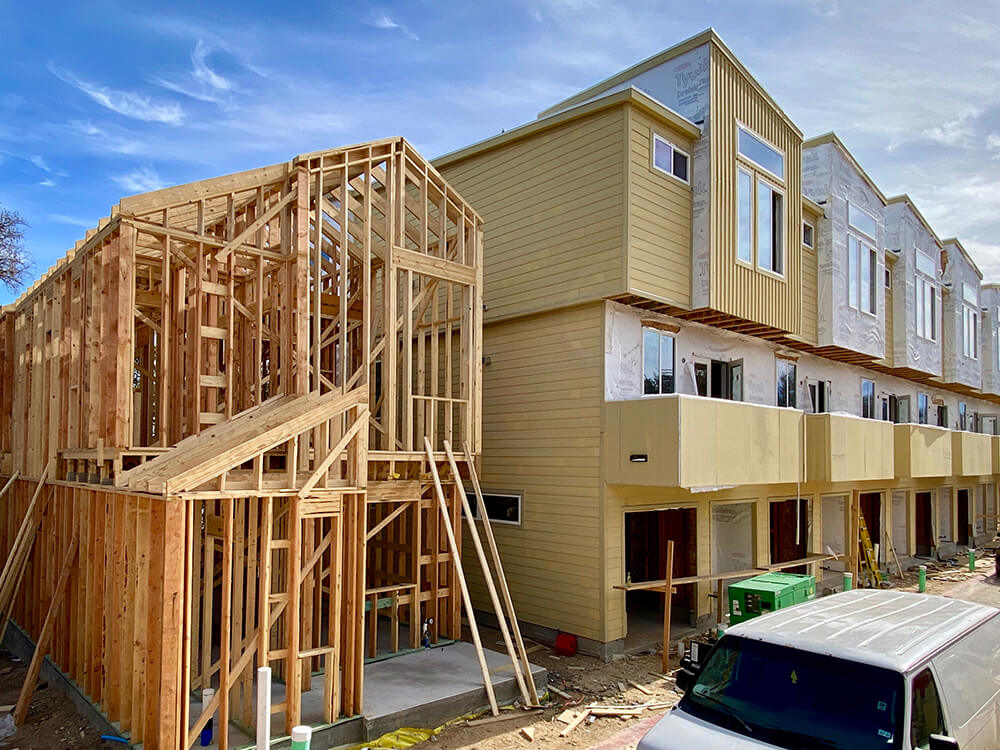 ---
November 2020
What's going on at North Bluff 3? You came to the right place, friend. Buckle up.
Four new home foundations poured.
First block – installing doors and windows.
Concrete site wall completion in 2 weeks.
Perimeter cedar fence ready to start.
There are only 2 homes left. Both are D plans – 2 br / 2.5 ba / 1590 sq. ft. Tell your friends and get ready to be best neighbors.
See you back here next month!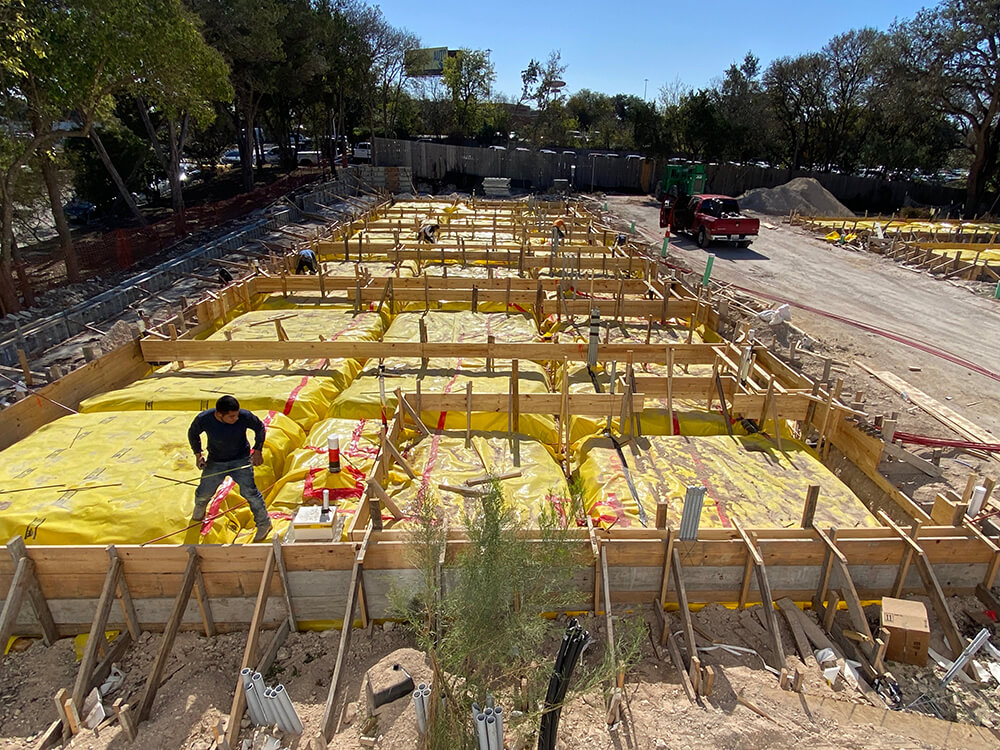 ---
October 2020
North Bluff 3 – it's happeniiinnng – we are moving right along and it's good to see!
This just in:
Forms are being set for perimeter wall dividing NB3 and Capitol Chevrolet
Continued vertical construction on Townhome Block 1 and have topped out framing to the third level
Phase 2 of construction will begin with foundation forms set in the next three weeks
Sidewalk in right of way was poured and inspected
Meet you here next month.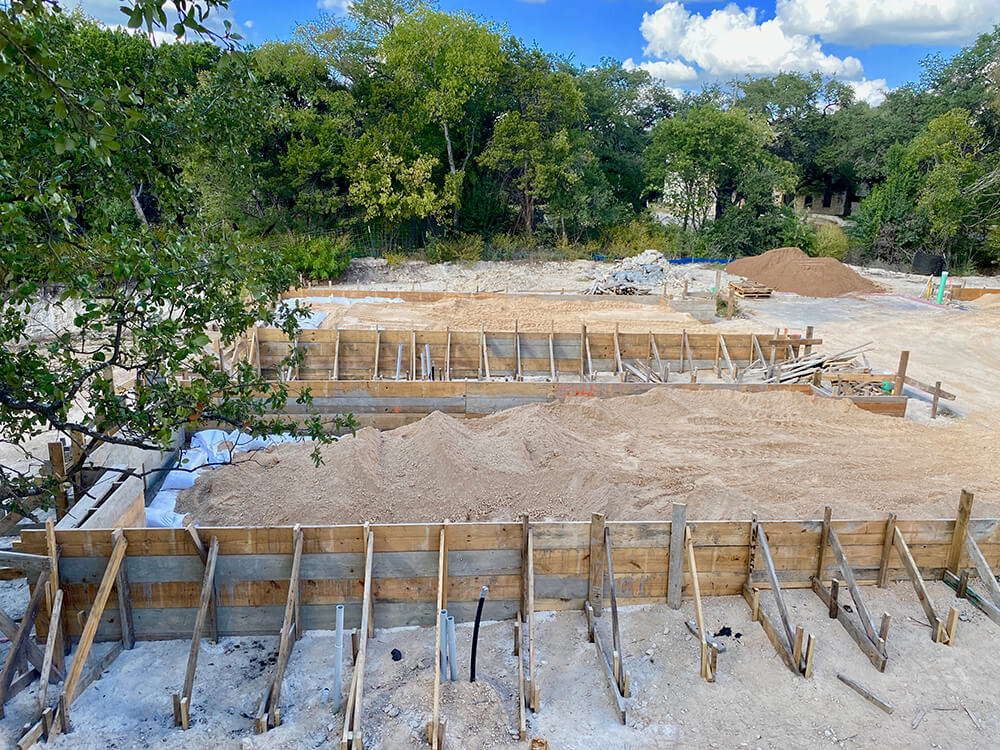 ---
September 2020
The Latest on North Bluff 3 has a LOT going on:
Land development very close to completion.
We're at 30/33 homes sold! One E plan and two D plans are left.
Townhome block 1 framing underway.
Vertical construction on Townhome Block 2 started and and first two floors of framing are complete.
All team members met onsite to discuss and review progress.
Sidewalk in right of way has forms set up and will be poured in the next week.