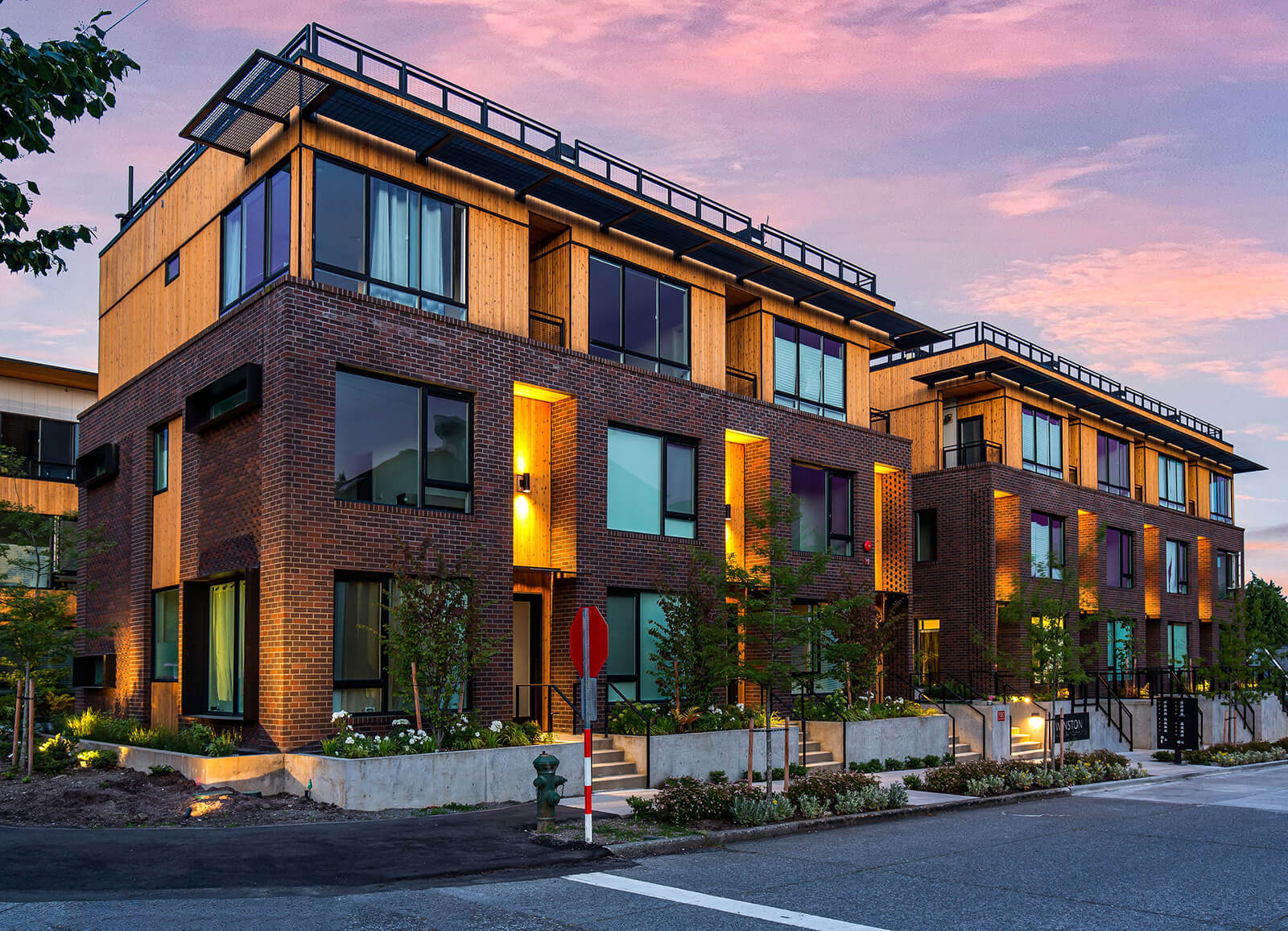 What's up at Winston? This is where you can find out!
---
That's a wrap.
Here we are at the end of the road. It's been a good journey for Winston – and our crews all worked hard to get things just right. We love seeing how beautifully it turned out and we're happy everyone is moved in and snug. It's au revoir, Winston. We'll see you again.
You can check out our closeout party here.
---
5/22/22
May looks beautiful on you, Winston. And this was your biggest month yet!
All major construction activities are finished. done. in the rearview mirror. All remaining units are in the turnover process.
Building A-2 has TCO – temporary certificate of occupancy and Building A-1 is coming next.
Seven – count 'em – SEVEN new home presentations are happening by the end of this month.
Remaining 4 units will be complete and ready for turnover by end of June.
This is the big stuff, Winston and we love it for you! See you back here next month.
---
4/25/22
Wonderful Winston, we're loving how you're looking.
Building A1 is in finishes, with appliances installed. Closings looking like mid June.
Building A2 is in final finishes with TCO inspection (temporary certificate of occupancy) coming next week. Closings coming soon.
Building C has ALL the closings going on.
Can't wait to get everyone safely tucked in. Watch this space.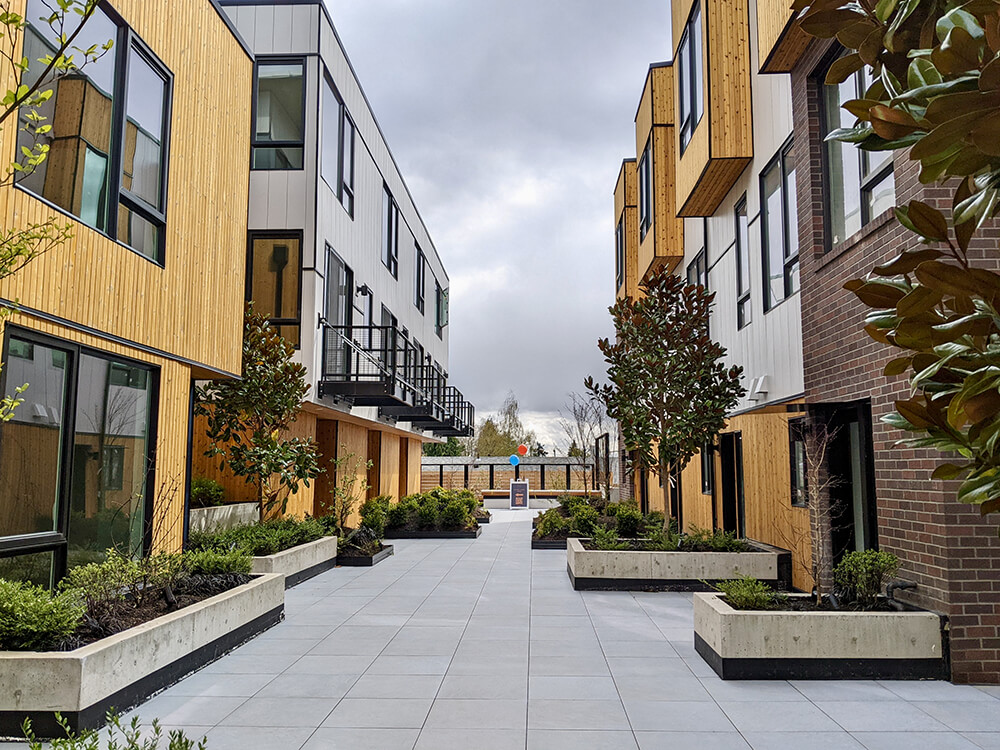 ---
2/22/22
Winston is looking so fresh with courtyard landscaping. A model unit is now open for those last few sales.
Winston received its partial Technical Certificate of Occupancy in February. We are moving close to the finish line.
Check back next month!
---
1/22/22
We are currently driving towards occupancy for Buildings B & C in March!
We are excited to share more next month!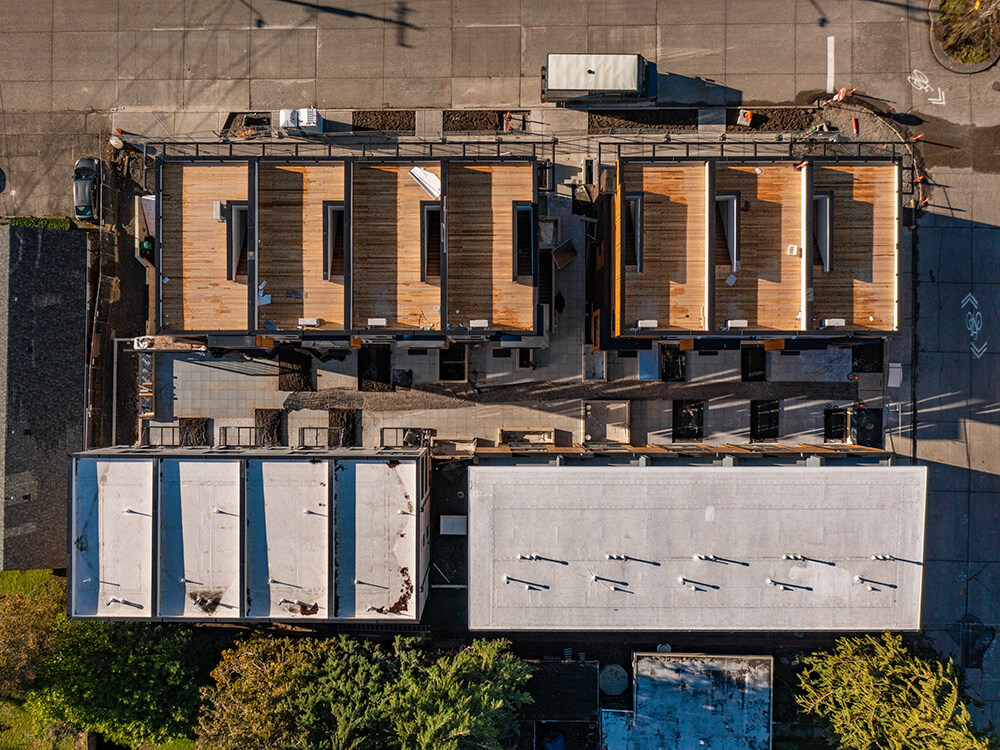 ---
12/16/21
Our beloved Winston!
Looks like landscaping is underway with site-round concrete flatwork and courtyard pavers all complete, along with finished cabinets in A1 & A2. Steel pair parts for the A buildings are set for delivery and install next week with tile and wood flooring already in progress. Underground garage venting has 25% of work left to go and hollow metal doors will be arriving next week.
We are excited to share more next month, watch this darling space!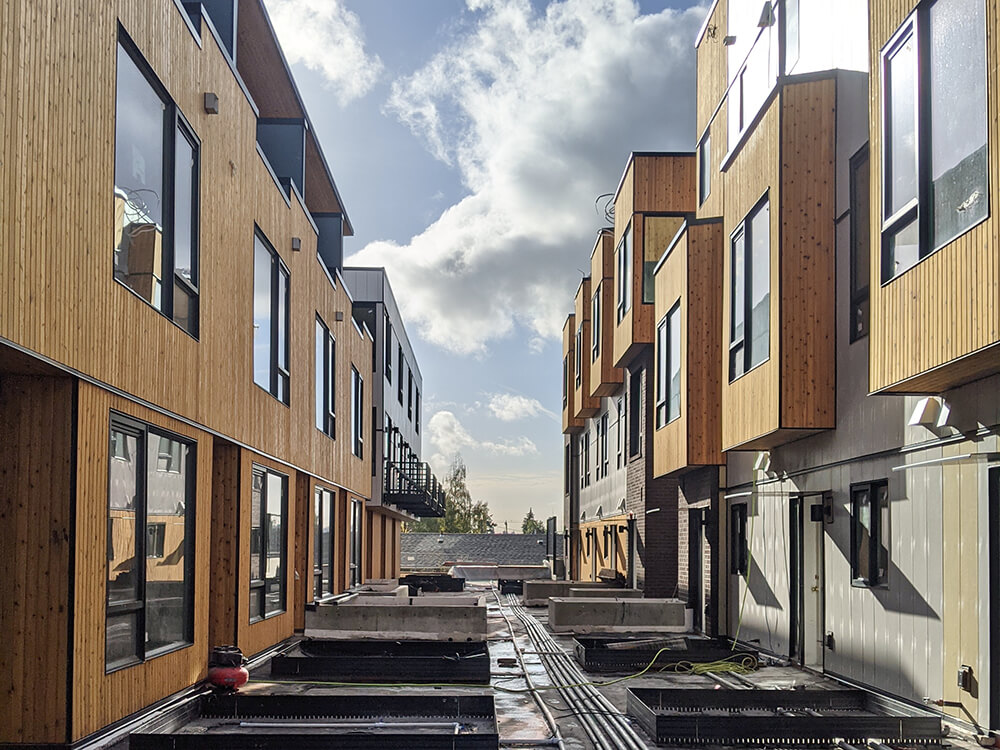 ---
10/26/21
All appliances for Buildings B & C have been delivered and electric trim is complete. Soil is being placed in all planters with irrigation lines near completion and roof top cedar decking as well as paver installation are both in progress. We've also made headway on Building C's door and millwork paint and taping in Buildings A1 & A2 is about 75% finalized, drywall hanging is all set. We're seeing continued advancement on mechanical venting and fans in the parking garage and the underground garage doors have been installed. Once we've completed the balance of curb and sidewalk removal we will usher in new curb and sidewalks in a timely fashion.
Hang tight, we'll get there soon.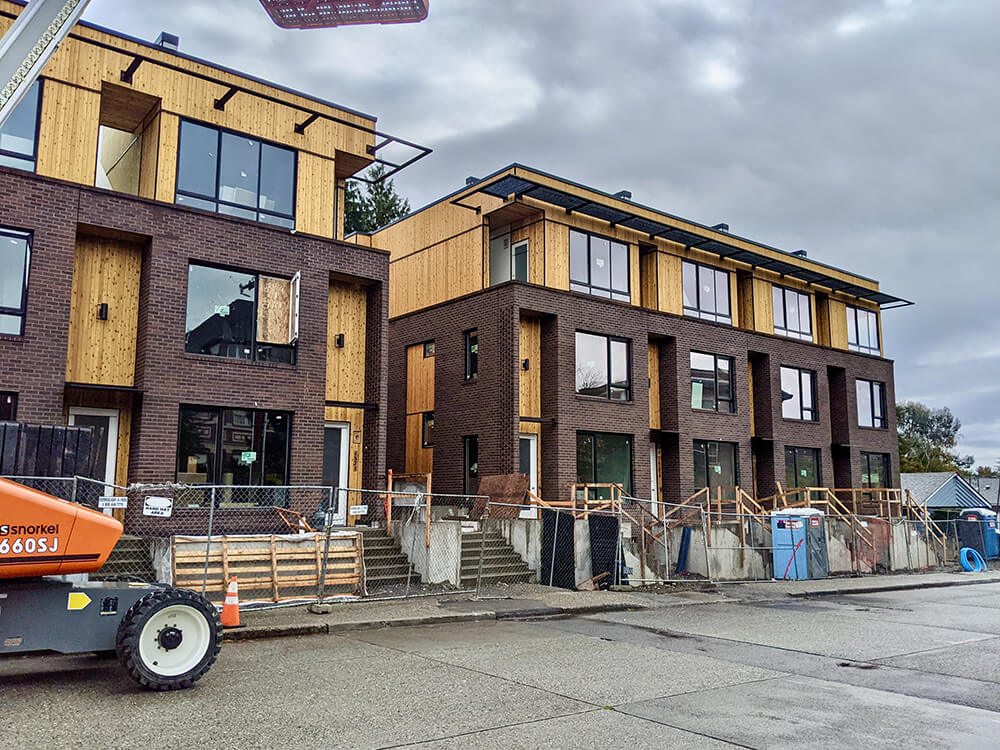 ---
9/21/21
Whew, Winston! Moving along:
Insulation is complete throughout Buildings A1 & A2 while drywall installation is good to go. Over at Building B, bathroom tile is completely installed and we're making good headway on both interior finishes and wood flooring installation. Countertops and cabinets are completed in Building C with trims on site and wood flooring prepped to go.
Where site work is concerned, gas pipes are installed and pedestals installation is next in line.
That's all for this month! Someone feed Winston some grapes and tell him he's pretty.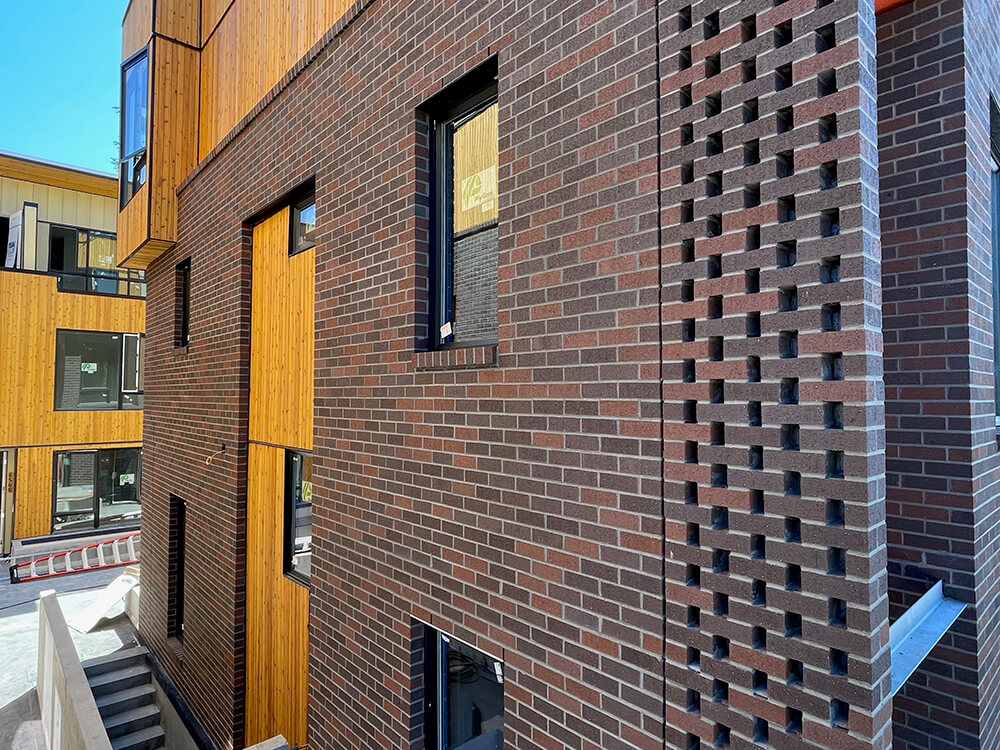 ---
8/16/21
You'll want to bless Winston with all the sour cream crullers once you've learned what he's been up to!
Parapet walls and siding are still in progress. Elsewhere, significant progress on interiors for buildings C & B with cabinet and counter top installation and service from Rob's Electric on plugging and switching. A light package is in the early stages with the hopes to pull the trigger soon on exterior and interior light installations.
See you in September!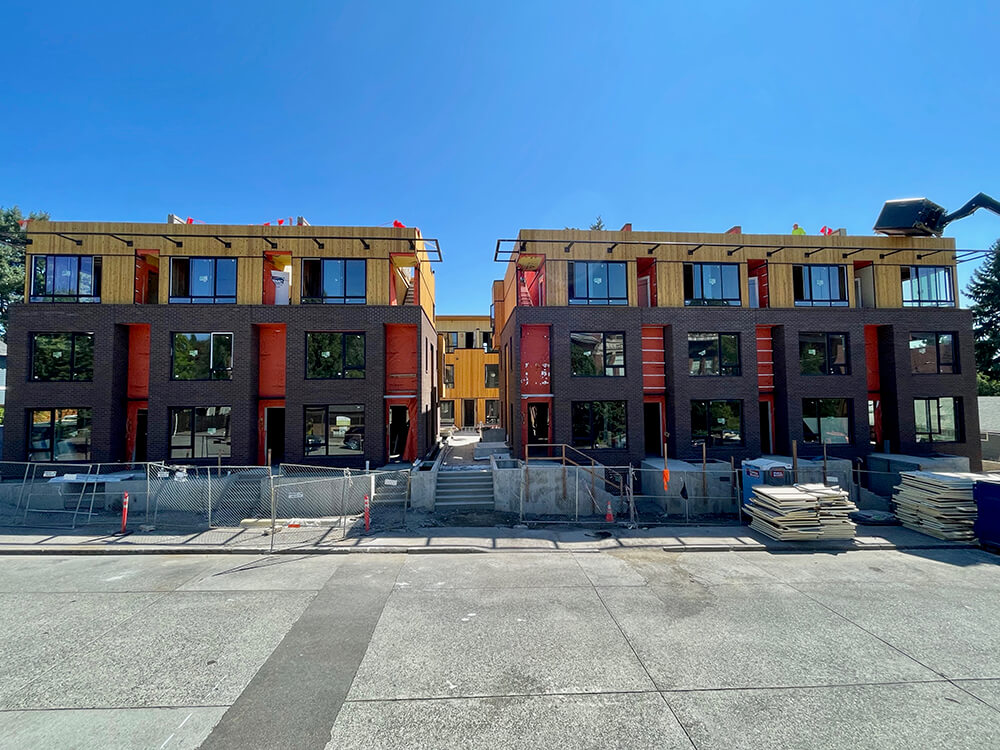 ---
7/15/21
Masonry is approaching the finish line, folks!
Fresh paint on Building B as tile and cabinet installation are in progress. Installation and paint for Building C is still to come. We can confirm delivery on cabinets for Buildings A1 & A2. Walls are geared up for insulation with finished shear wall and our nearly completed siders will be ready in just a few short weeks.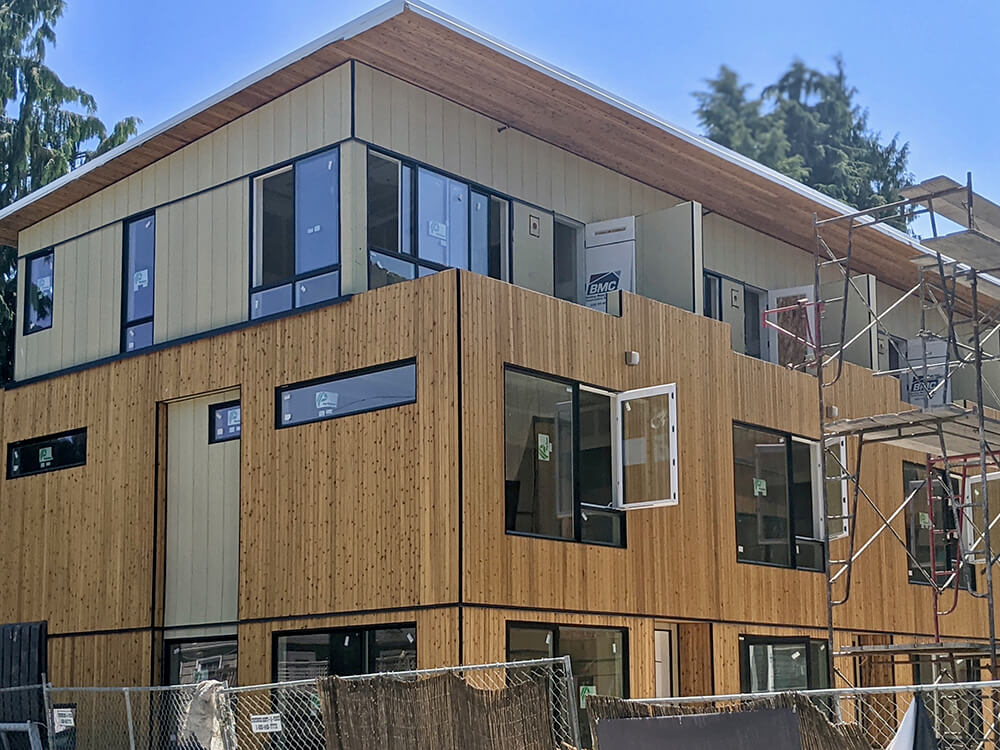 ---
6/15/21
It's been a busy month at Winston. Let's check in:
We've completed all of the proper rough-in and insulation inspections to be granted drywall coverage.
Buildings A1 and A2 have passed framing inspection and are moving on to installation. The siding workers are nearing completion on buildings A1 and A2 as they finish up the final sides and miscellaneous parts. The brick masons have now also completed A1 and are working to finish A2.
Hanging, mudding, taping, and texturing at building B are complete.
Building C is being stocked and also has hangers working right behind the stockers. The hangers have already completed a full unit.
We have framers, steel fabricators, plumbers, and our HVAC contractors doing final tweaks and corrections in preparation for our imminent backend finishes.
This is exciting progress. We'll meet you here back next month.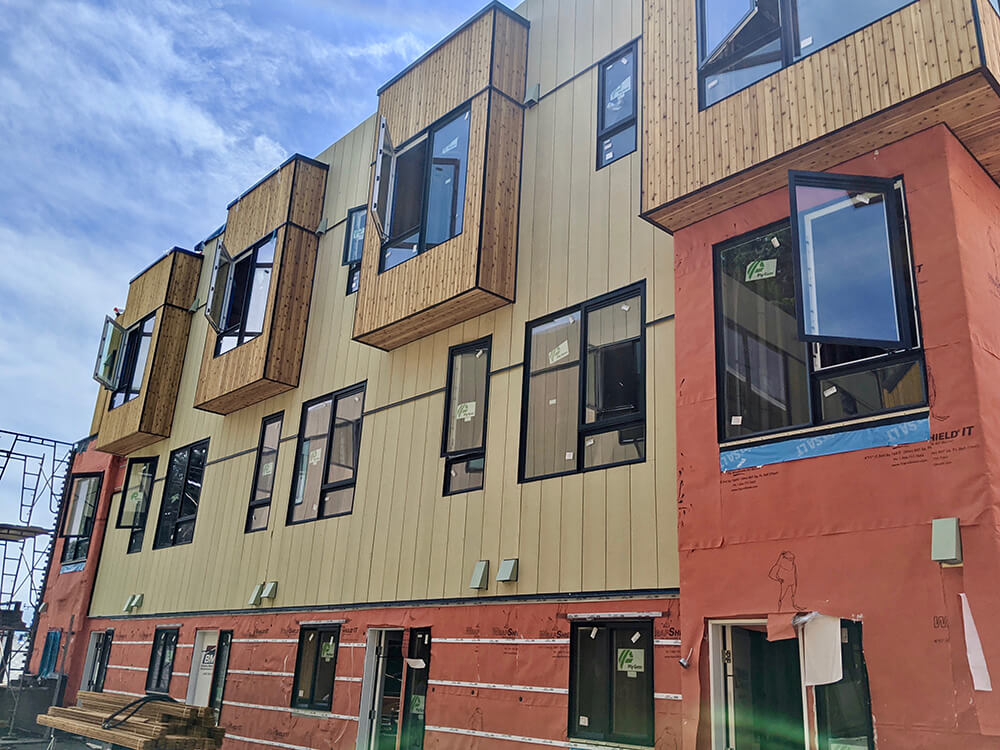 ---
5/14/21
Wow, have we been busy at Winston. Things are shaping up. Let's dive in!
Biggest milestone is starting the beautiful brickwork on the A buildings. Site update: backfill and cleanup work in preparation for getting gas sign off.
Building A1
All rough-in stages complete with just a small amount of work remaining for gas rough-in.
The brickwork on the south side of building A1 is almost complete.
Siding work continues.
Building A2
All rough-in stages complete with just a small amount of work remaining for gas rough-in.
Siding work continues.
Building B
Passed off on all rough in inspections
Siding completed.
Insulation completed.
Building C
Passed off on all rough in inspections
Siding completed.
Insulation started.
Coming up next – Drywall being delivered, stocked and hung.
Meet us here next month.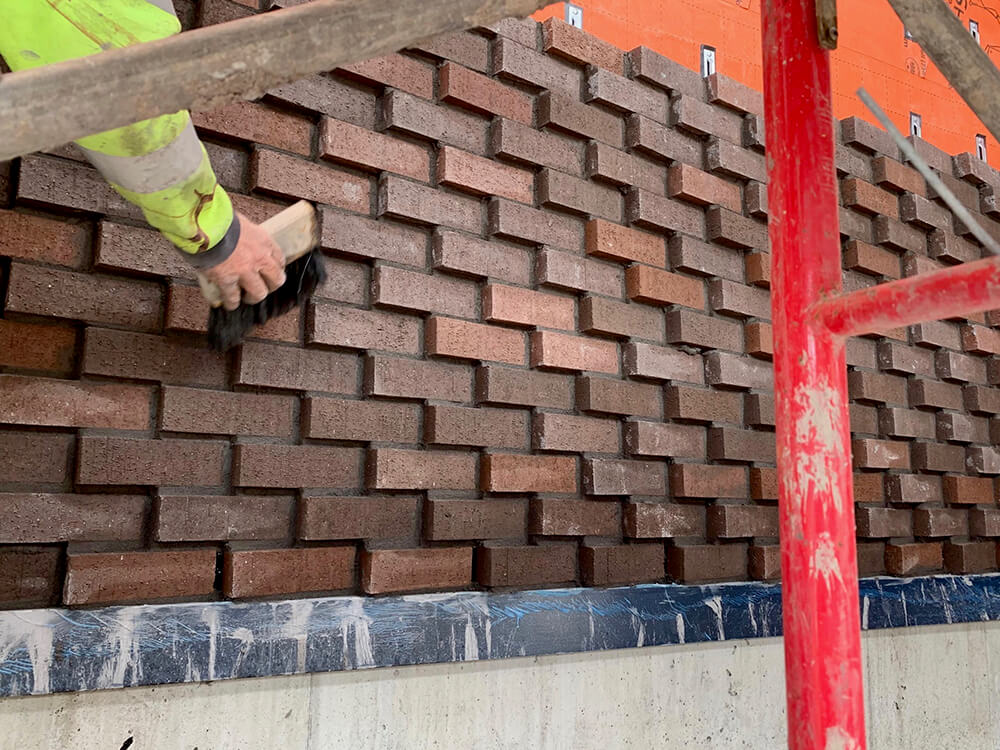 ---
4/11/21
Spring is here at Winston and lots is happening. Let's check in:
Building B
Passed framing inspection.
Installation installed.
Siding finished.
Rough in for MEP (mechanical, electrical, plumbing) inspections passed.
Building C
Finishing up siding work.
All exterior doors installed.
Rough in for MEP (mechanical, electrical, plumbing) inspections passed.
Coming up:
Drywall delivery and hanging.
Final back framing, MEP rough ins for Building A.
Waterproofing courtyard planters.
Waterproofing underground garage.
Enjoy the longer spring days and we'll see you back here next month.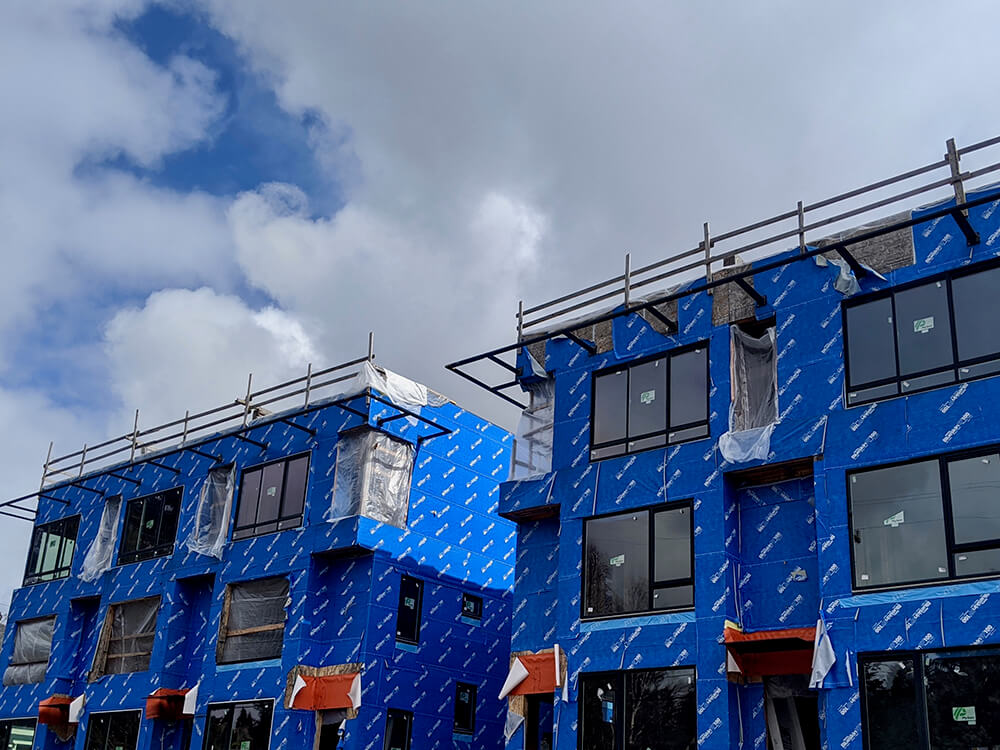 ---
1/31/21
Did you notice our 8.75 inches of rain in January? Things were a little muddy, but we're still making it happen at Winston:
Gas line inspection passed, letting us backfill over the gas lines on the east side of the project.
Huge milestone – completion of the waterproofing of the first half of the courtyard deck. We built a large tent over the second half of the courtyard, so our team could continue waterproofing work.
Thanks to these 2 developments, we were able to start wrapping and siding building B.
Solar shade installation is well underway.
starting up work on concrete stairs, approaches, ramp, and gas meter placement.
Building B – drywall installation completed
Building B – Drywall installation beginning
Building C, A1, and A2 exterior siding is being installed.
Building C insulation is being installed.
Moving right along! See you back here next month.
---
12/31/20
What's going on at Winston? Here's a hint: we're on the nice list.
Electrical, HVAC, plumbing, and fire sprinkler rough-ins are complete in all buildings.
Gas layout is in progress.
Courtyard waterproofing work is ongoing. (This is super-useful for Seattle, natch.)
Frontage concrete stairs and walks work is progressing.
Up Next:
Building re-wrap.
Steel solar shade install starts next month.
See you here next month!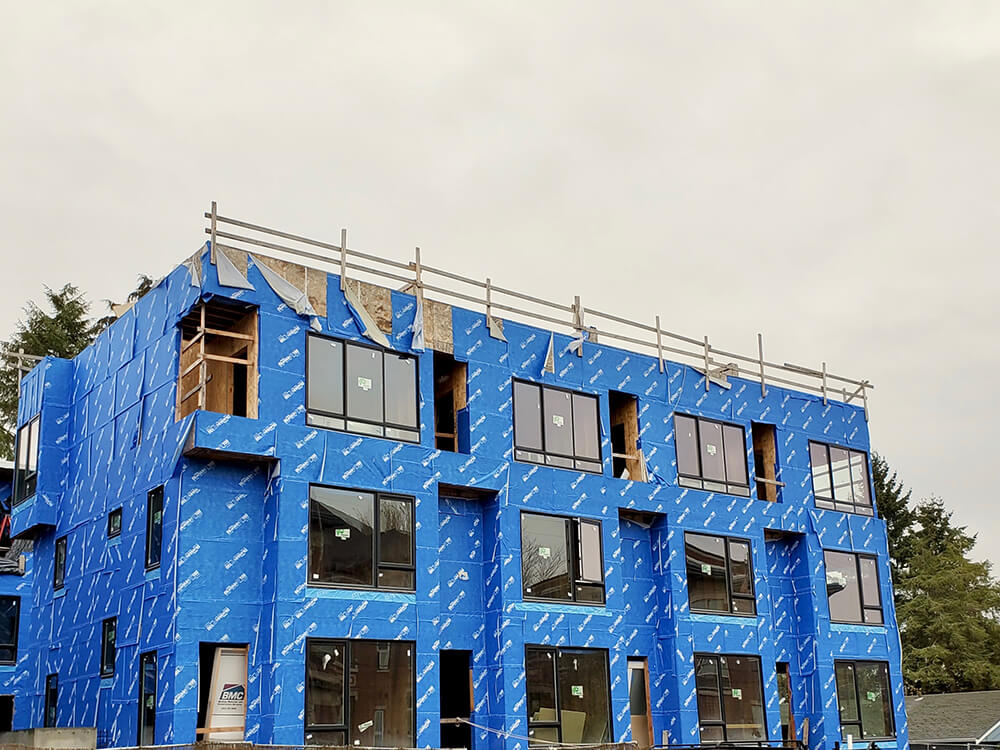 ---
11/30/20
Feeling in the dark about what's going on at Winston? You're in the right place for an update. Feeling in the dark in general? That's Seattle in December. You love it.
3 out of 4 Buildings: Electrical is Complete
Buildings A1 & A2 are finishing concrete in entryways
Gas is going in
Courtyard is ready for waterproofing
See you here next month.