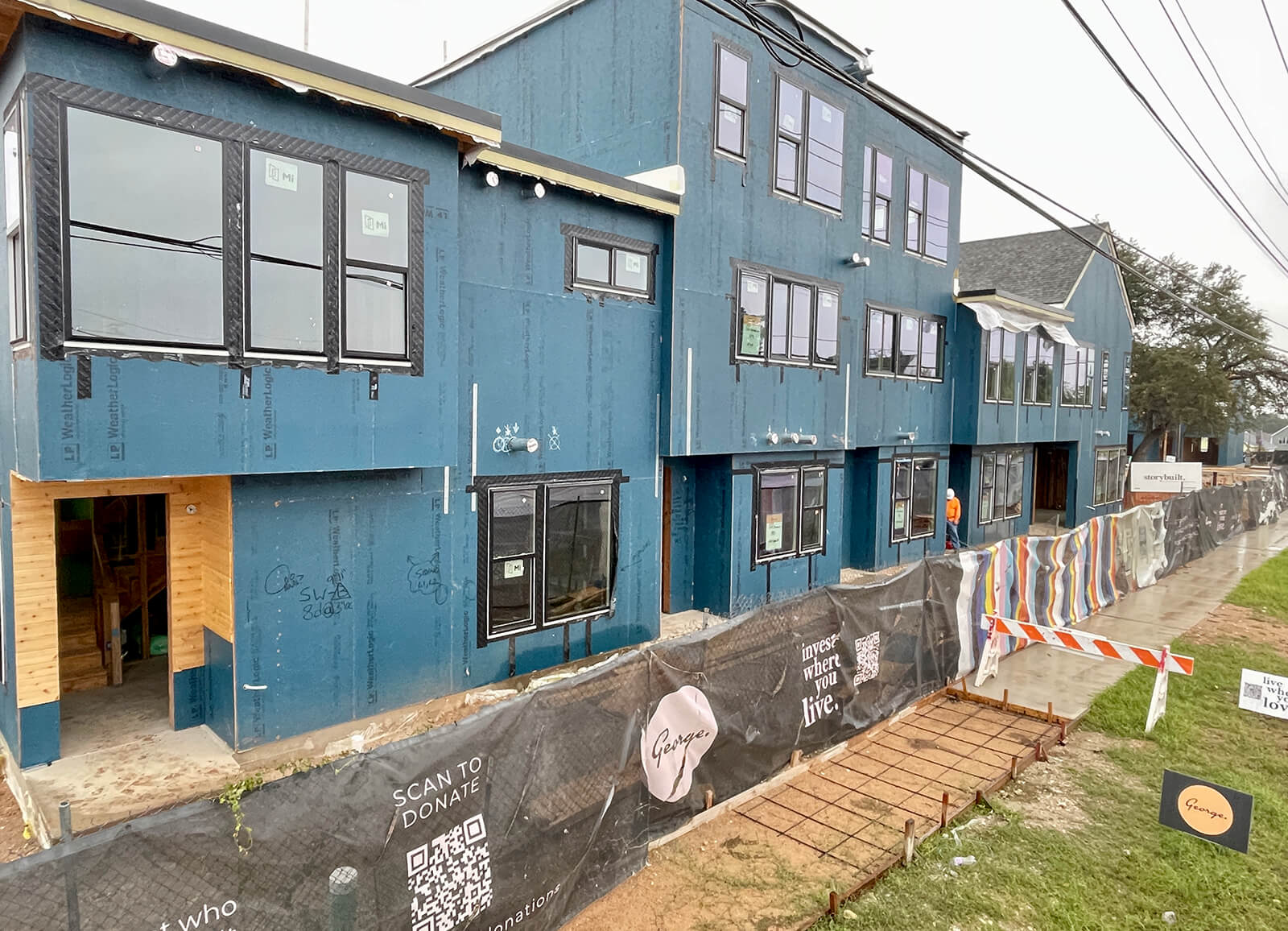 What's going on at George? This is where you can find out!
---
Come here to watch the paint dry:
12/2022
Moving along at George – let's take a closer look:
Finished placing concrete on the remaining single-family phase 1 foundation and began placing concrete at single family homes in area 2.
Area 1 single-family framing and prerock continues.
Townhome buildings 1-4 were surveyed and will soon have forms prepared for concrete placement later this month.
Townhome 5 plumbing and HVAC is ongoing.
Townhomes 10 and 11 pre-rock is complete, and HVAC work has begun. Fire suppression later this month.
Water meter taps have been approved and paid for. Garage fire suppression is done.
That's it for this month's George roundup. We'll catch you back here next time.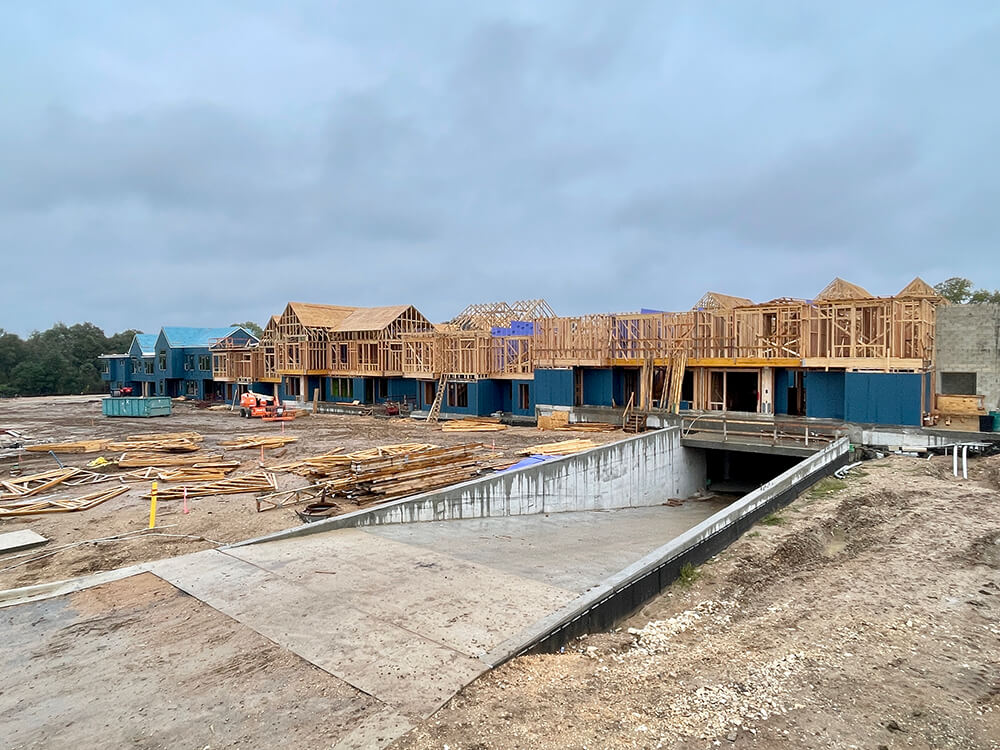 ---
11/2022
Let's talk about George:
At townhome 5, frame punch finished up and plumbing will be topping out soon. HVAC rough-in started up.
At townhome 10, framing and frame punch finished, the roof dried in, and window/door install began. MEP rough-in began.
Framing continues on the remaining podium townhomes.
Framing, roof, and sheathing completed on single family units 37.
Framing and roof finished up on units 38 and 40.
TAP permits approved.
That's it for this month's George roundup. We'll catch you back here next time.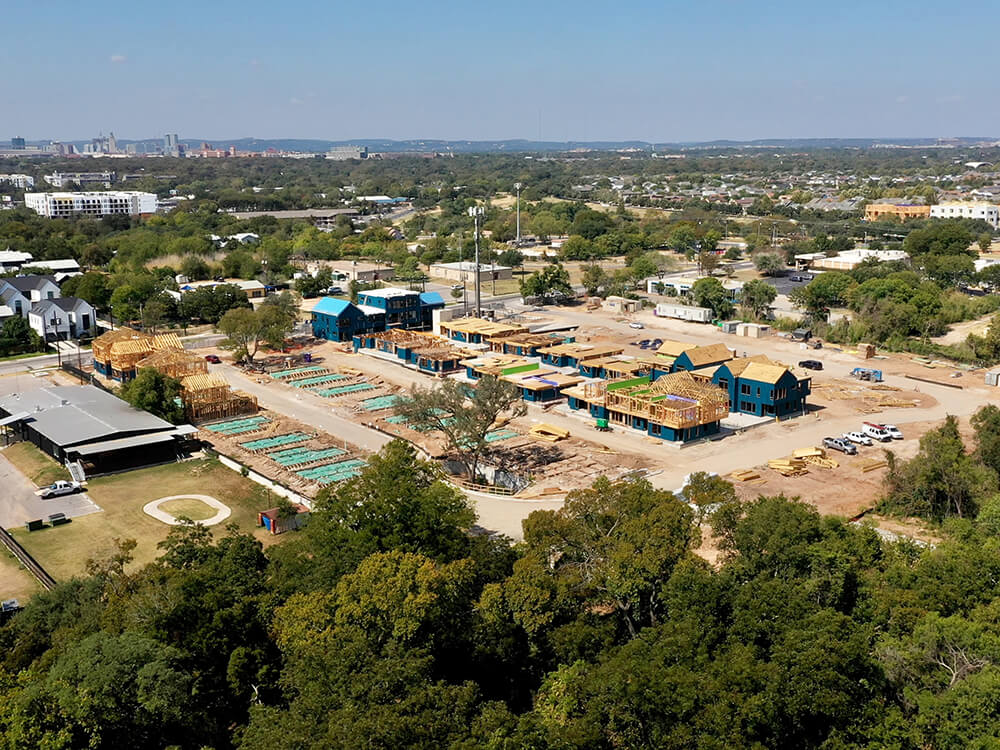 ---
9/2022
Plenty of movement in townhome 5 with windows installation, stairs and roofing all underway. For Townhomes 6-11 podium framing is ongoing. We've also launched single family foundation pours for Area 1 and finalized formwork on family foundations for Area 2. Right of way has also been finalized along with installation for a sump pit in the garage.
That's all the deets for now, watch this space!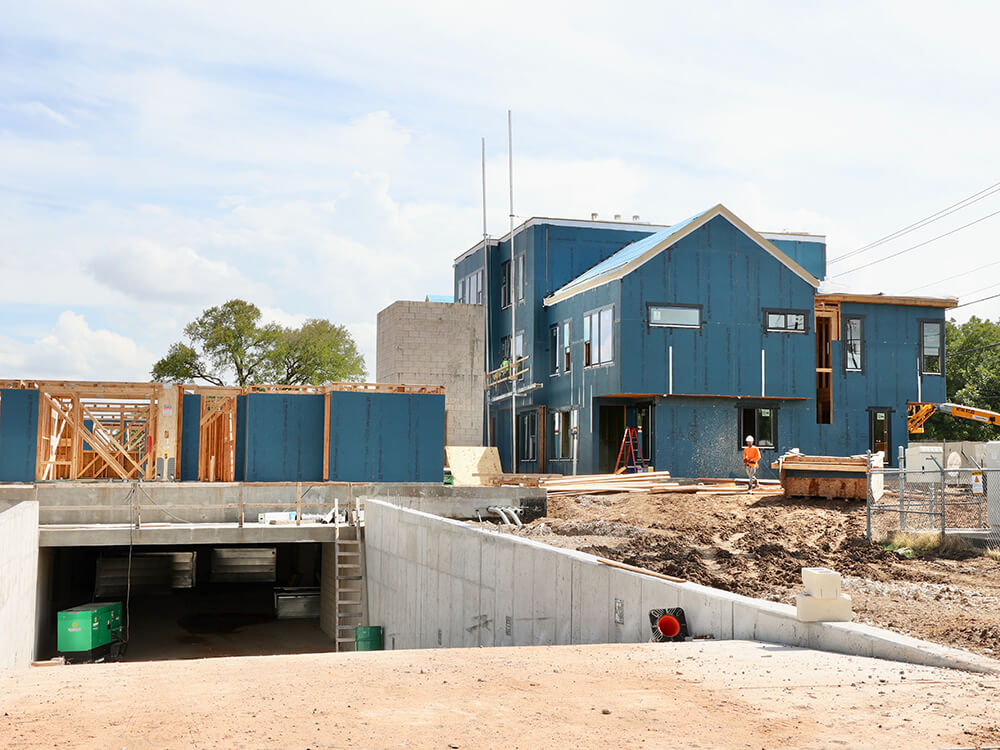 ---
7/2022
Hey George!
Pool amenity building permit approved.
Right of way sidewalks are poured.
Town home buildings 6-11 have framing started.
Slab on grade form sets for single family units 28-36.
Things are moving right along at George and we'll check in next month with more updates.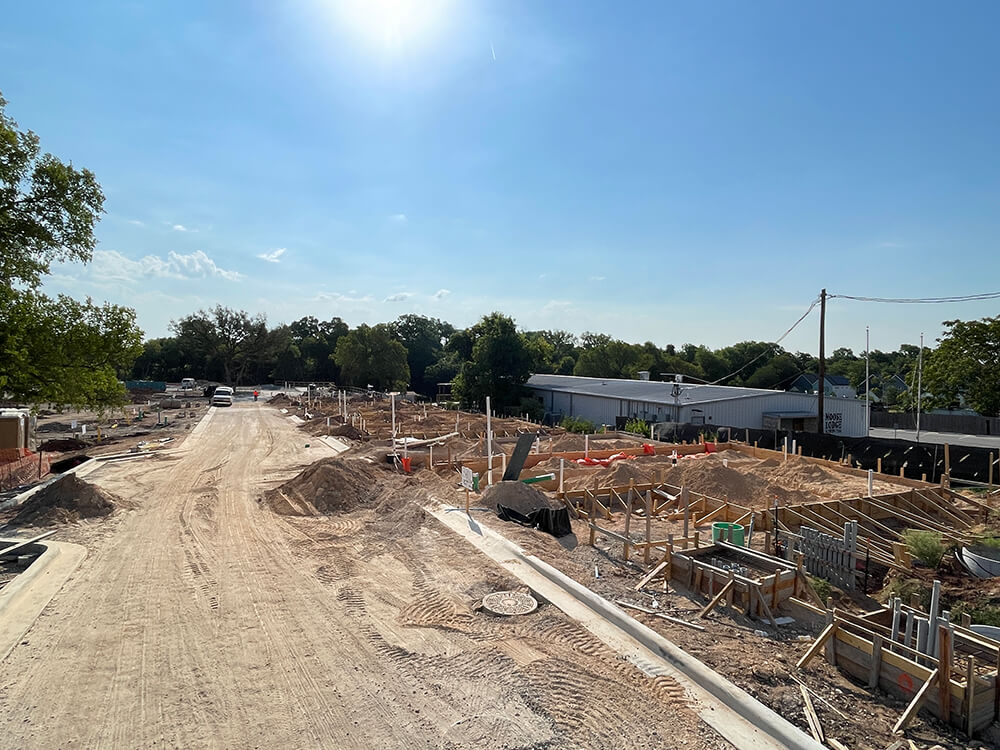 ---
6/2022
Summer is heating up and so is George!
The garage has been topped out.
Final right of way work is complete.
Buildings 10 & 11 are started
Roads inside the community – paved. You heard us. Jetson, McFly, and Curious roads are smooth sailing.
See you back here next month, George fans. Stay cool!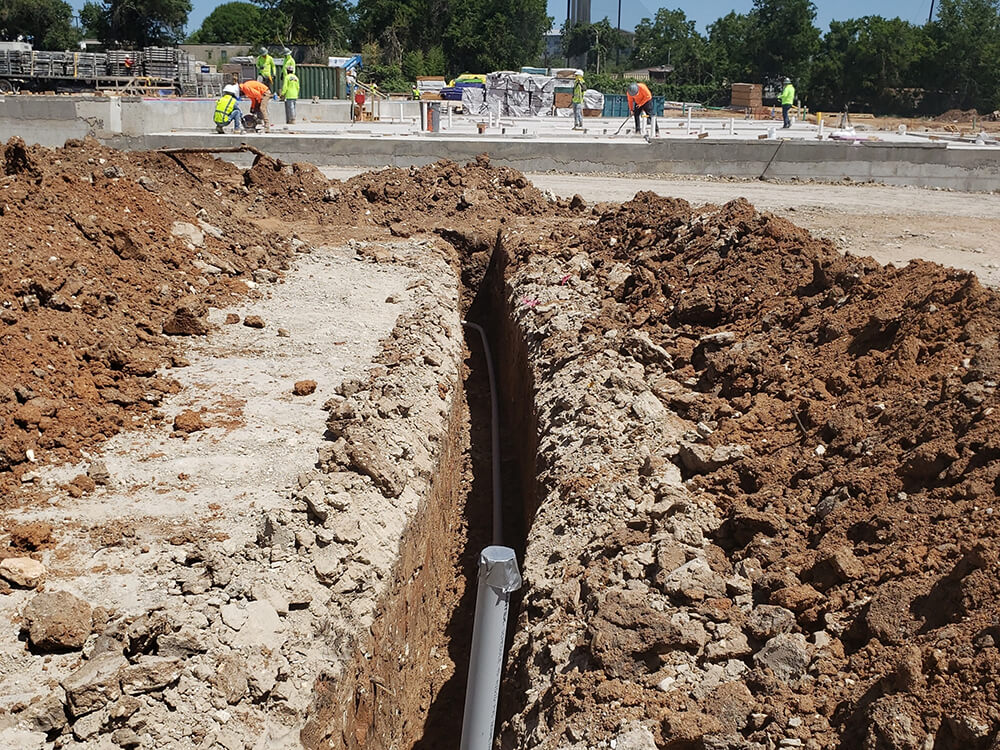 ---
5/2022
Whew, George! Let's talk this out. It looks like you've had a LOT of work done.
Your curbs and gutters on South, North and East Road Loop – finished.
3/4 of garage podium pours are complete.
Garage wall waterproofing underway.
Building 5 framing and sheathing continue.
and…temporary hydrant meter permits are here for the 3 hydrants on site.
Curbs, gutters, podiums, waterproofing, framing and hydrants. Have some iced tea, George.
We'll see you back here for more Georgetastic news.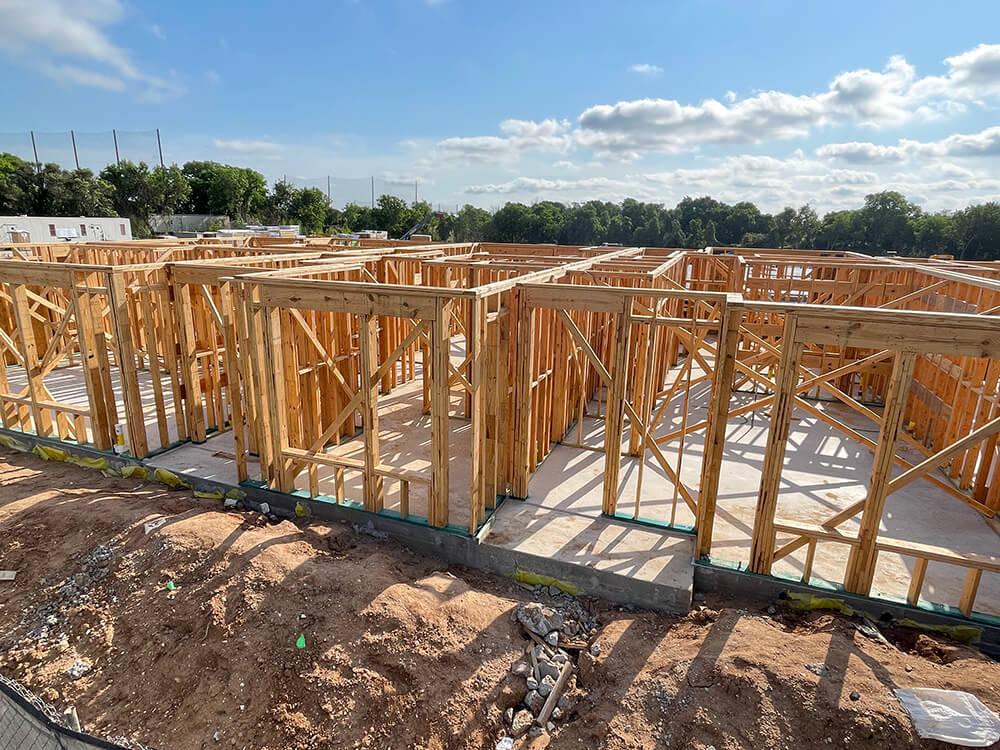 ---
4/2022
Curious about George? You've come to the right place.
The very important fire hydrant hydro test is complete!
Grading for both the road and the gas loop both started up.
Building 5 had its concrete foundation poured.
Oh yes. The roadway loop was cut and the road base is complete.
We'll see you here next month.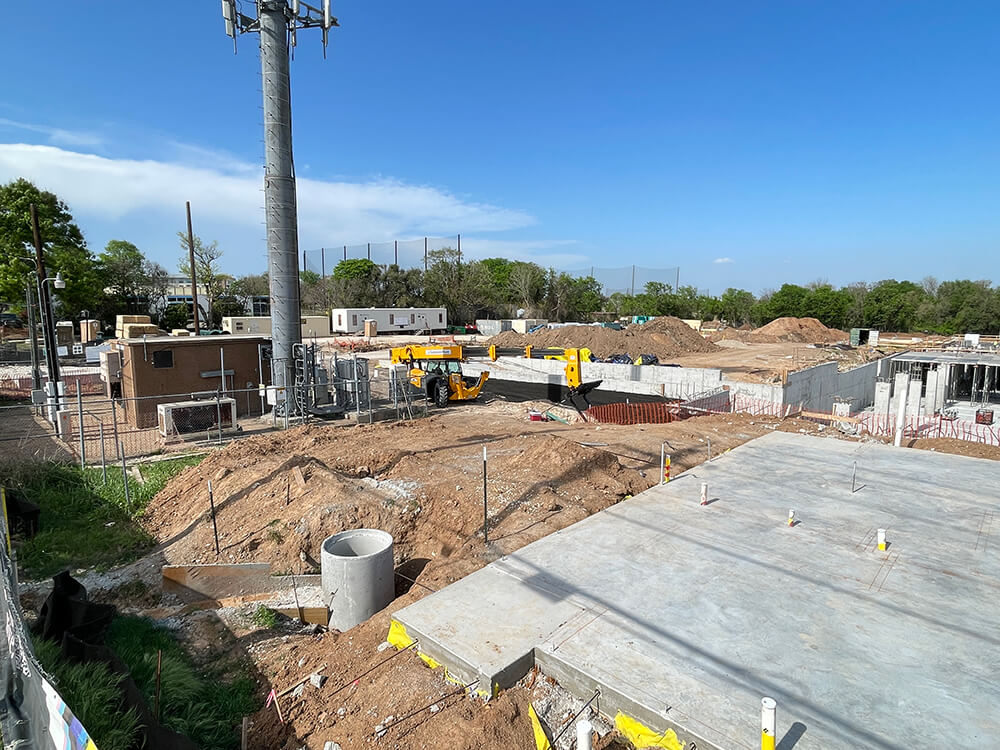 ---
1/2022
SOG (slab-on-grade, aka the "floor" of the garage) prep in building 5 is underway while podium prep will kick-off in buildings 6-11 once SOG is in place for their garage walls. Austin Energy lines are locked in and telecom conduit has almost reached completion. Wet utilities are complete. Dry utilities are nearing completion.
Next Up:
Gas Installation
Road Paving
Production Begins for all Units
Meet you here next month – it's Georgetastic.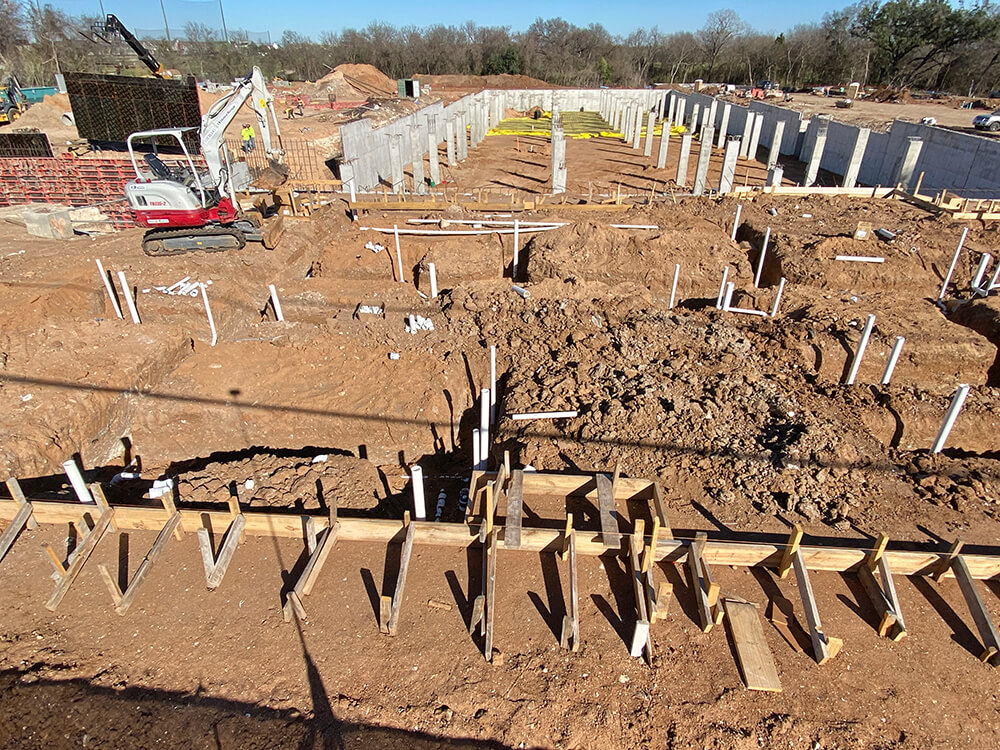 ---
12/2021
Not to brag, but George has officially gone vertical. This is big!
News for our theodolite fans: Building 5 surveying is complete, meaning we can start on the foundation shortly. Sub-grade garage walls are in, with roof and floor pouring this month. Dry utilities underway.
See you next time for all things George.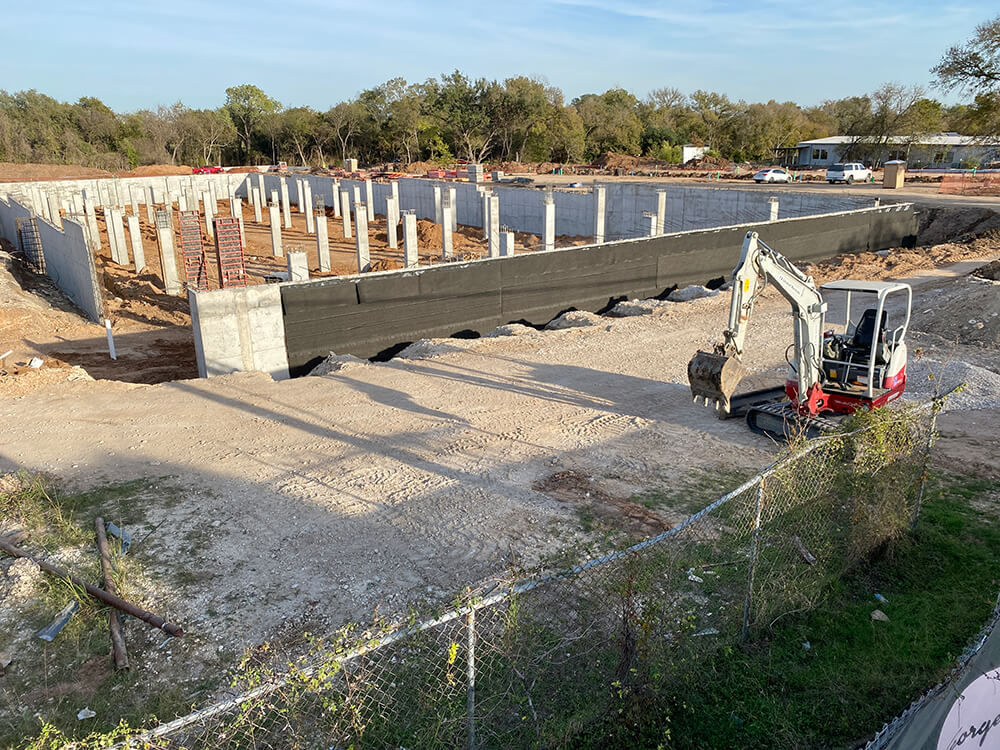 ---
10/2021
Site development is MOVING at George!
The site is now graded and cleared. Main utility lines are installed and various site walls are underway. That's not all: the sub-grade garage (yes) is completely excavated, with footings and garage walls in progress.
All remaining offsite work is near completion.
That's the big news from George – see you here next month.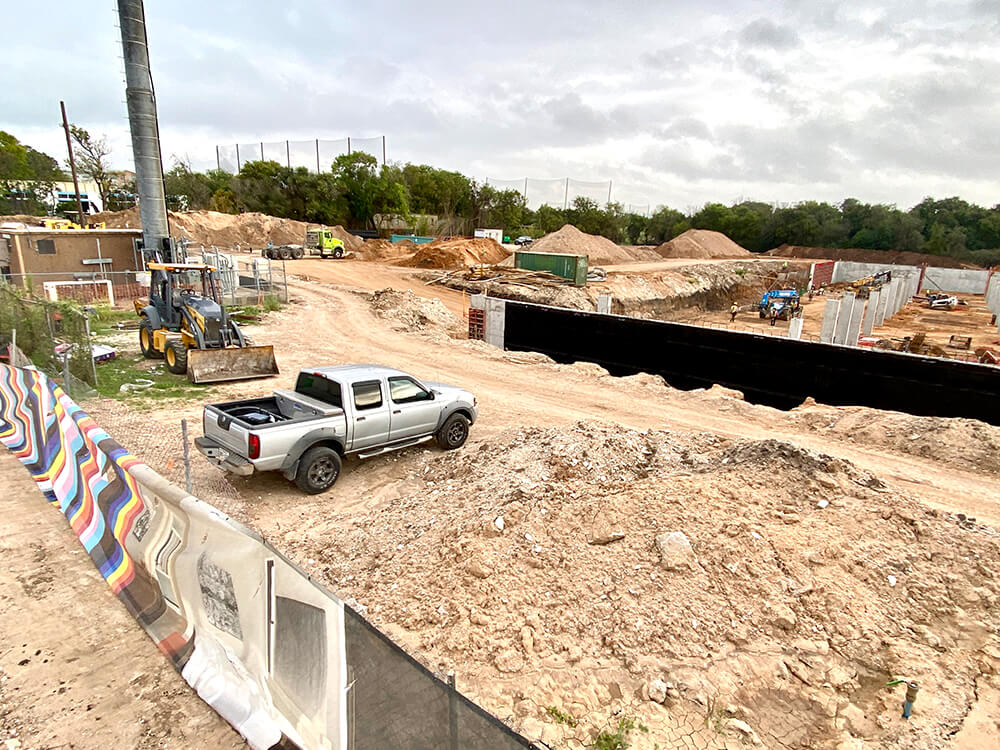 ---
9/2021
That hair-blowing gust of wind you just felt? That's the speed of George coming out of the gate. Site work is MOVING, people! Our team completed rough grading of the site and excavation of the garage. Speaking of all things garage, footings and walls are being formed and the concrete is flowing.
Offsite? Oh, it's on. The new waterline in EM Franklin is currently being tested and prepped for transfer by the city.
Keep your George eyes peeled and we'll see you here next month.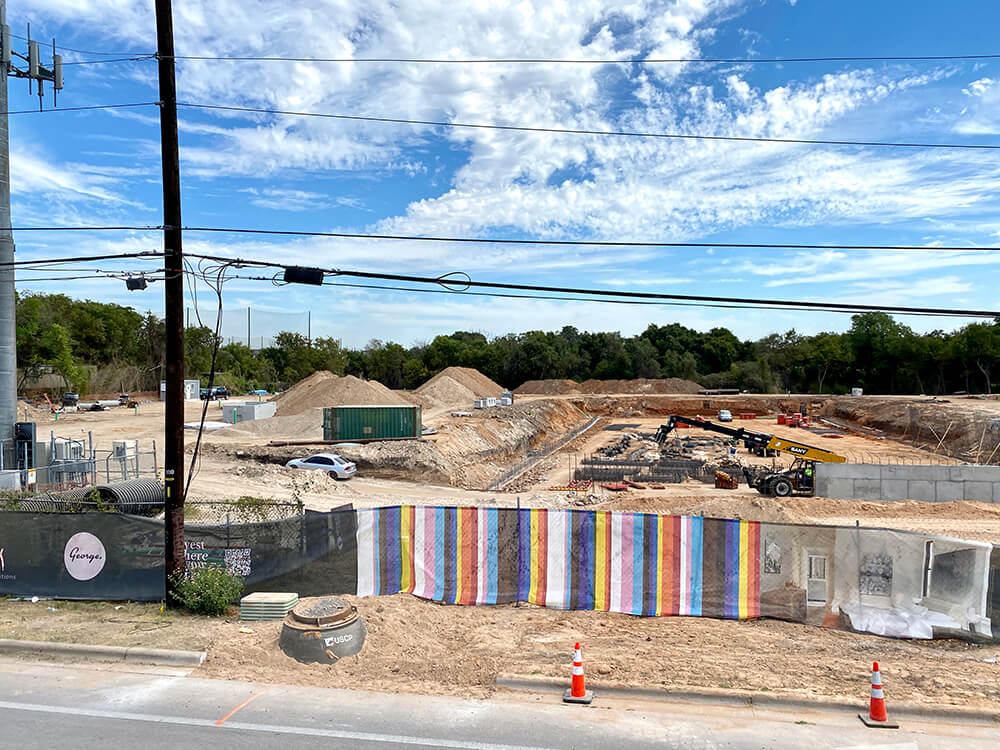 ---
8/2021
Work at George is underway and we're hot out of the gate with site controls and fencing in place.
We completed demolition of existing structures, as well as site clearing and rough grading. Current: excavation of sub-grade garage for townhome units, as well as offsite/EM Franklin improvements. Site signage is up, making our new and charming presence known.
Let's go, George!