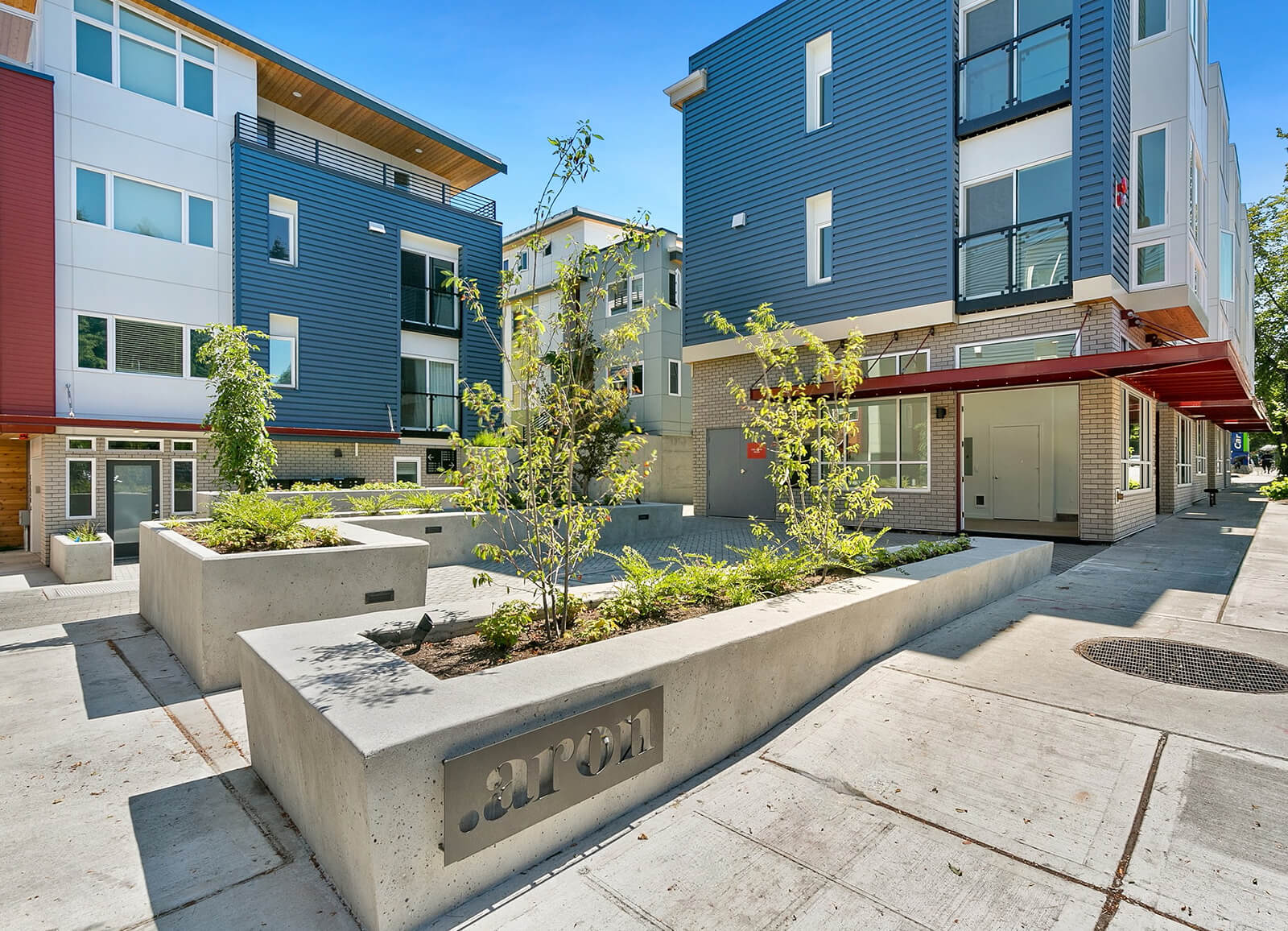 What's up at Aron? A lot. We love seeing blueprints come to life. Read on!
---
That's a wrap.
Aron, it's been good seeing you grow and change. Our crews worked through rain, snow, and sunshine to get things good up in Pinehurst. We'll see you again, and we're glad to have been with you right up to the finish line.
You can check out our closeout party here.
---
7/22/22
Here's the scoop, Aron watchers!
Buildings 1-8: Have received certificates of occupancy.
Building 9: Is sold.
Building 10: Has 1 commercial unit for sale and 2 residential units for sale.
Waiting on a couple of TCO/COs for 4 commercial units.
We'll keep you posted – see you back here next month.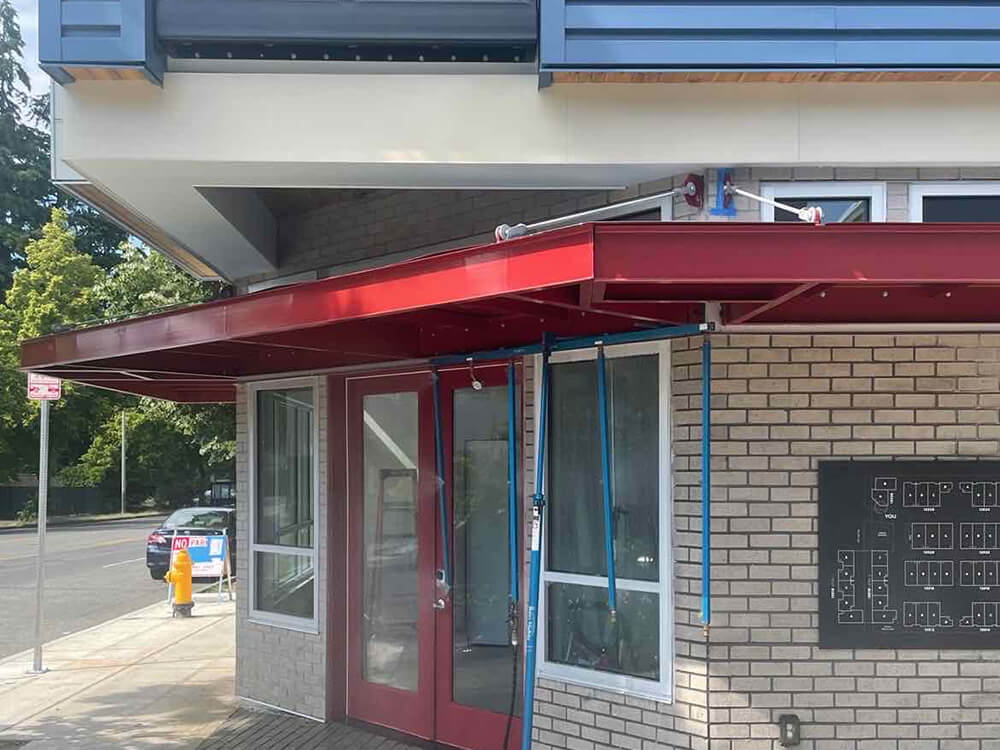 ---
6/22/22
Let's talk about it, Aron. What's popping?
Building 9: Interior construction complete. Final painting follows.
Building 10: Interior construction on residential and commercial units. Storefront glass, canopies, and balconies are coming right up.
Inspections: Final inspections with Seattle Fire Department and Seattle Department of Construction and Inspections (SDCI) are happening end of June.
Homeowner closings coming first 3 weeks of July. It's all happening!!!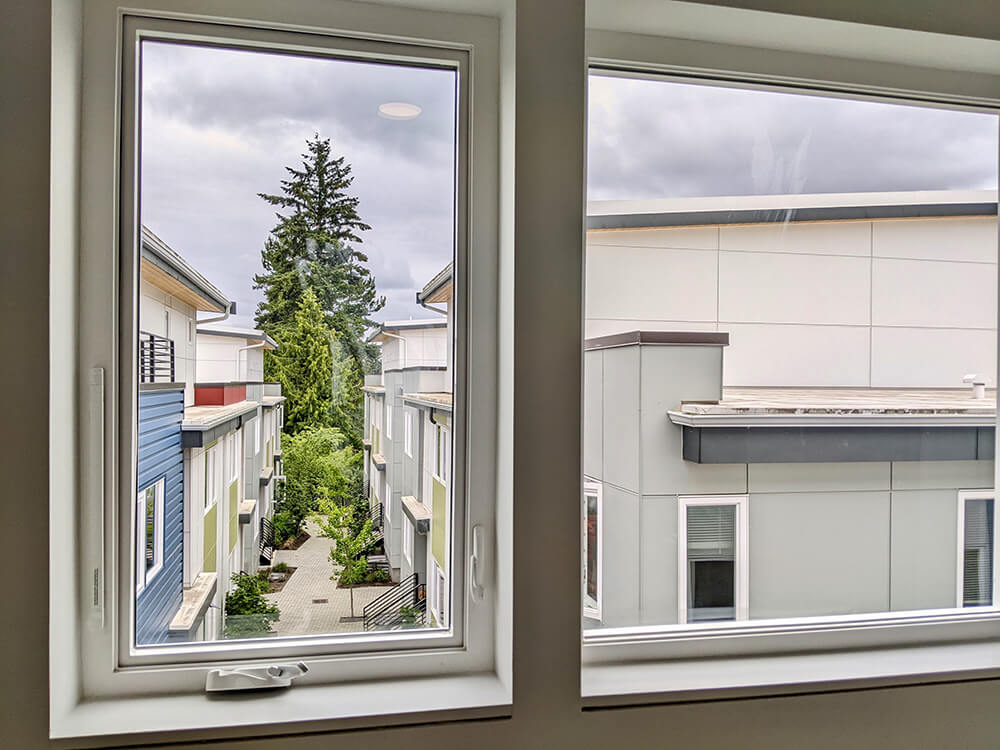 ---
5/22/22
Nora, looking fab for this drab Seattle spring – never mind, sunny days are coming and we're getting things all ready.
Outside: The garden planter walls were prepared, formed, and poured this month. Paver block install is nearly complete by building 10 and we'll keep it going into the garden area this month!
Inside: Building 9 passed its plumbing final inspection and finishes are nearing completion. Up next are drywall fixes, along with final paint and punch items.
Building 10 was HOPPING with finishes complete in plumbing trim, electrical trim, HVAC trim, carpet, cabinet, and all door hardware. LVP stairs start next, with final repairs and paint to follow.
That's it for this month, Nora. We're so excited for you to bloom!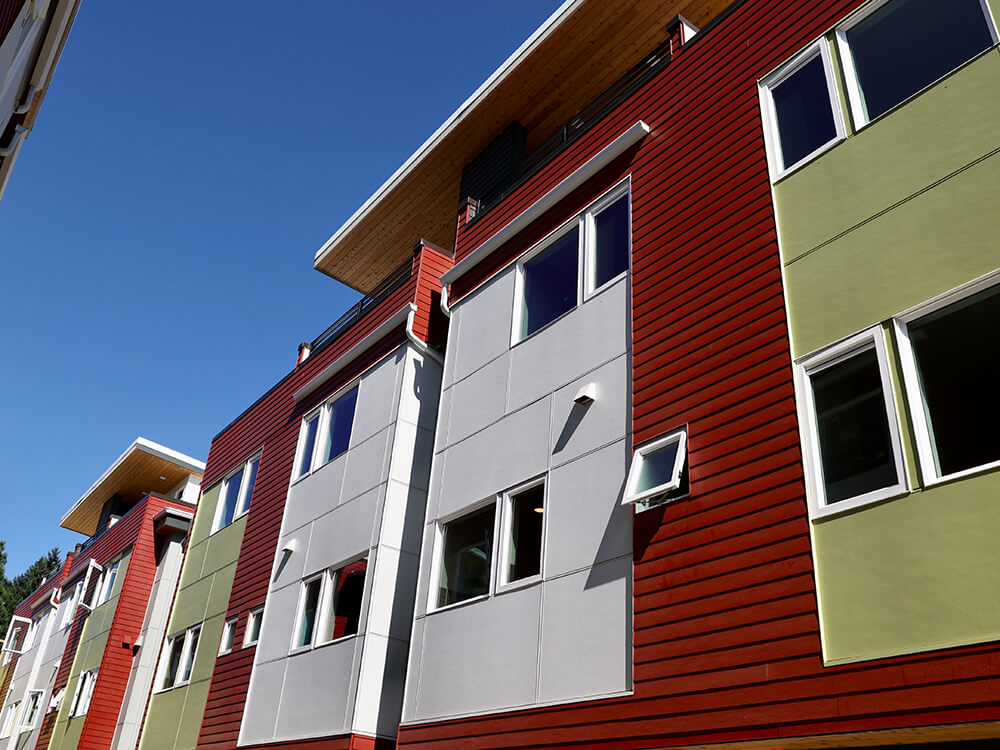 ---
4/22/22
Aron, we're looking good!
Buildings 3-8: Have closed with their homeowners and are now occupied.
Building 2: Aiming for final inspections in late September. Closings are scheduled for end of September.
Building 1: In line after Building 2.
Buildings 9 & 10: Have completed roof framing and framing is underway. Sprinkler rough in is underway. Plumbing rough ins set to begin in late September.
That's it for you, Aron. Stay excellent until we see you next month.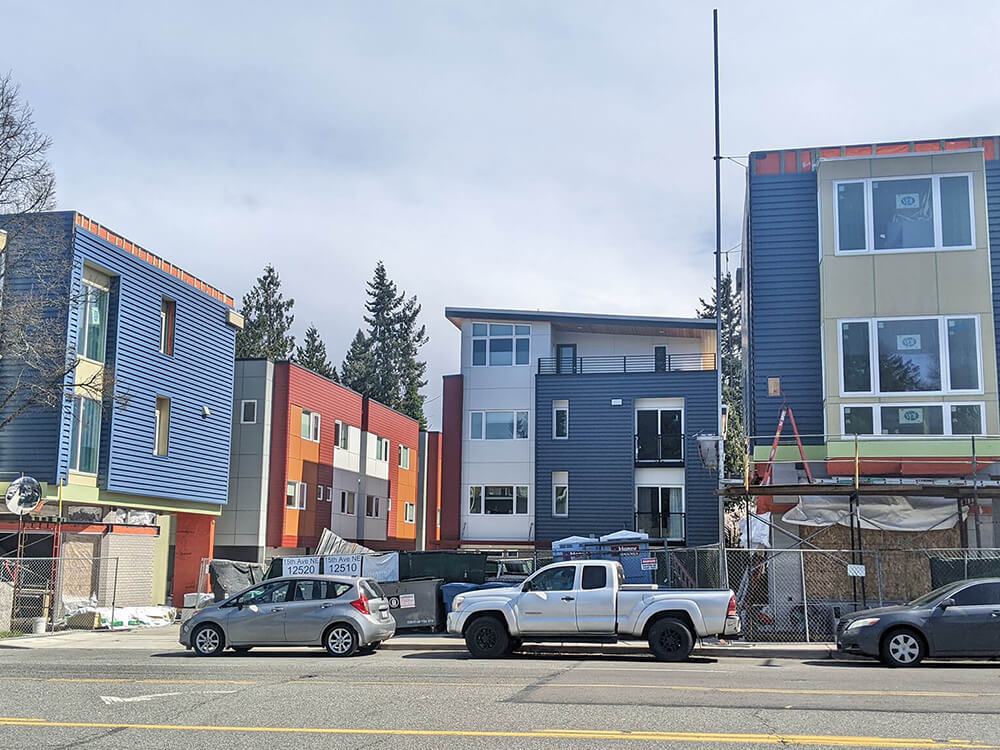 ---
2/22/22
Aron & progress. The best pairing. Let's talk about it:
Building 9
Passed all inspection for MEP's inside the building.
Insulation underway.
Drywall hanging in process.
Siding is mostly completed on the east and north sides.
All exterior doors and vinyl windows have been installed.
Building 10
Passed rough in inspections for plumbing and residential space electrical.
Commercial space electrical rough in inspection complete.
Window install in building 10 nearing completion.
Half of the exterior doors have been installed.
Coming up: Drywall.
Electrifying news: On 2/15, wire was pulled from the Seattle City Light vault to buildings 9 and 10. This is the last step before scheduling SCL to come hook up and energize buildings 9 and 10 for permanent power.
Whew! See you back here next month.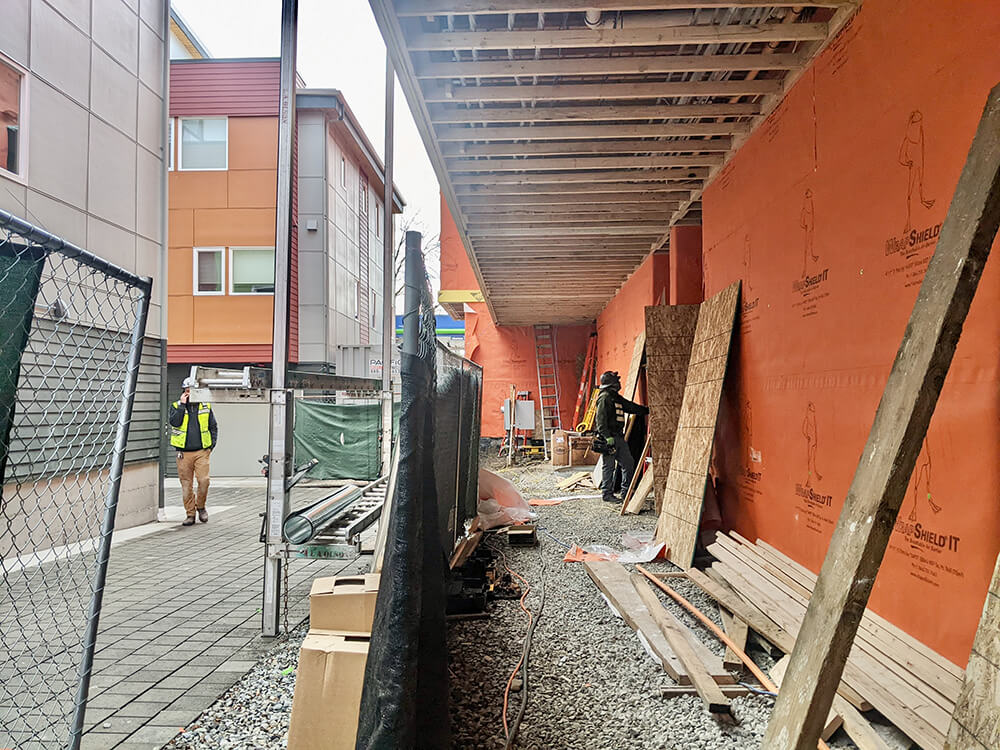 ---
1/22/22
WRB and window installation as well as rough-ins continued in Buildings 9 & 10. HVAC rough-in has almost reached completion.
Next up – plumbing's final rough-in inspection. Electrical rough-in nearly complete.
See you back here next month with more Aron news!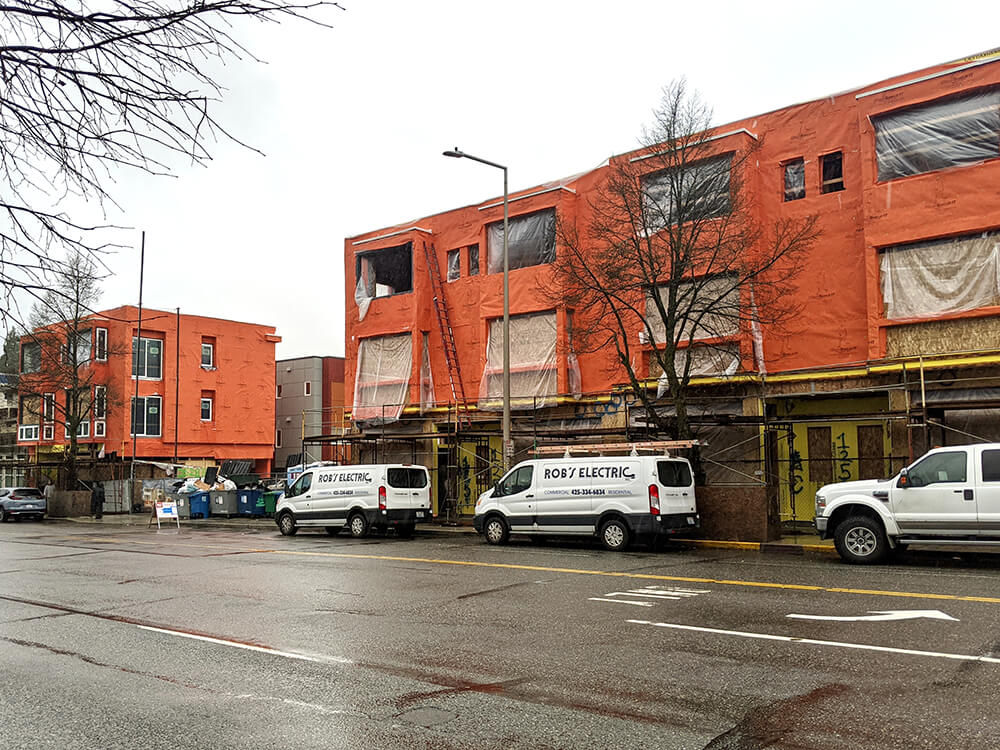 ---
12/16/21
The hot goss on Buildings 1-8? Aron's first phase is sold out!
House wrap on Building 9 began 11/22 and window delivery was set for 12/2. Elsewhere, house wrap on Building 10 was set for 12/3 with window delivery scheduled for 12/28 and siding/window installs still to come. Buildings 9 & 10 passed SFD fire sprinkler inspections on 11/2 with ongoing pickup framing and change orders being put in place for any challenges that may pop up during MEP rough ins. Commencing on 12/13 was HVAC rough in ducting along with electrical wiring on both buildings with inspect upon completion. Plumbing rough in inspections were 12/6 in Building 9 and 12/14 in Building 10. Insulation inspection is tentative for the first week of January for Building 9 and 2 weeks after for Building 10.
Aron's gonna have a lemon scone while we wait on next month's updates, we suggest you do the same.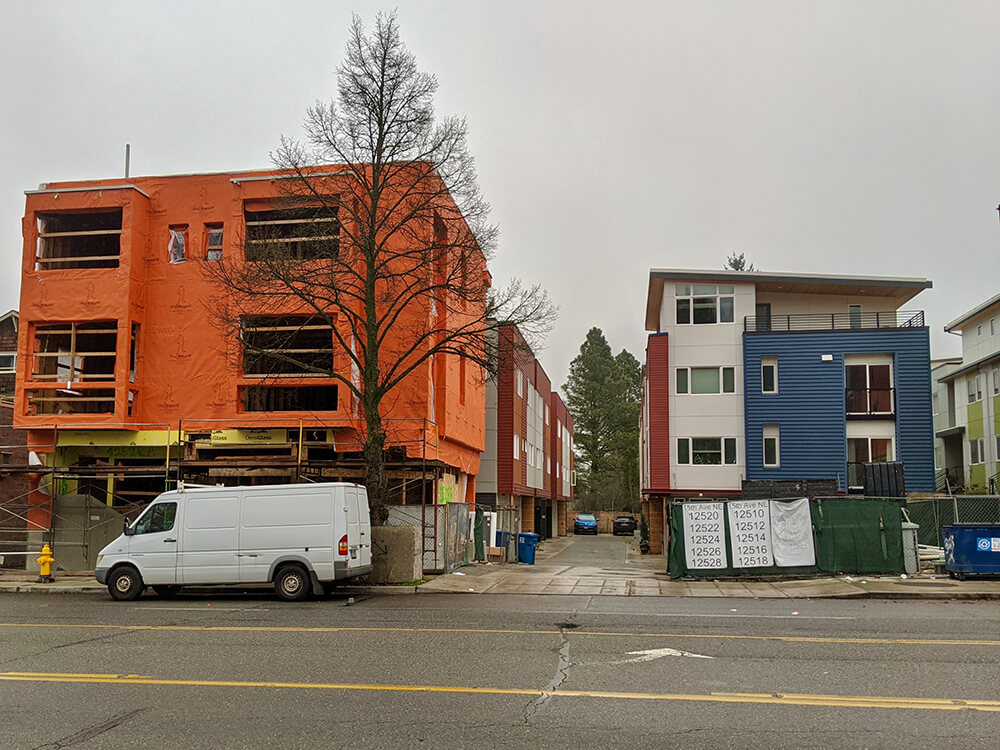 ---
10/26/21
Save for Unit 2.2, Buildings 2-8 are closed while units in Building 1 have been given various closing dates: Unit 1.1. on 10/28, Unit 1.4 on 11/9. No sale just yet on Units 1.2 & 1.3. Building 9 & 10 are both nearing completion on pick up framing with framing sub wrapping both in densglass. TPO roofing on the two buildings kicked off on the 18th of this month and will finish the same week should the weather behave. Moreover in 9 & 10 we have sprinkler, electrical and plumbing rough ins all still underway. Until windows are delivered, we'll be meeting with siding subcontractors to weather-proof both Buildings 9 & 10.
Hang in there, Aron!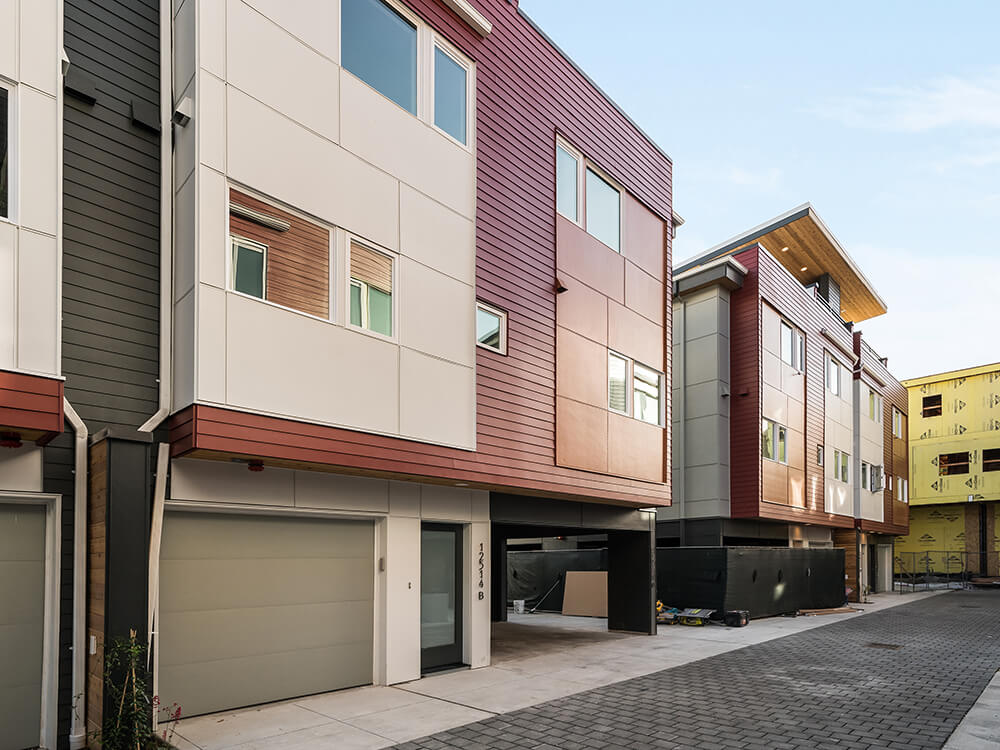 ---
9/21/21
A blessed, pumpkin spiced day to you, Aron.
Looks like we've got brand new homeowners in closed-out Buildings 3-8. Owners in Building 2 are due at the end of September. Still to come, closings on Building 1 after final inspections 9/27-10/1 and temporary C.O. the following week. Roof framing finalized on Buildings 9 & 10 while our framing sub is working through pick up and further framing to finish their scope of work. We've roughed in sprinkler lines through 5 units of Buildings 9 & 10 with our sprinkler system subcontractor. Plumbing rough ins kick off in late September in Buildings 9 & 10. Additional MEP rough ins and drying in still to come!
Watch this…spice.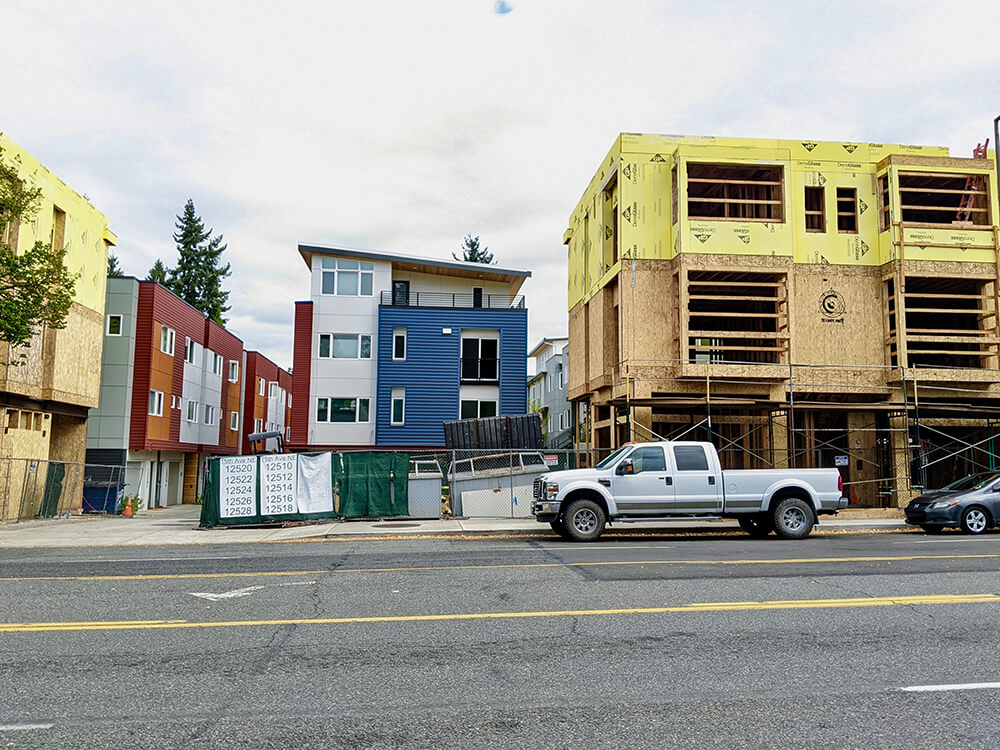 ---
8/16/21
Hey Aron, just sit back while I fill the crew in about you, 'cause it's been a long, hot summer.
We're at full occupancy for all units in buildings 3-8, sold and closed. We're getting appliances and carpet installations in building 2 mid-August as well as stair treads on the 17th with plumbing, electrical and building finals scheduled by Aug. 20th week ending. Framing is coming along on buildings 9 and 10 with building 9's roof 75% framed and building 10 at the initial stage. As our landscapers continue to tweak the site's irrigation, we'll be starting electrical boxing in buildings 9 & 10 along with rough plumbing.
Well Aron, hopefully you poured yourself some red while I stepped in. You've earned it.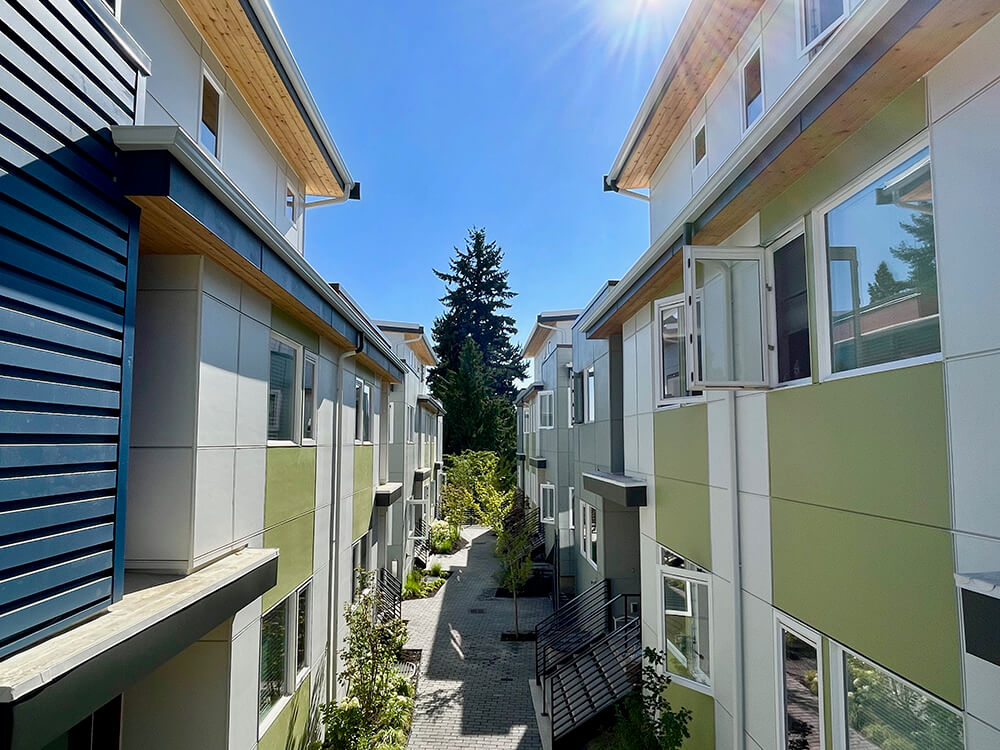 ---
7/15/21
No room at the inn for buildings 3 and 5-8!
We're powering our way through final cleaning and inspections this week and homeowner walks for building 4 are on the itinerary for July 20th.
Happy to report they've locked down all fencing and landscaping in buildings 3-8. Still to come for buildings 9 & 10 are 3rd floor walls, while framing for those floors is underway.
Love this journey for Aron. 'Til next time!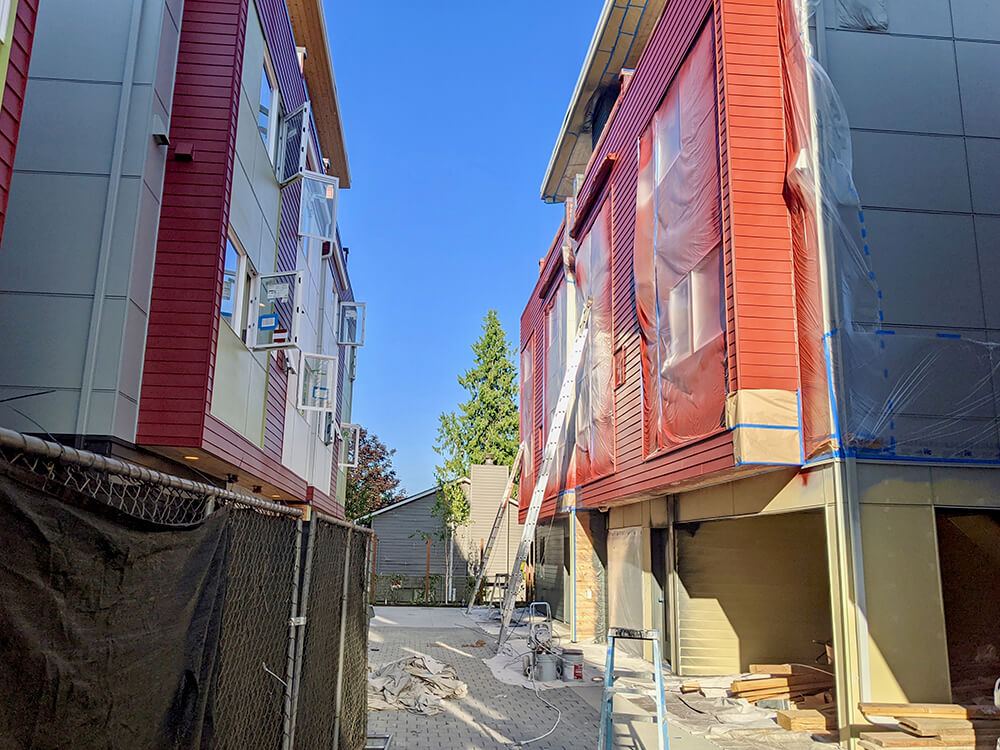 ---
6/15/21
What's up, Aron? Let's see:
Building 1: Finishes are almost done. Millwork and door install will start soon.
Building 2: Finishes are complete. Millwork and door install is starting.
Building 3: Working on punch items. Wing wall landscaping is complete. Passed MEP final inspections. Passed fire final inspection. TCO inspection scheduled. Building final inspection contingent on TCO inspection.
Building 4: Wing wall landscaping is complete. Millwork and door install is wrapping up. Exterior painting is finished, millwork and door paint is starting.
Building 9 & 10: Underground plumbing is complete. Slab prep is complete. Structural steel is installed. First floor exterior walls have been set. Installing second floor system now.
At the site: Pavers in the south alley are complete. Pavers connecting the entrance to the south alley are 85% complete. Permanent garbage location slab is poured.
So much progress. See you back here next month!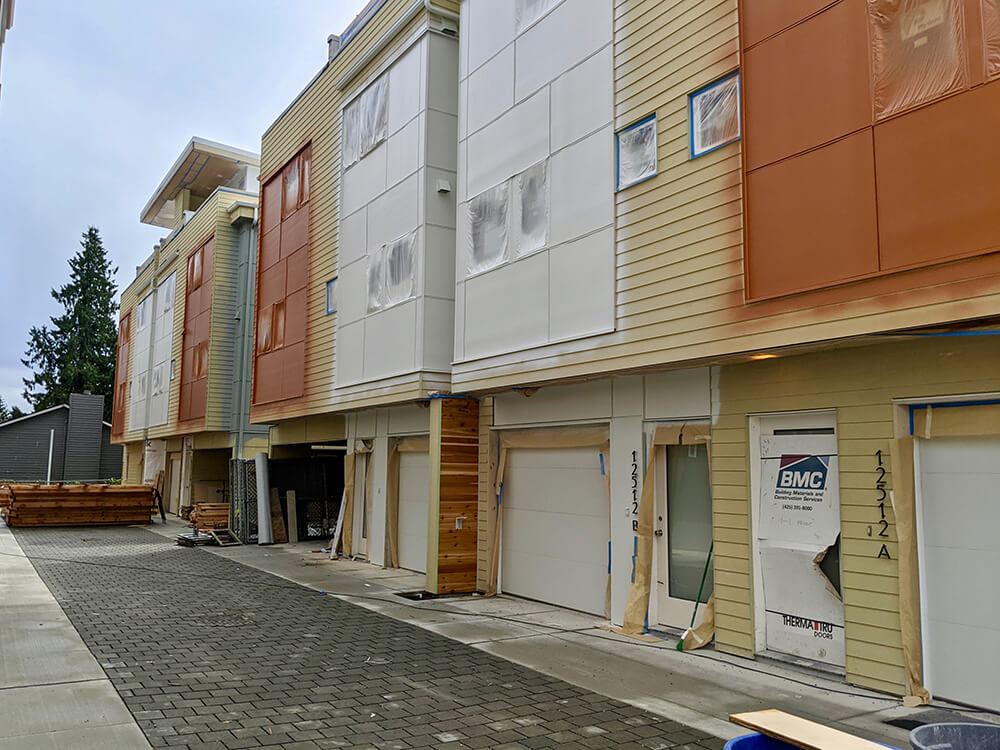 ---
5/14/21
It's been a beautiful May in Seattle, and there's big news at Aron!
Building 5 is getting its Technical Certificate of Occupancy (TCO).
What else?
Building 4: Finishes, Door & Millwork Paint
Building 3: Door & Millwork Paint
Building 2: Finishes
Building 1: Finishes
Meet you back here next month with more of the late stages at Aron.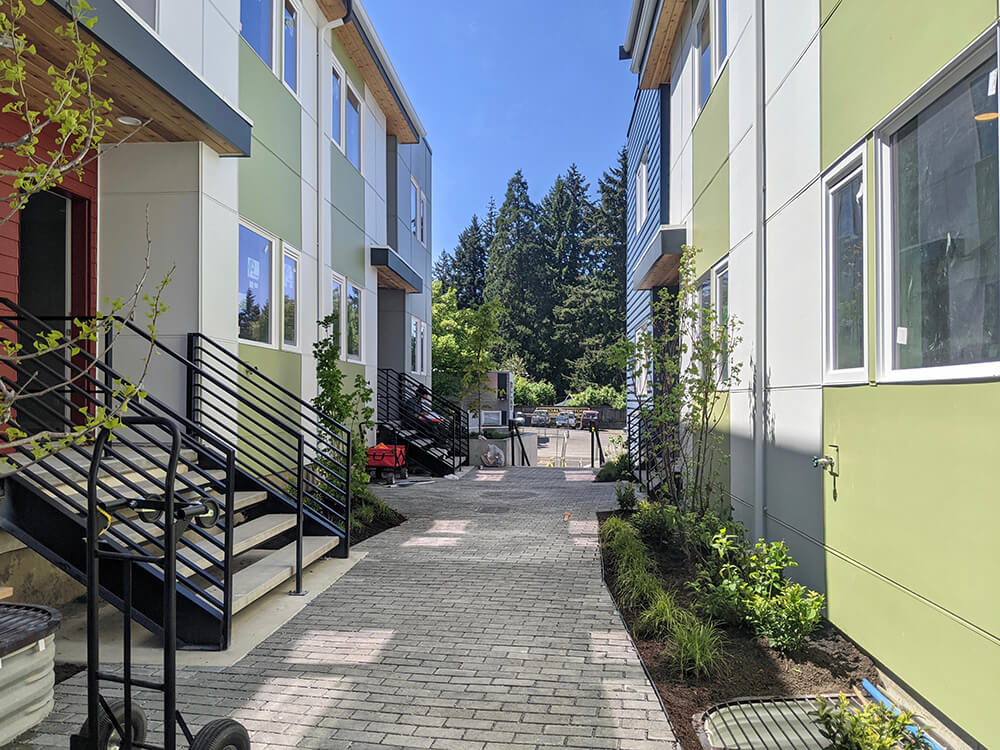 ---
4/11/21
Building 6: Moving fast – getting prepped for Temporary Certificate of Occupancy.
Passed final electrical inspection.
Passed plumbing final inspection.
Fire final inspection scheduled.
Buildings 1-5: Interior finishes are looking great.
Cabinets installed.
Doors installed.
Millwork complete.
Landscapers laying pavers in upper courtyard.
Coming up for Buildings 1-5:
Getting ready for paint.
Entry steps install.
Plants onsite and will go in when pavers are done.
The shiners have been poured in the south drive isle and the landscapers will lay the pavers as soon as they finish.
3 building exteriors left to paint.
Buildings 9 & 10:
Plumbing plans approved.
Current start date is late April.
Meet us back here next month!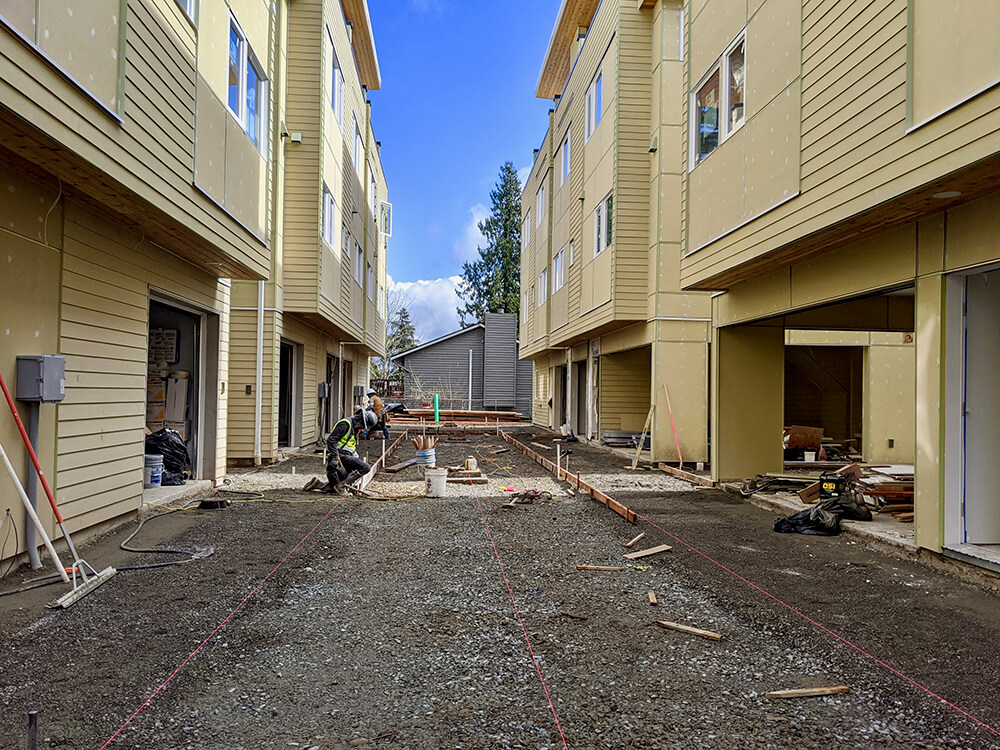 ---
12/31/20
This one sneaked in under the wire. Read on to see what happened at Aron just before the new year.
Sidewalks finished
Drywall underway and in various states of completion depending on building.
About a month away from temporary certificates of occupancy in buildings 7 & 8.
Buildings 9 & 10 foundations complete. Underground plumbing coming up.
See you soon with more updates!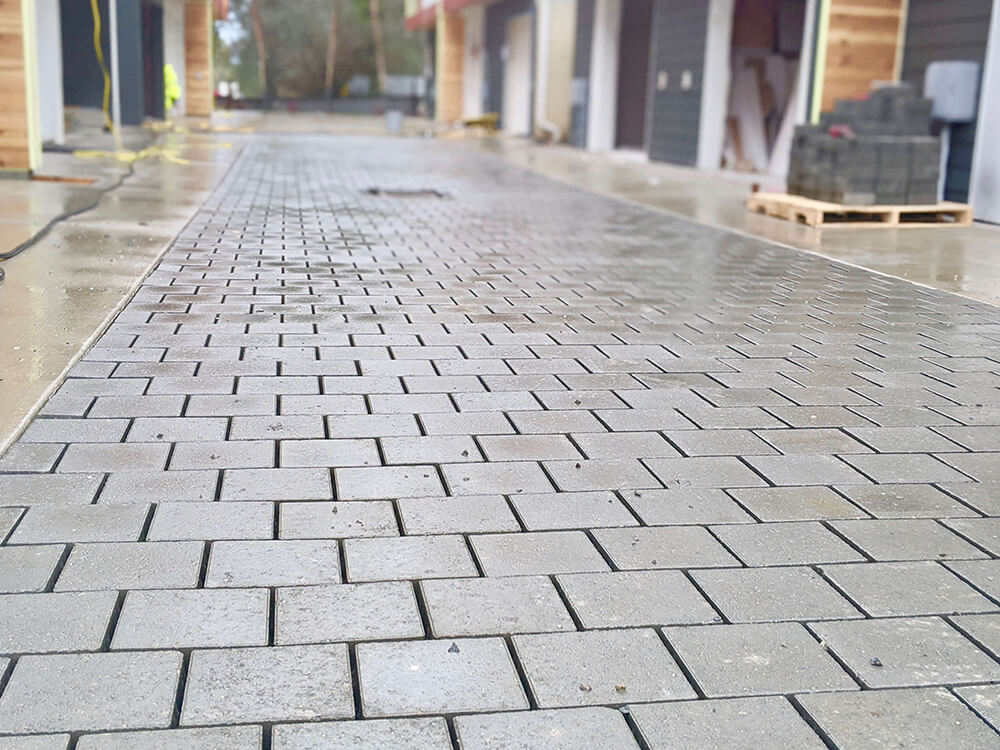 ---
11/30/20
Sure, it's November and it's dark at about 3 pm. Does that mean construction is slowing down? No. We eat dark for breakfast here at Aron.
Buildings 7 and 8 are in final finishes. Building 7 has our model home and things are getting real.
Building 6 is installing cabinets and millwork.
Building 5 drywall is 75% complete.
Building 4 is taping for drywall.
Building 3 is getting insulated.
Buildings 1 and 2 are ready for electrical inspection.
Concrete alley driveway has been started with pavers up next to complete.
Get more news next month. Same Aron channel.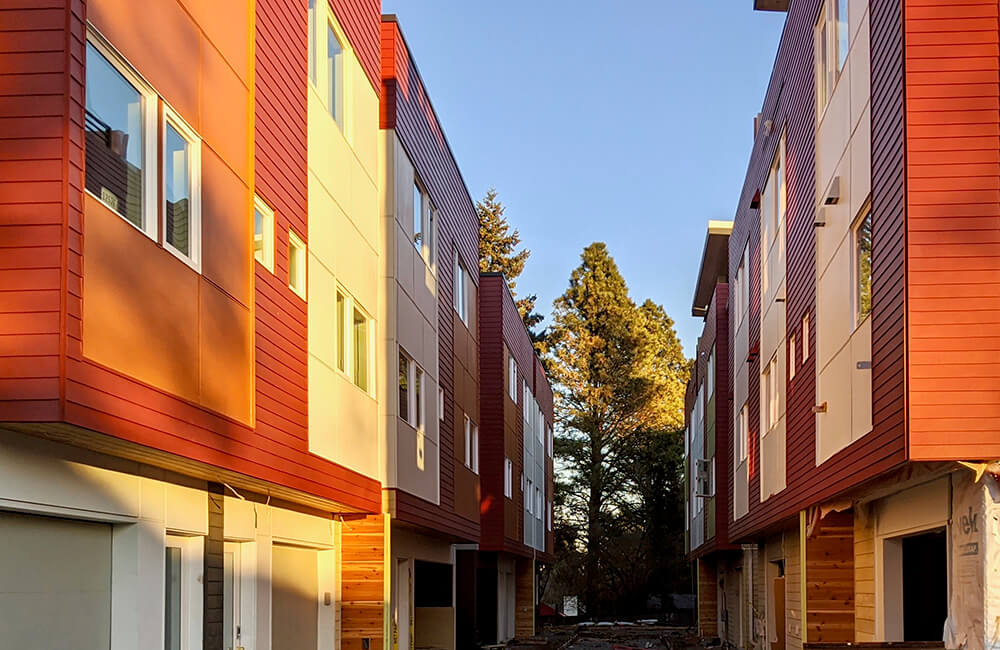 ---
9/17/20
Hardscapes are now being installed.
Final grading of phase 1 is 50% complete.
Completed Seattle City Light requirements for permanent power, and are now in the queue for service.
Flat work and hardscape for buildings 5-8.
Beginning landscaping for buildings 5-8.
Drywall installation continues for building 5 followed by building 4 after.
Beginning cabinet installation for building 6.
Stay tuned for more updates. See you soon at Aron.