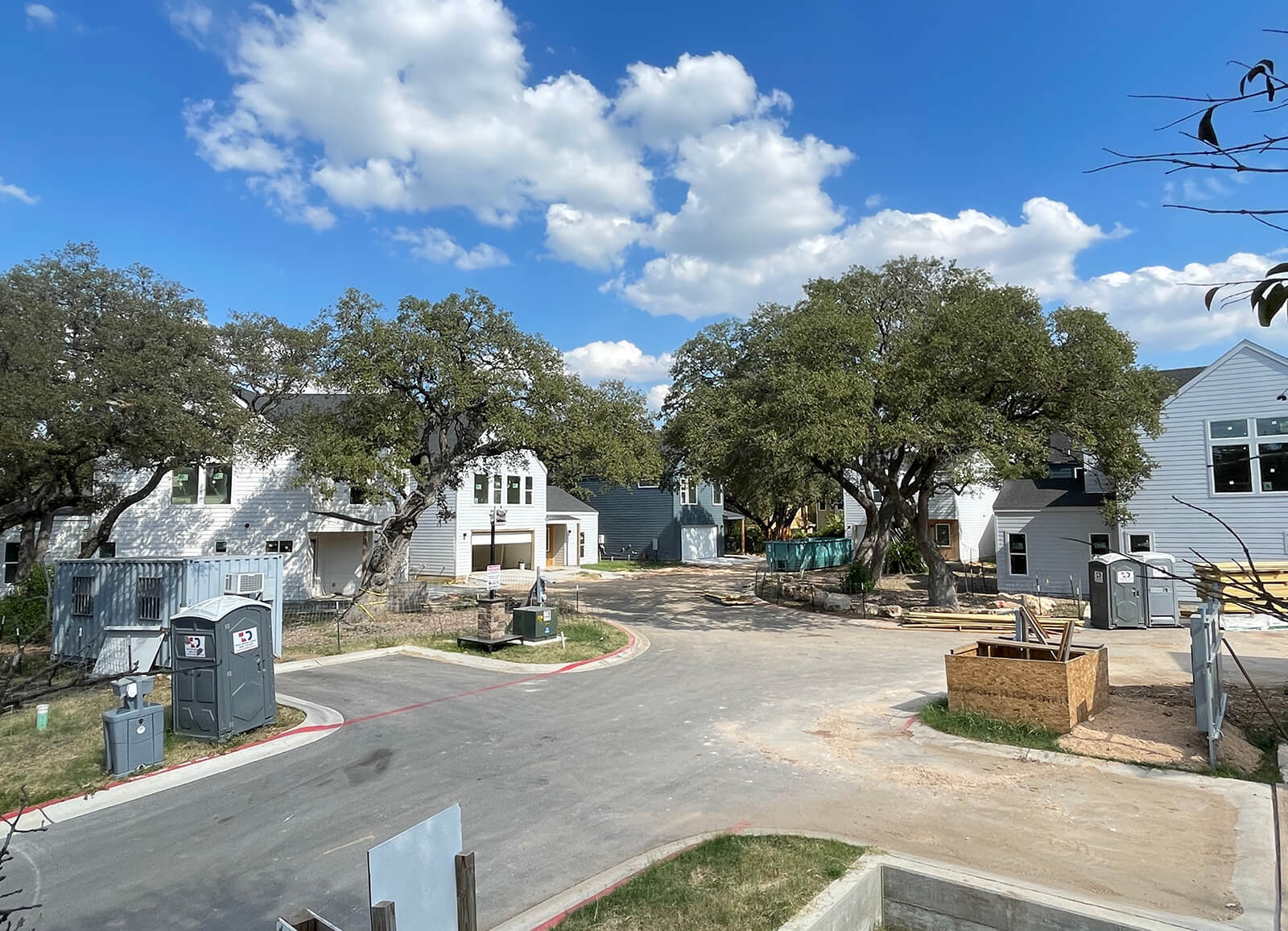 What's going on at Clementine? This is where you can find out!
---
Come here to watch the paint dry:
October 2022
Hi Clementine Fans,
Pool Update: Permitting has been approved, which is going to make a splash in our community for sure. We're ready to start pool construction in 2023. 
Punch work is ongoing for many homes.
Next Up: Decks. 
See you back here soon for all things Clementine!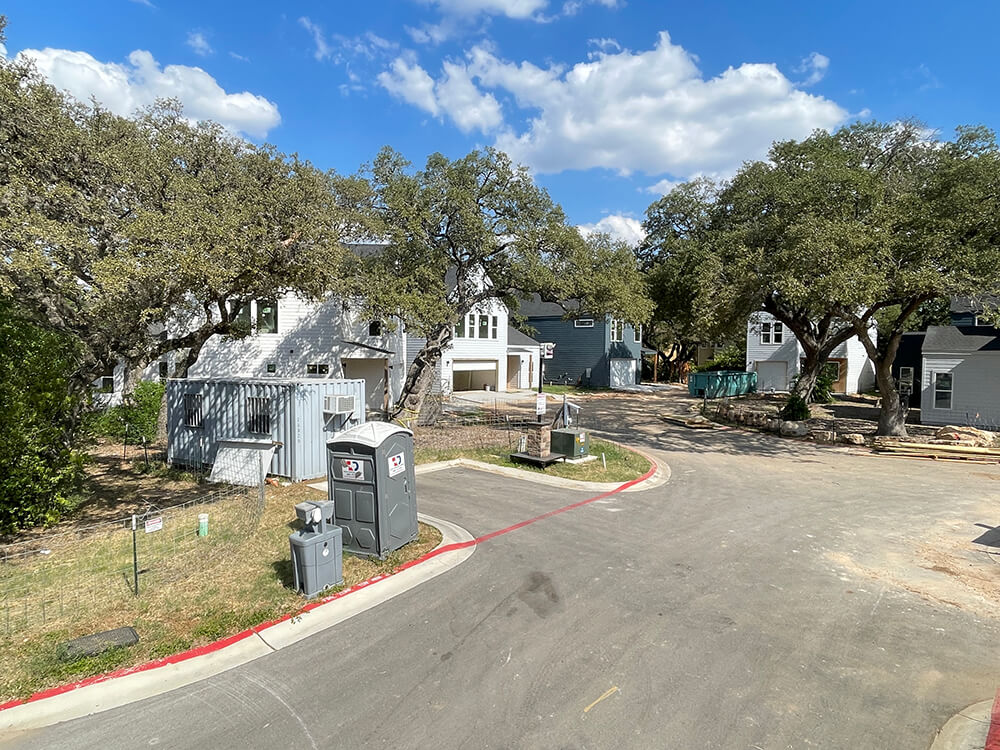 ---
September 2022
Our girl Clementine's pool construction is expected to kickoff in the coming weeks! Elsewhere, units 9 and 10 are getting shingled, installation has been completed on Phase 1 electric meters and final paint for Phase 2 has been scheduled with city first frame to be finished in under a month's time.
Stay tuned, folks!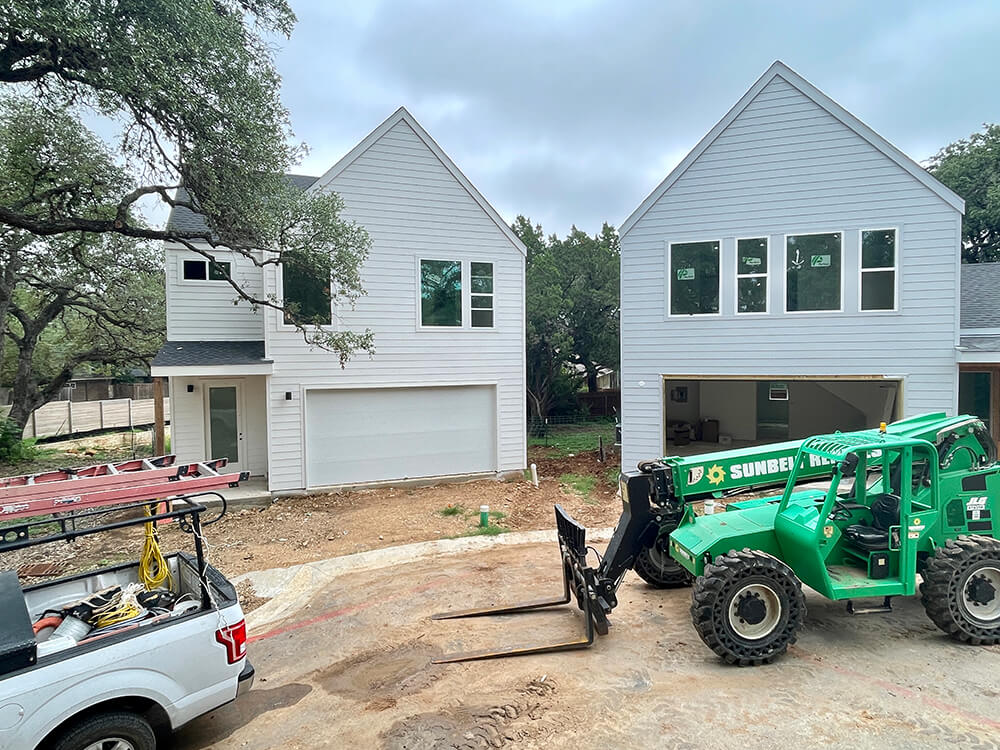 ---
July 2022
In the market for a Clementine update? You've come to the right place!
Units 1 – 4: All tile/backsplash is being installed. Cabinet installation is almost complete.
Units 5 & 8: City of Austin frame inspections coming up.
Units 6 & 7: Electrical inspections are scheduled. Concrete floor seal installed.
Units 9 & 10: HVAC rough ins and plumbing topouts are finishing up.
Units 11 & 12: Decking is nearly complete.
Moving right along at Clemmie and we're loving all the progress. Catch you back here next month.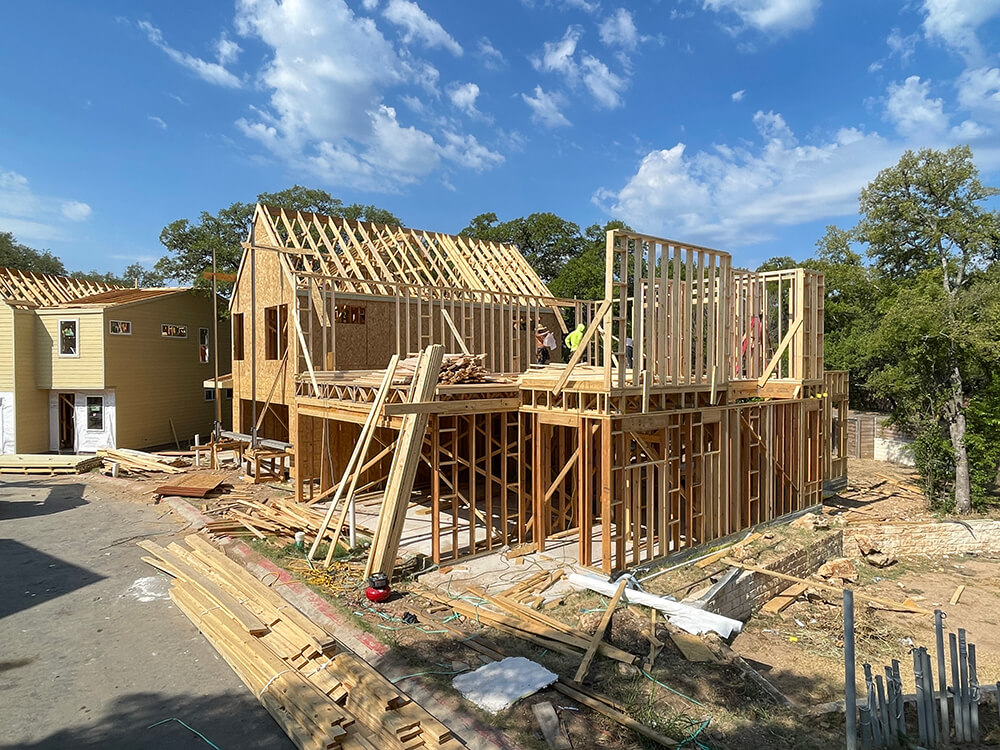 ---
June 2022
Well, Clementine, things are moving right along.
Units 1 & 4: Exterior paint complete and waiting for HVAC trim out.
Units 2 & 3: Passed frame inspection from city and exterior painted.
Units 5 & 8: Plumbing top out is complete. Shingle installation underway.
Units 6 & 7: Sheathing nearing completion
Units 9 & 10: Rough framing nearing completion
Units 11 & 12: Next up for sheathing.
We will see you back here next month with more Clementine news.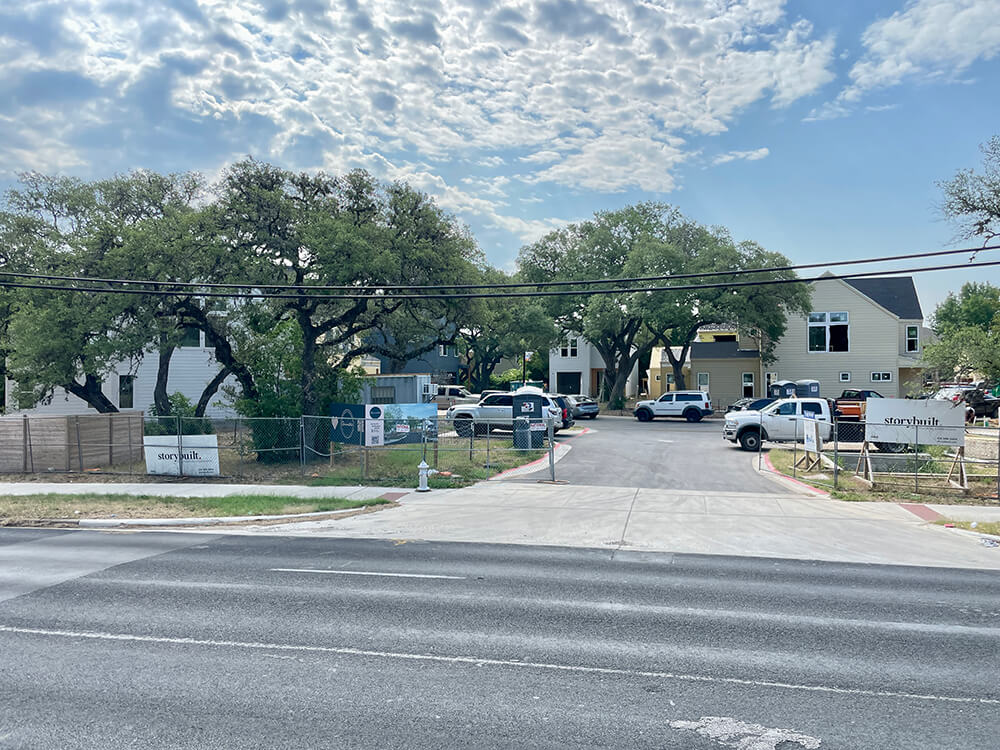 ---
May 2022
All systems are go at Clementine.
Phases 1 & 4 passed framing inspection with the City and Phases 2 & 3 are up next.
Homes 5 & 8 are completely framed, sheathed, and looking great.
Homes 6 & 7 are close to completion on rough framing. Third-party framing inspection and sheathing to follow.
Phase 3 vertical construction is ready to roll and we are excited to see it start.
So exciting to see Clementine taking shape and seeing hints of what this neighborhood will look like when complete.
Catch us back here next month for more Clementine.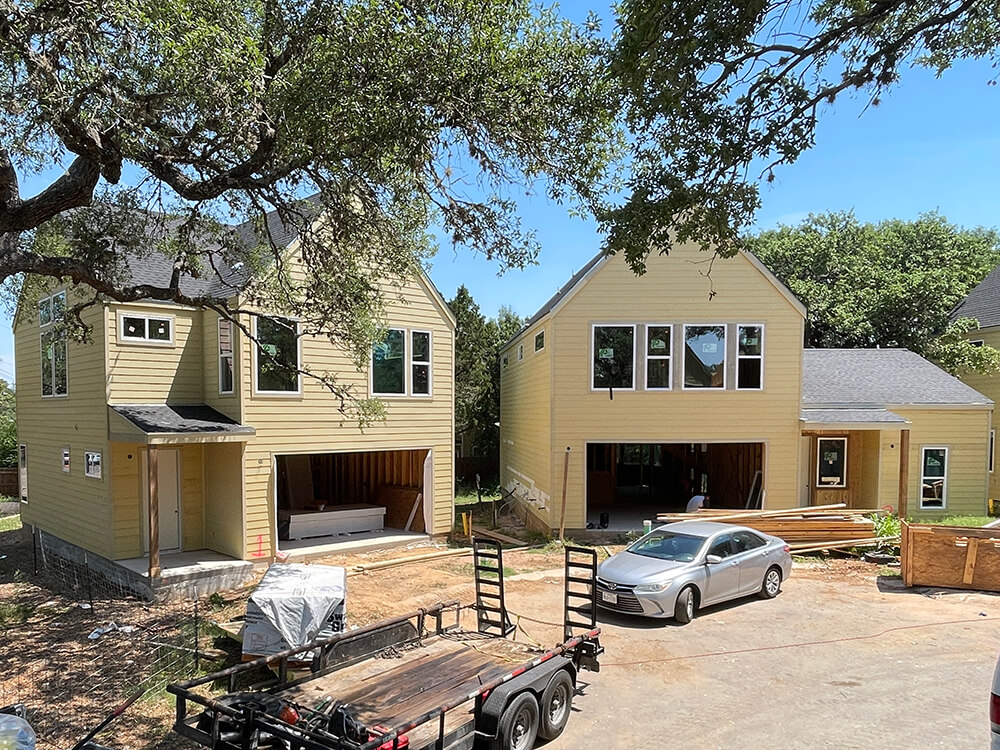 ---
April 2022
Clementine, you're looking fiiiiine. More than fine, really. Super. Let's talk about it.
Units 1-4: First frame inspections are scheduled before the end of April. Framing and sheathing are complete.
Unit 5: Framing almost complete.
Unit 6 & 7: Lumber is scheduled for delivery by end of April.
Unit 8: Framing almost complete.
Units 9-12: (otherwise known as phase 3) Passed pre-pour inspections and are completely poured.
Go ahead and pore over all this pouring news. We'll see you here next month.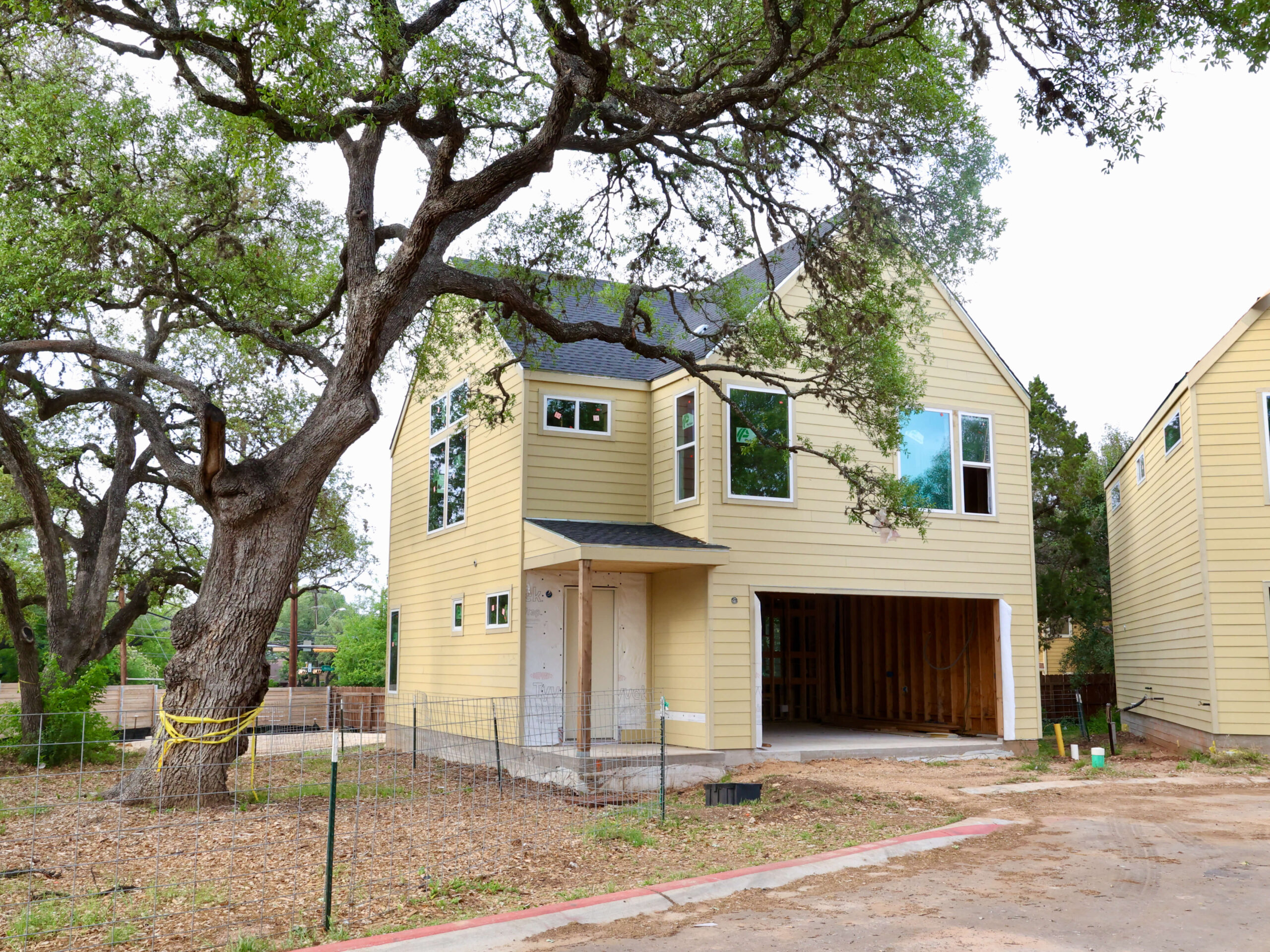 ---
February 2022
Hey, Clementine fans – let's check in!
We're moving forward at Clemmie. Homes 9-12 have foundations poured. Homes 2 & 3 are nearing framing completion.
See you back here next month.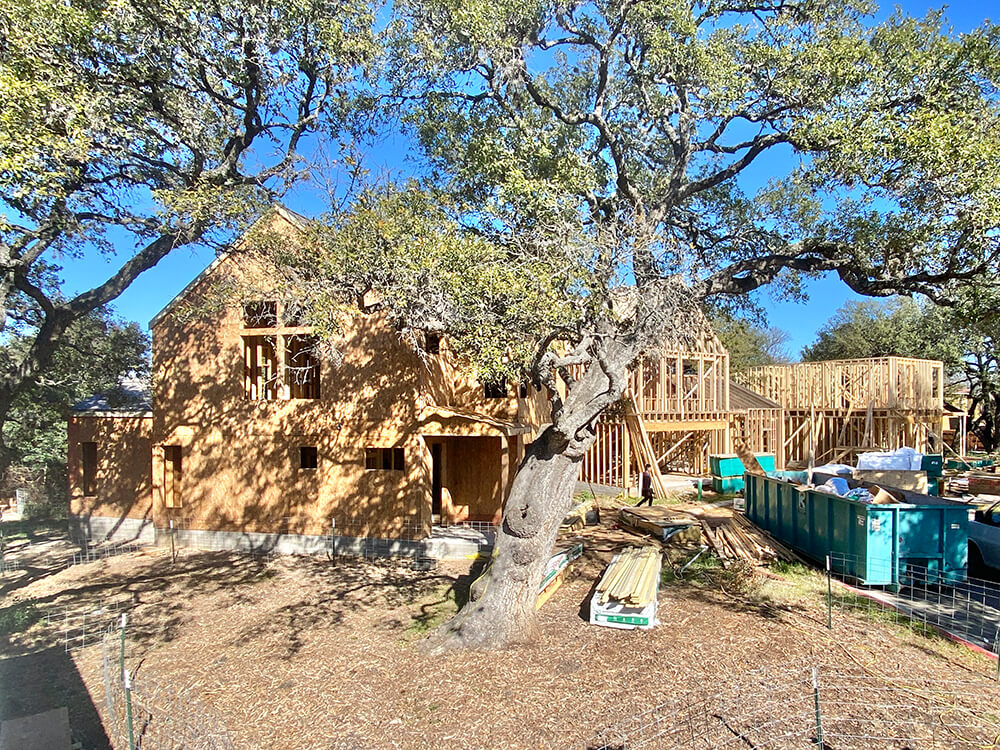 ---
January 2022
Both framing and sheathing are in the final stretch for all Phase 1 homes, all other phases–pool included–are in alignment with our most recent schedule updates. We're working hard to get everything just perfect and in line with your expectations.
See you next month!
---
December 2021
We've got eyes on Clementine and it's looking like steady headway across the board. Final sketches for pool design are complete so we're just waiting on the OK from our electrical consultant to send them off. Clementine might take up a hobby in the interim. Coding or knitting soft cardigans maybe.
Stay tuned!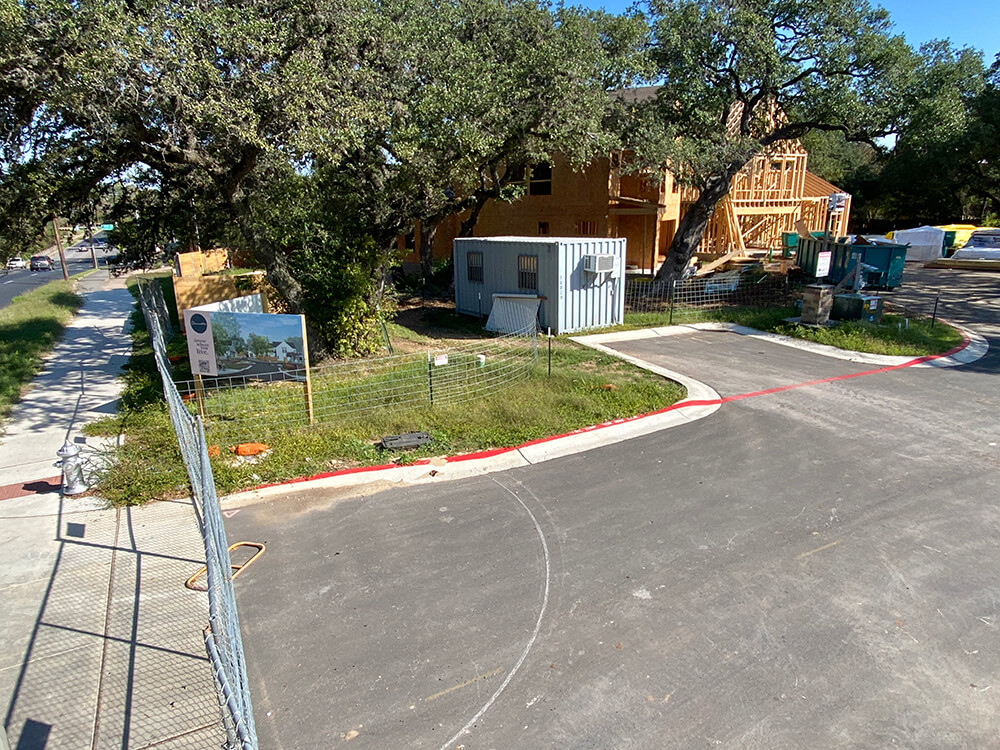 ---
October 2021
Our vivacious Clementine has foundations poured on homes 5-8. Once those forms are removed, they'll pivot to Phase 3 for homes 9-12. Decking and sheathing will be underway on unit 2 once framing is complete. We also have mechanical and electrical installs set in the coming weeks on homes 1 & 4, with plumbing top out finalized.
Watch this space!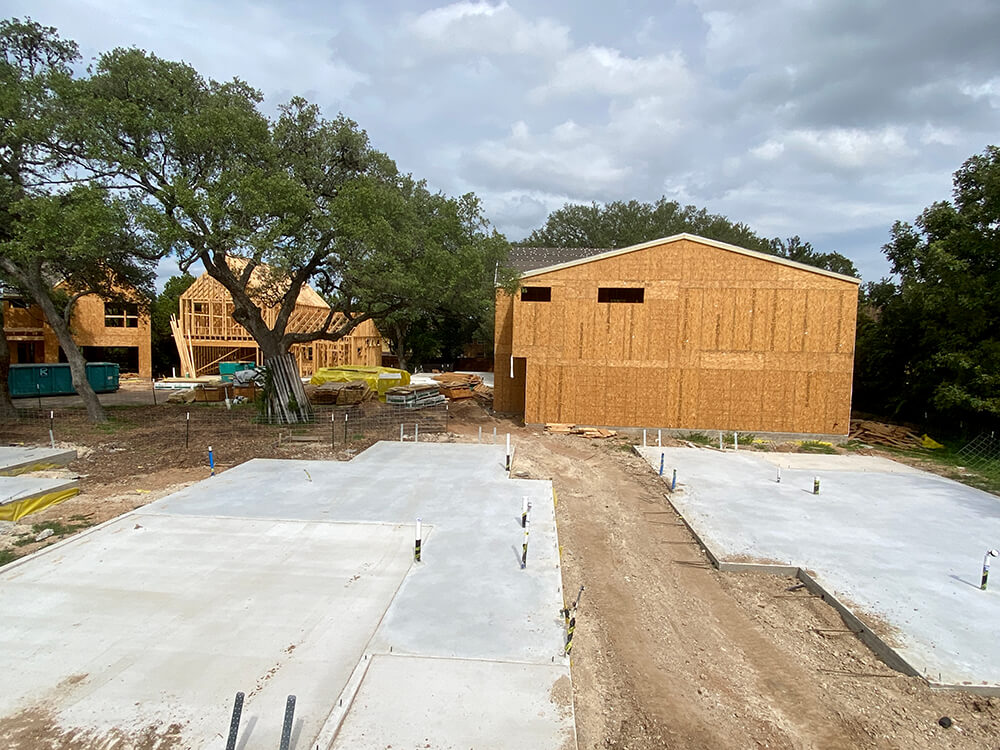 ---
September 2021
Pleased to report frontage fencing has concluded while sheathing is underway in unit 4. We're expecting concrete pours by the end of the month on units 5-8 and forms have been set and backfilled, with rough plumbing installation also complete. Hang tight, we'll be right back after these daiquiris.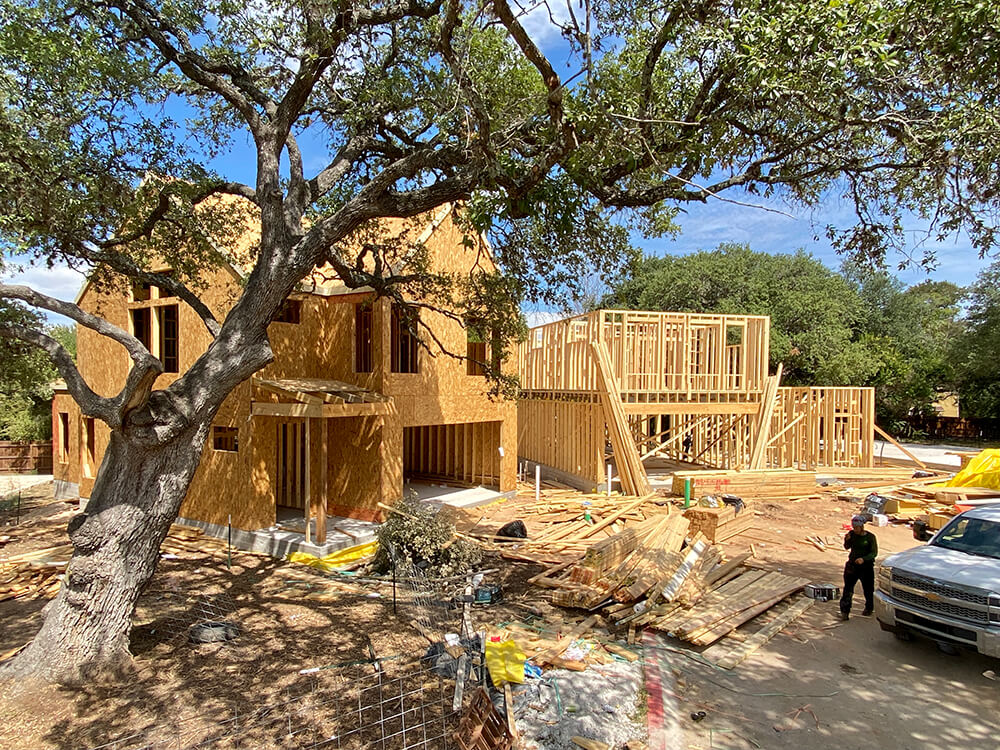 ---
August 2021
Clementine's got herself some framing scheduled on units 1-4 before the month's end.
Pre-pour inspections and foundation pouring is underway for these units while foundation forms are being set this week on units 5-8. Excited to report water main installation is complete and all homes now have water service. There's also partial installment on frontage privacy fencing and temporary installation on construction gates for the entrance. By month's end we'll have rain garden pumps installed and garden plantings to come once the pumps near completion.
Stay tangy.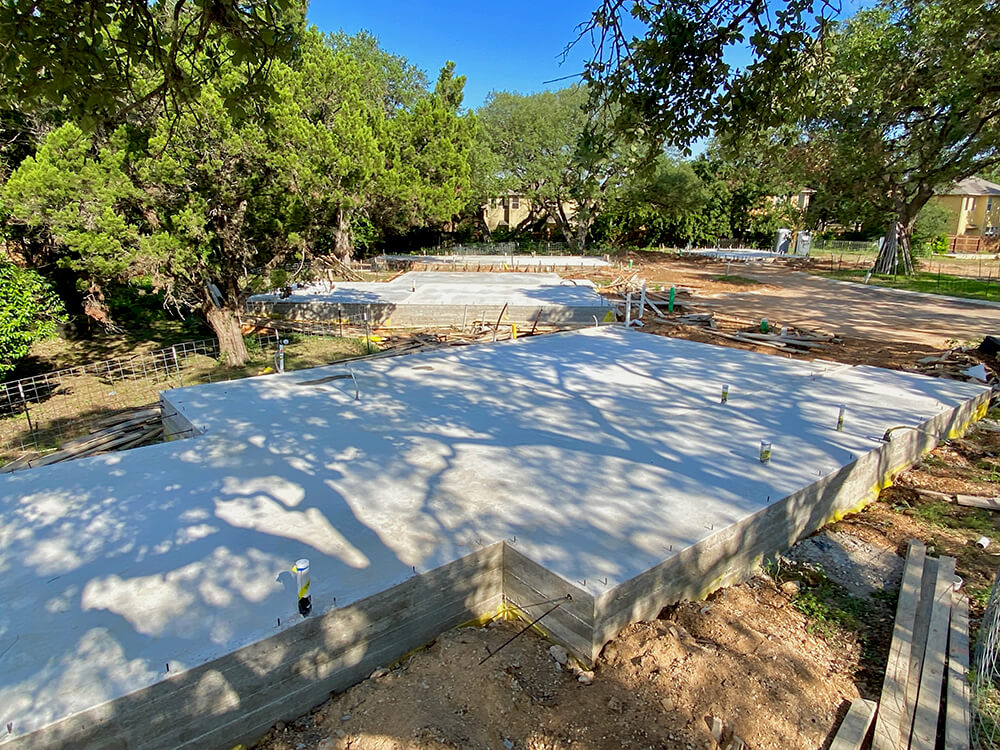 ---
July 2021
Fresh site signage w/renderings? Check!
Our first 4 units are good to go on plumbing, rough in, forms and rebar. Still to come are last looks from the City of Austin for a pre-pour inspection, with foundation pourings to follow. After we get our 4 elementary foundations filled in, forms can be set up on the next four units.
By July's end, we'll see all rain gardens in pollution-reducing action. Watch this space!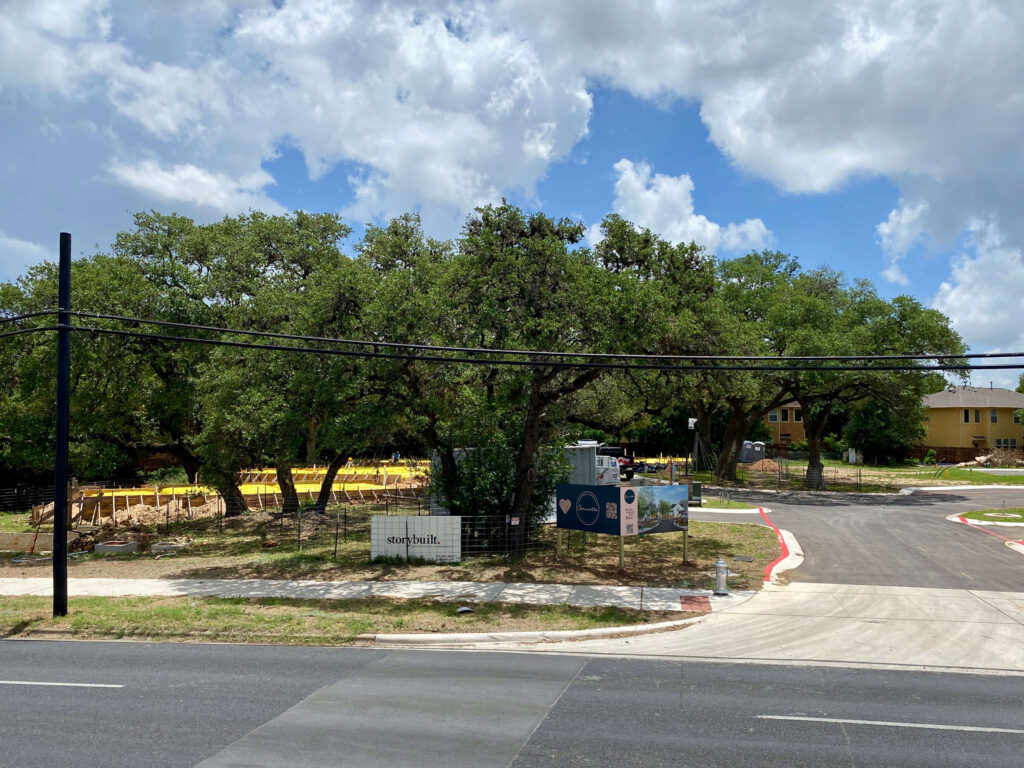 ---
June 2021
Big news: we've received the site's final acceptance letter from the City Of Austin!
Construction fencing going up
Vertical construction is officially underway
Setting up foundation forms
Up next: underground rough-in plumbing and rebar installation, followed by a pre-pour inspection.
Meet us here next month for all things Clementine.
---
April 2021
Clementine is looking great this spring! Let's check in:
Passed all inspections and city sign-off, so it's time to start vertical on our homes.
Currently the site looks like a park and we're all enjoying the view at the worksite.
Continued progress on the rain gardens, which will channel stormwater drainage offsite.
This place is going to be amazing and we can't wait to see the houses going up.
Meet back here next month.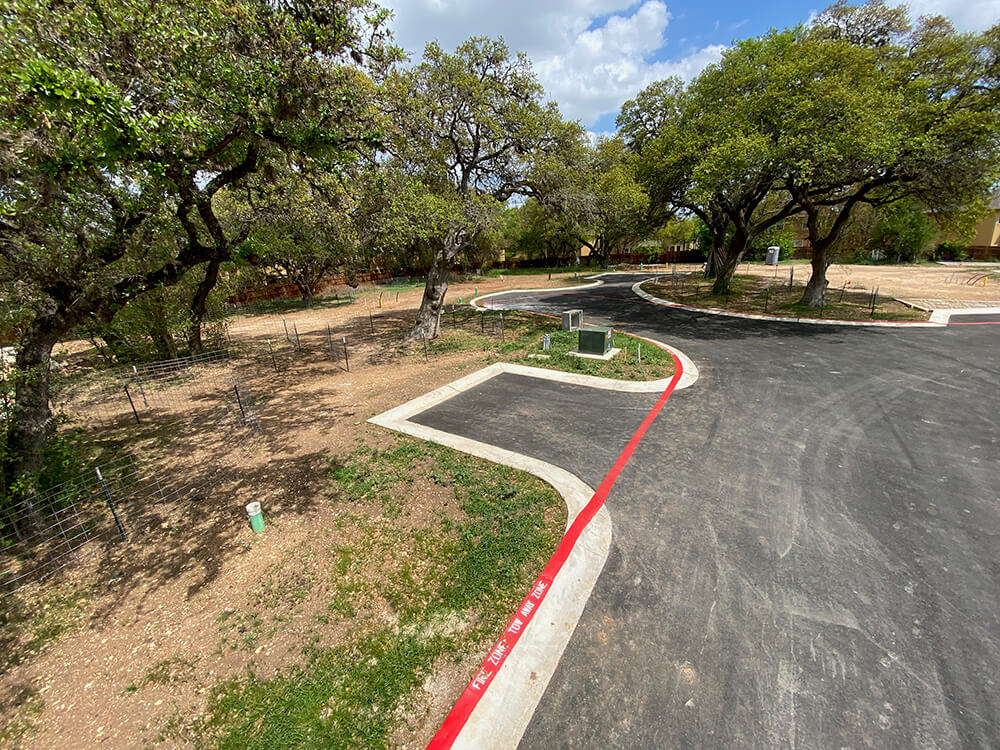 ---
February 2021
A busy month at Clementine, despite the snow. Let's see what's up:
Land development work is in its punch-list phase, with our contractors working to prepare our home sites for construction.
The pool lot is looking better than ever, and due to some new design improvements, we think it will be one of the great jewels of the site.
We plan to go vertical late this month, and can't wait to see our vision for Clementine come alive!
Can't wait to get vertical. Meet you back here next month!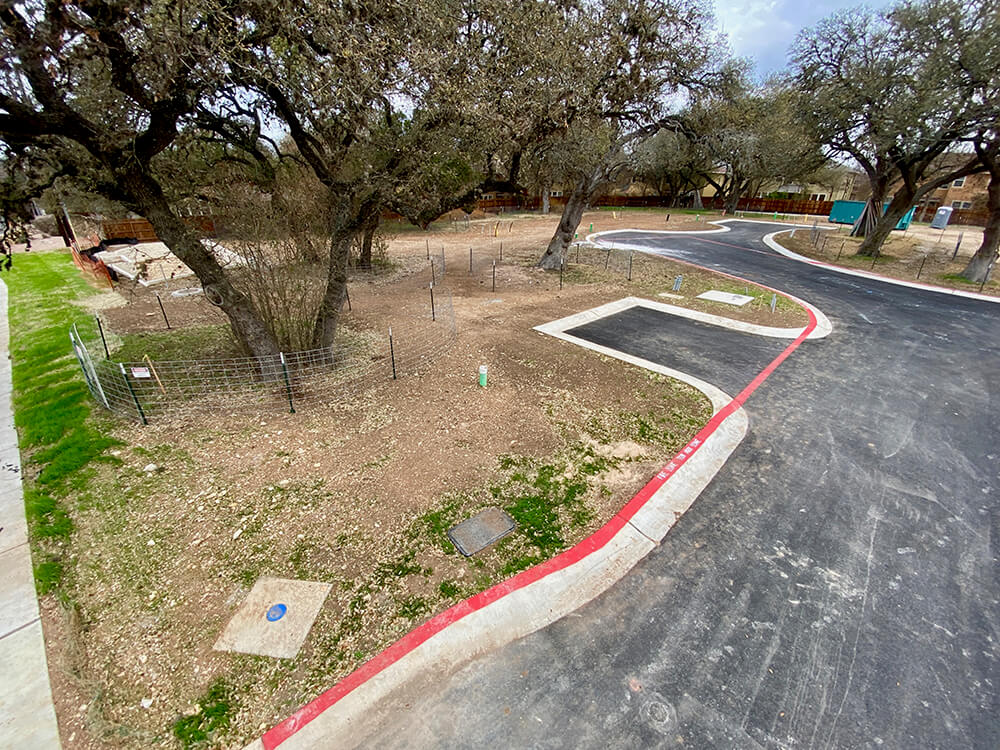 ---
January 2021
Clementine's news is good! Let's check in:
Limestone walls are built.
Sidewalk removed and replaced.
Perimeter fencing almost complete.
Paving is underway.
9/12 homes sold.
This place really is our darling and it's moving right along. See you back here next month.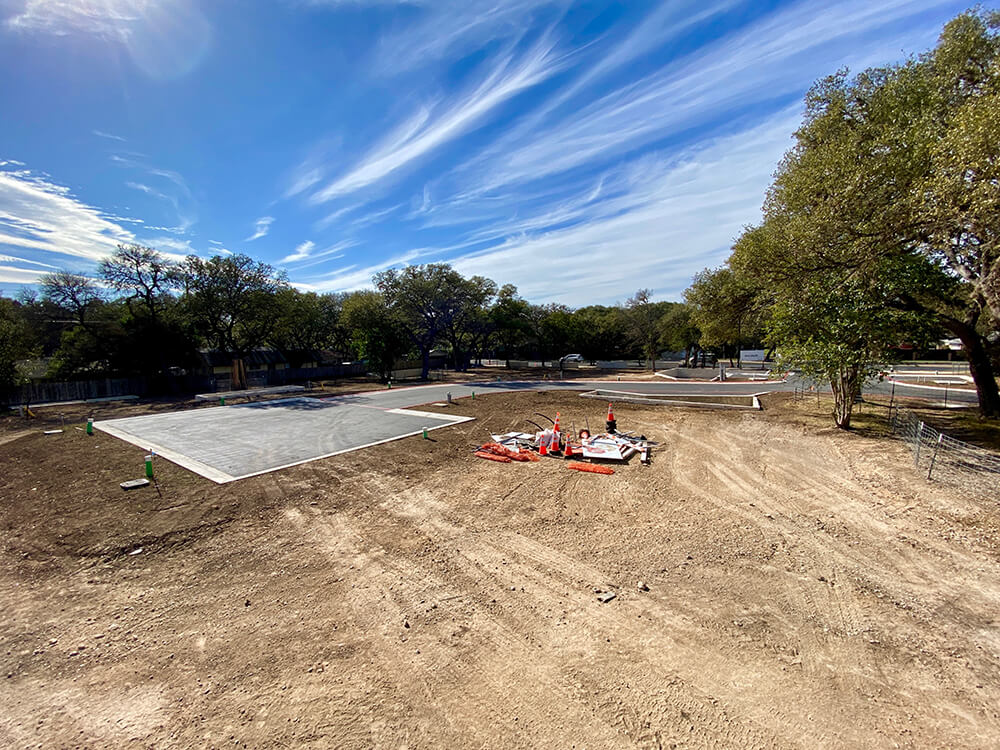 ---
December 2020
We're moving right along and our sleighbells are jingling. Let's see what's up:
Dry utilities are complete.
Telecoms are complete.
Raingarden walls are complete.
Road is ready for paving.
Next up: Vertical construction. Can't wait to see how it's all going to come together. See you here in 2021!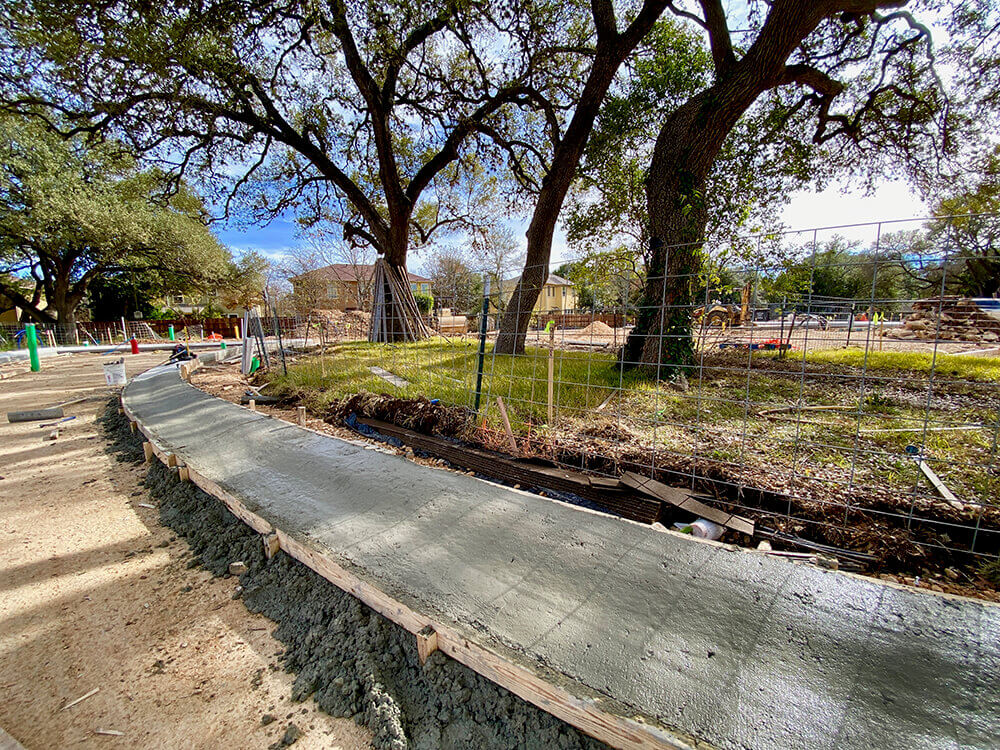 ---
November 2020
Moving right along at Clementine – seems like this month's theme is wet and dry. Let's look!
Dry utilities (electric, gas) are underway.
Telecom utilities (all things cable, internet, and dark matter)
Rock walls are, um, rocking.
Rain gardens being excavated.
Pool excavation is starting.
We'll see you here next month!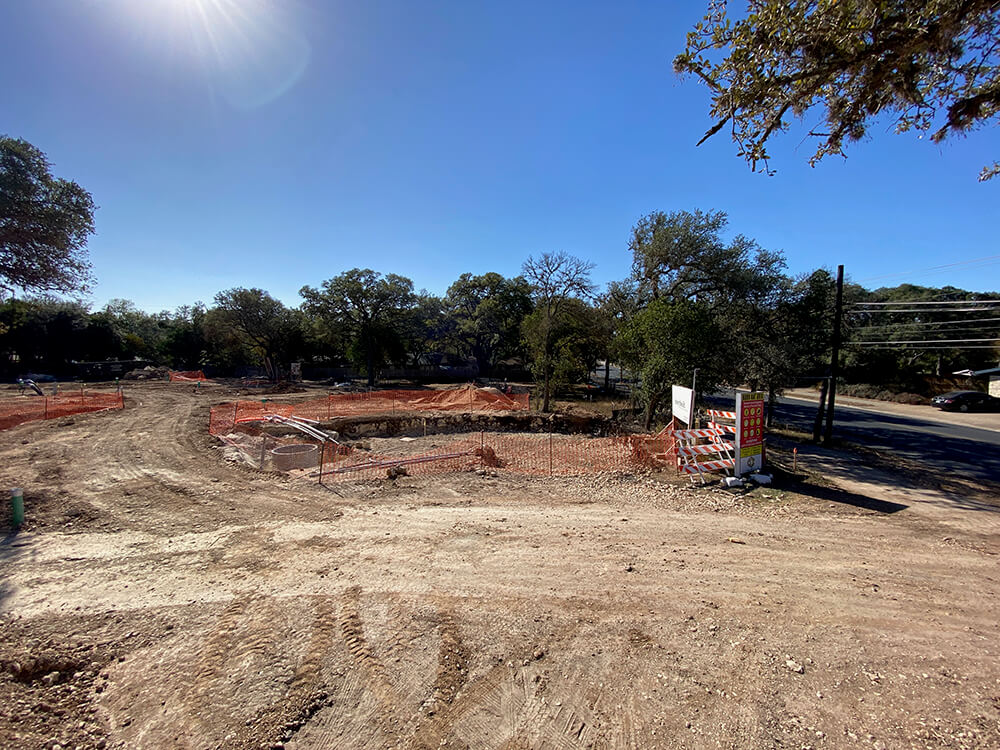 ---
October 2020
Boooo, it's been a busy October! Here's what's up at Clementine:
Wet utilities – sewer, storm drain, and water systems – installed
Finishing tying the onsite utilities to mains in Menchaca
Saved two additional onsite trees – this is big! Long may they grow.
Presales started up with a bang: sold two homes in first four days. We knew these would go fast, but this is extra fast.
Back next month with more good news!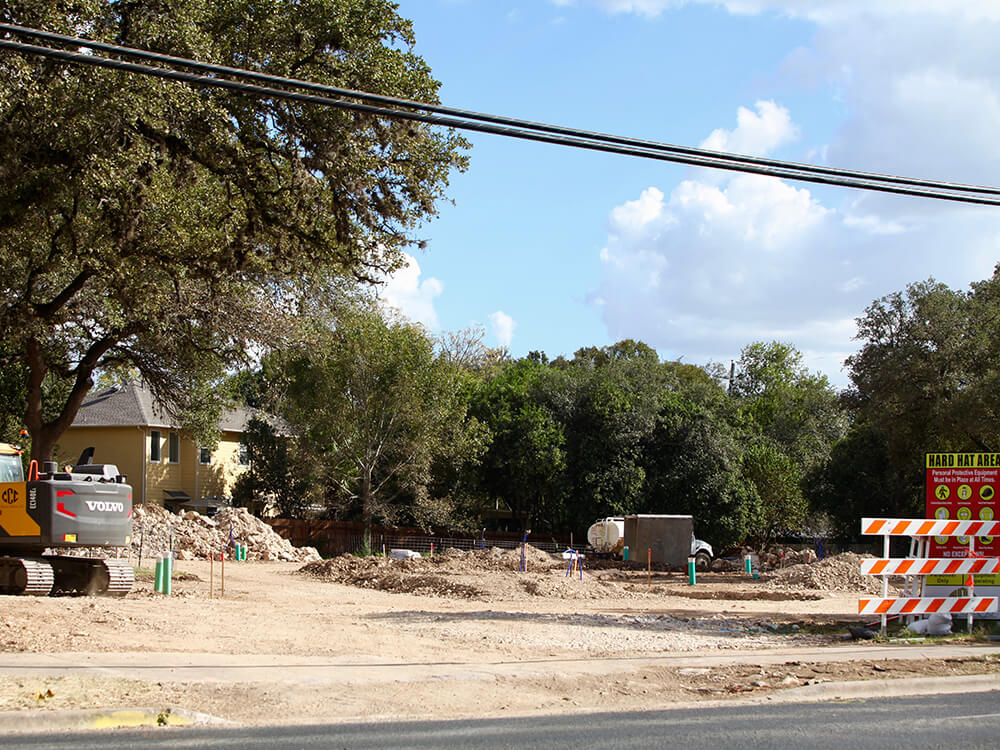 ---
September 2020
We're so happy to bring you our first construction update on Clementine!
Wet utility trenches are complete.
Wet utilities are installed in trenches, cleanouts complete.
Pool design nearing completion.
Upgraded approved for luxury appliance package due to popular demand.
Presales are hot – tons of appointments thanks to the perfect design and feel of this community.
Two homes sold in first weekend.
Now is the time to buy – grab your friends and make yourselves neighbors!