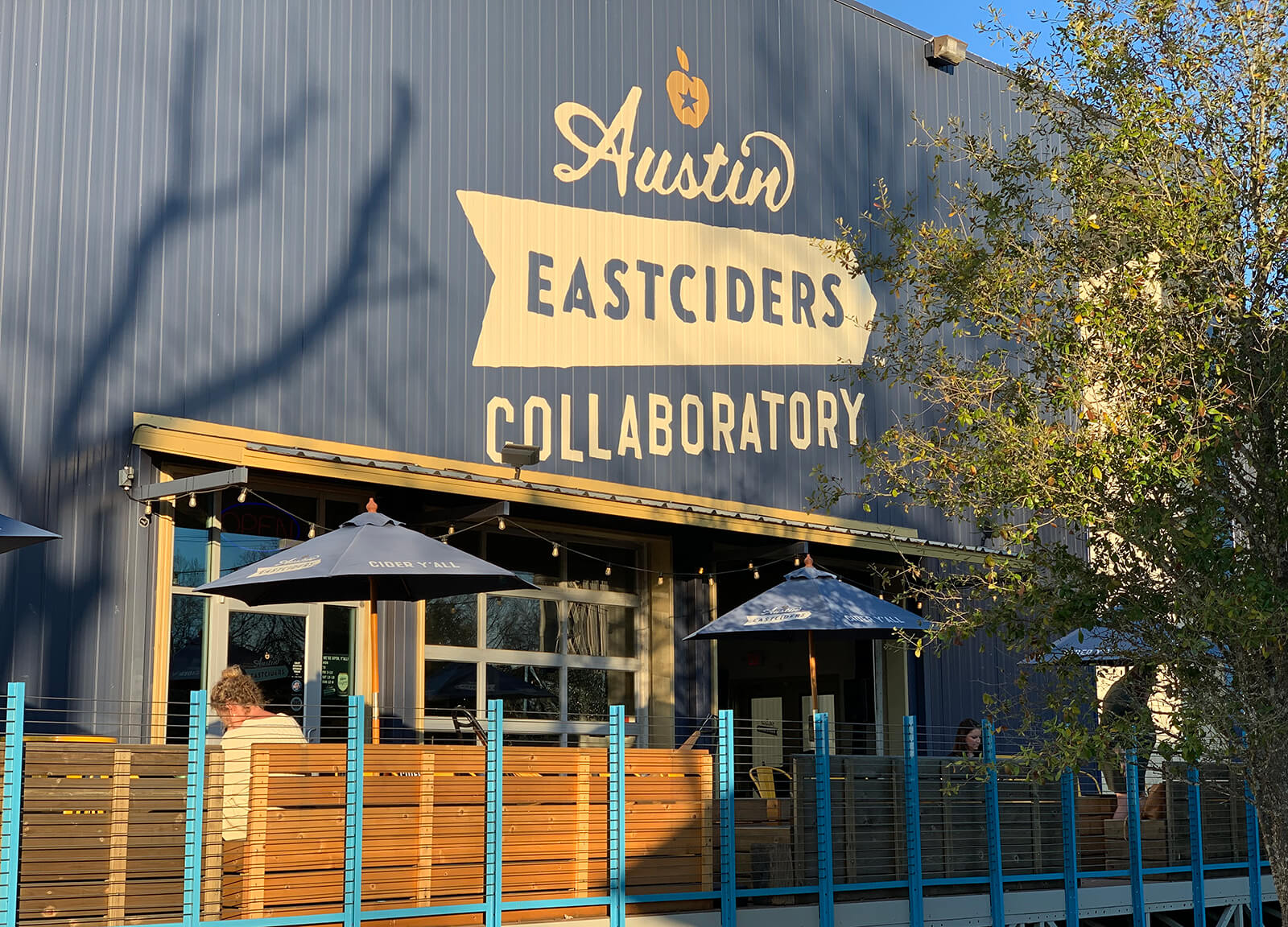 Austin is known for a lot of things: its live music, its burgeoning tech industry, and its reputation as one of the most rapidly-growing cities in Texas. With all that growth, it's no surprise that Austin is also home to some amazing local businesses.
Here are five of our favorite places to check out in Austin:
---

Austin Eastciders – 979 Springdale Rd Ste. 130, Austin, TX 78702 + 1530 Barton Springs Rd, Austin, TX 78704
Austin Eastciders is THE place to go if you're looking for a good time and some even better cider. Even better, if you're a cider fan, there's plenty of ways to get your fix: not only is there both a restaurant and a tap room, but their cider is available at many stores and there's a convenient online ordering option. Eastciders got their start in 2013 when founders Ed Gibson and Mark King produced their first cider, Gold Top. Since then, they've released several new ciders and variants, all of which are made in their state-of-the-art facility in Southeast Austin. But it's not just about the cider at Eastciders — they also have a full food menu and host an event series with local artists.

Patika – 2159 South Lamar Blvd Austin, TX 78704 + 100 Congress, Suite 125 Austin, TX 78701
Patika is a neighborhood cafe that takes a lot of pride in both its food and coffee. They roast their own beans through their roastery, Superthing Coffee Roasters, and they are also serve breakfast, lunch, and weekend brunch (breakfast tacos anyone?). South Austin locals love their stellar specialty coffee, out-of-this-world pastries, and friendly staff. The cafe has a fun and modern vibe, with plenty of seating both inside and out on their patio — bring your laptop to get some work done during the week, or leave it at home and enjoy the no-Wi-Fi weekend brunch.

Bloomers and Frocks – 1628 S 1st St, Austin, TX 78704
If you're looking for something special, something unique, then Bloomers and Frocks is the place for you. They specialize in rare and one-of-a-kind finds and have one of the best collections of women's vintage clothing and accessories from the 1910s to the 1980s. Their specialty is classic dresses 1960s and older, but also have a great selection of other vintage clothing and accessories, including blouses, pants, jackets, jewelry, and more.

Soup Peddler – Six Locations throughout Austin
David Ansel, the founder of The Soup Peddler, has been whipping up his unique soups from scratch for more than a decade. His business started out of his house in the Bouldin Creek neighborhood, where for years David would deliver soup to friends and neighbors on his bike. The first brick and mortar store opened in 2010, and The Soup Peddler became known for their healthy smoothies and juices as well as their delicious soups. With six locations across Austin, it's easy to satisfy your cravings for some homemade soup—no bike required.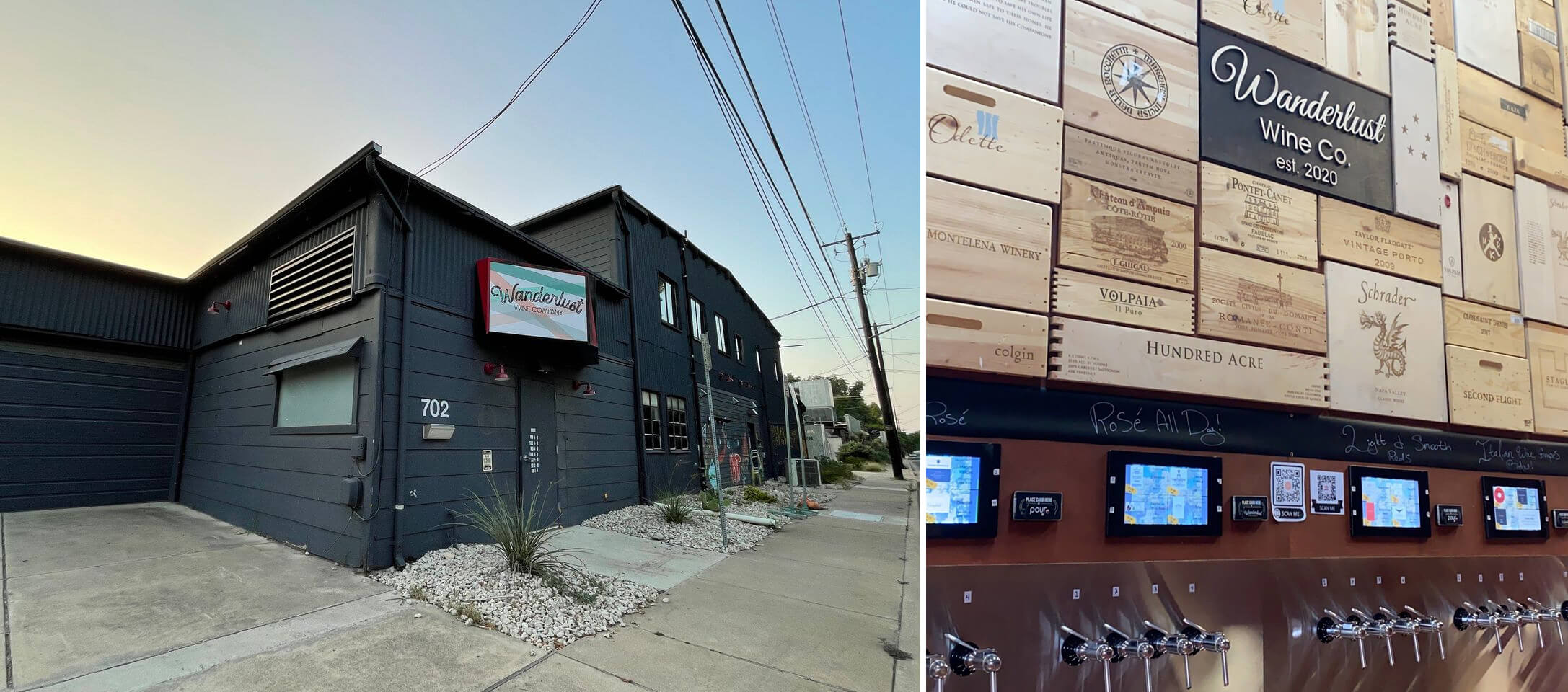 Wanderlust Wine Co – 610 N Interstate Hwy 35, Austin, TX 78701 + 702 Shady Lane Austin, Texas 78702
If you're looking for a new wine-drinking experience, look no further than Wanderlust Wine Co. With locations in Downtown Austin and East Austin, they offer a unique atmosphere paired with delicious food trucks at each location. They seek to make wine more fun, easy, and accessible by offering many wines from around the world at affordable prices. They also boast the world's largest self-pour wine on tap winery!
Check out their Instagram to keep up with their many events including Drag Brunch on Sundays and 50% off Wednesdays.